About The Turning Point
• Paperback: 480 pages
• Publisher: Harper (May 3, 2016)
"Rich, romantic, beautifully drawn and utterly compelling" Jane Green, New York Times bestselling author
Life is short. Sometimes you have to take a chance…
Two single parents, Scott and Frankie, meet by chance.
Their homes are thousands of miles apart: Frankie lives somewhat chaotically with her children on the shoreline of North Norfolk, while Scott's life is in the mountains of British Columbia. Distance divides them – but it seems that a million little things connect them. A spark ignites, one so strong that it dares them to take a risk.
But fate has one more trick in store…
There are some truths about life and family we only learn when we grow up. There are some we never thought we'd have to.

Purchase Links
HarperCollins | Amazon | Barnes & Noble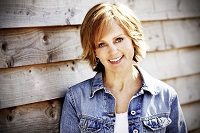 About Freya North
Freya North is the author of many bestselling novels which have been translated into numerous languages. She was born in London but lives in rural Hertfordshire, where she writes from a stable in her back garden. A passionate reader since childhood, Freya was originally inspired by Mary Wesley, Rose Tremain and Barbara Trapido: fiction with strong and original characters. To hear about events, competitions and what she's writing, join her on Facebook, Twitter and her website.
Tour Stops
Monday, May 23rd: Bibliotica
Thursday, May 26th: Comfy Reading
Friday, May 27th: Booksellers Without Borders
Monday, May 30th: Books and Bindings
Tuesday, May 31st: From the TBR Pile
Thursday, June 2nd: As I turn the pages
Friday, June 3rd: The Book Chick
Monday, June 6th: Into the Hall of Books
Tuesday, June 7th: Book by Book
Sunday, June 19th: Sharon's Garden of Book Reviews