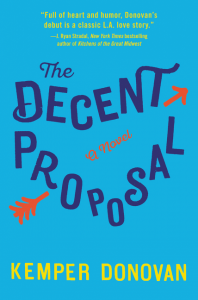 About The Decent Proposal
• Hardcover: 320 pages
• Publisher: Harper (April 5, 2016)
A humorous, heartfelt love story built on a tantalizing premise: would you agree to spend two hours a week with a stranger—just talking—to collect half a million dollars at the end of a year?
Struggling Hollywood producer Richard is twenty-nine, hungover, and broke. Ridiculously handsome with an easy charm, he spends his days procrastinating at the Coffee Bean and nights hanging out with his best friend, Michaela, aka "Mike."
At thirty-three, Elizabeth is on track to make partner at her law firm. Known as "La Máquina"—the Machine—to her colleagues, she's grown used to a quiet, orderly life with no romantic entanglements of any kind. (Her closest friend is an old man who discusses Virginia Woolf with her at the beach. Enough said.)
Richard and Elizabeth have never met before, but their paths collide when they receive a proposal from a mysterious, anonymous benefactor: they'll split a million dollars if they agree to spend at least two hours together every week for a year. Both are shocked and suspicious, and agree the idea is absurd, but after Richard anxiously considers the state of his bank account and Elizabeth carefully conducts a cost-benefit analysis of the situation, they agree to give it a try.
As these two perfect strangers wade awkwardly into the waters of modern courtship, discovering a shared affection for In-N-Out burgers, classic books, cult-hit movies, and various Los Angeles locales, they realize that uncovering the secret identity of their benefactor will not only make clear what connects them but change them both forever.
This delightful tale is full of twists, revelations, and above all love in its multitude of forms.
Praise
"A sharp, wise, and hilarious novel. Think Entourage meets Tom Wolfe with a touch of Indecent Proposal. . . . We loved it!"—Lucy Sykes and Jo Piazza, authors of The Knockoff
"The Decent Proposal is as clever as it is hopeful. Whether talking about the secret menu at In-N-Out or matters as grand as life and death, Kemper Donovan's voice is original, captivating, and assured. This book is both a moving love letter to Los Angeles and a thoughtful rumination on what people can mean to one another."—Taylor Jenkins Reid, author of Maybe in Another Life
"Impossible to put down, this character-rich, breakout novel will make your heart burst with love. You'll turn the pages so fast you might get a paper cut."—Claire Bidwell Smith, author of The Rules of Inheritance

Purchase Links
HarperCollins | Amazon | Barnes & Noble
About Kemper Donovan
Kemper Donovan has lived in Los Angeles for the past twelve years. A graduate of Stanford University and Harvard Law School, he worked at the literary management company Circle of Confusion for a decade, representing screenwriters and comic books. He is also a member of the New York Bar Association.
Follow Kemper on Twitter.
Kemper's Tour Stops
Wednesday, April 6th: Curling Up by the Fire
Thursday, April 7th: 5 Minutes For Books
Friday, April 8th: You Can Read Me Anything
Monday, April 11th: Book Hooked Blog
Tuesday, April 12th: From the TBR Pile
Wednesday, April 13th: she treads softly
Thursday, April 14th: A Bookish Way of Life
Monday, April 18th: Thoughts On This 'n That
Tuesday, April 19th: Sara's Organized Chaos
Wednesday, April 20th: Literary Feline
Thursday, April 21st: Bibliotica
Monday, April 25th: No More Grumpy Bookseller
Tuesday, April 26th: Lesa's Book Critiques
Wednesday, April 27th: All Roads Lead to the Kitchen
Thursday, April 28th: Ms. Nose in a Book
Friday, April 29th: fangirl confessions