About Be Frank With Me
• Hardcover: 304 pages
• Publisher: William Morrow (February 2, 2016)
A February IndieNext pick!
A sparkling talent makes her fiction debut with this infectious novel that combines the charming pluck of Eloise, the poignant psychological quirks of The Curious Incident of the Dog in the Night-Time and the page-turning spirit of Where'd You Go, Bernadette.
Reclusive literary legend M. M. "Mimi" Banning has been holed up in her Bel Air mansion for years. But after falling prey to a Bernie Madoff-style ponzi scheme, she's flat broke. Now Mimi must write a new book for the first time in decades, and to ensure the timely delivery of her manuscript, her New York publisher sends an assistant to monitor her progress. The prickly Mimi reluctantly complies—with a few stipulations: No Ivy-Leaguers or English majors. Must drive, cook, tidy. Computer whiz. Good with kids. Quiet, discreet, sane.
When Alice Whitley arrives at the Banning mansion, she's put to work right away—as a full-time companion to Frank, the writer's eccentric nine-year-old, a boy with the wit of Noel Coward, the wardrobe of a 1930s movie star, and very little in common with his fellow fourth-graders.
As she slowly gets to know Frank, Alice becomes consumed with finding out who Frank's father is, how his gorgeous "piano teacher and itinerant male role model" Xander fits into the Banning family equation—and whether Mimi will ever finish that book.
Full of heart and countless "only-in-Hollywood" moments, Be Frank with Me is a captivating and unconventional story of an unusual mother and son, and the intrepid young woman who finds herself irresistibly pulled into their unforgettable world.
Praise
"The curious incident of where'd you go, Salinger: clever, sweet." —Kirkus Reviews
"Witty dialogue, irresistible characters, and a touch of mystery make this sweet debut about a quirky Hollywood family an enjoyable page-turner." —Booklist
"Johnson's magnificently poignant, funny, and wholly original debut goes beyond page-turner status. Readers will race to the next sentence. And the next. Her charming, flawed, quietly courageous characters, each wonderfully different, demand a second reading while we impatiently await the author's second work." —Library Journal, starred review
"What a charmer this book is! From the very first page, I fell hard for Frank, an adorable oddball with an amazing brain, a wardrobe to die for, and a lonely fragility that pierced my heart again and again. When I finished, I wished him and his makeshift, off-beat family well—and immediately began missing him." -Marisa de los Santos, New York Times-bestselling author of Love Walked In and The Precious One

Purchase Links
Amazon | IndieBound | Barnes & Noble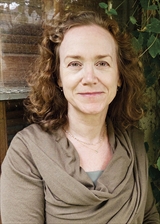 About Julia Claiborne Johnson
Julia Claiborne Johnson worked at Mademoiselle and Glamour magazines before marrying and moving to Los Angeles, where she lives with her comedy-writer husband and their two children.
Connect with Julia on Facebook and Twitter.
Julia's Tour Stops
Tuesday, February 2nd: A Bookish Way of Life
Wednesday, February 3rd: Walking With Nora
Thursday, February 4th: Doing Dewey
Friday, February 5th: Book Hooked Blog
Monday, February 8th: Lesa's Book Critiques
Tuesday, February 9th: From the TBR Pile
Thursday, February 11th: A Bookworm's World
Monday, February 15th: No More Grumpy Bookseller
Tuesday, February 16th: Sara's Organized Chaos
Wednesday, February 17th: All Roads Lead to the Kitchen
Thursday, February 18th: Thoughts On This 'n That