About About a Girl
• Paperback: 416 pages
• Publisher: Harper (April 14, 2015)
Tess Brookes has always been a Girl with a Plan. But when the Plan goes belly up, she's forced to reconsider.
After accidently answering her roommate Vanessa's phone, she decides that since being Tess isn't going so well, she might try being Vanessa. With nothing left to lose, she accepts Vanessa's photography assignment to Hawaii – she used to be an amateur snapper, how hard can it be? Right?
But Tess is soon in big trouble. And the gorgeous journalist on the shoot with her, who is making it very clear he'd like to get into her pants, is an egotistical monster. Far from home and in someone else's shoes, Tess must decide whether to fight on through, or 'fess up and run…

Purchase Links
Amazon | IndieBound | Barnes & Noble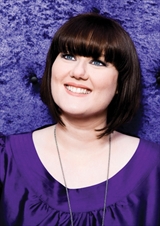 About Lindsey Kelk
Lindsey Kelk is a writer and children's book editor. When she isn't writing, reading, listening to music, or watching more TV than is healthy, Lindsey likes to wear shoes, shop for shoes, and judge the shoes of others. Born in England, Lindsey loves living in New York but misses Sherbet Fountains, London, and drinking gin and elderflower cocktails with her friends. Not necessarily in that order.
Find out more about Lindsey at her website, and connect with her on Facebook, Twitter, and Instagram.
Lindsey's Tour Stops
Tuesday, April 14th: Unshelfish
Wednesday, April 15th: The Book Bag
Thursday, April 16th: BookNAround
Friday, April 17th: Stephany Writes
Monday, April 20th: Patricia's Wisdom
Tuesday, April 21st: Satisfaction for Insatiable Readers
Thursday, April 23rd: A Chick Who Reads
Monday, April 27th: girlichef
Tuesday, April 28th: Bibliotica
Wednesday, April 29th: Books and Binding
Thursday, April 30th: fangirl confessions
Monday, May 4th: Kahakai Kitchen