About The Supreme Macaroni Company
• Paperback: 352 pages
• Publisher: Harper Paperbacks; Reprint edition (May 6, 2014)
New York Times bestselling author Adriana Trigiani takes us from the cobblestone streets of Greenwich Village to lush New Orleans to Italy and back again, from the tricky dynamics between Old World craftsmanship and New World ambition, all amid a passionate love affair that fuels one woman's determination to have it all.
For more than one hundred years, the Angelini Shoe Company in Greenwich Village has relied on the leather produced by Vechiarelli & Son in Tuscany. This ancient business partnership provides a twist of fate for Valentine Roncalli, the schoolteacher-turned-shoemaker, to fall in love with Gianluca Vechiarelli, a tanner with a complex past . . . and a secret.
But after the wedding celebrations are over, Valentine wakes up to the reality of juggling the demands of a new business and the needs of her new family. Confronted with painful choices, Valentine remembers the wise words that inspired her in the early days of her beloved Angelini Shoe Company: "A person who can build a pair of shoes can do just about anything." Now the proud, passionate Valentine is going to fight for everything she wants and savor all she deserves—the bitter and the sweet of life itself.

Purchase Links
Amazon | IndieBound | Barnes & Noble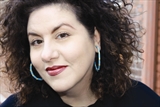 About Adriana Trigiani
Adriana Trigiani is an award-winning playwright, television writer, and documentary filmmaker. Her books include the New York Times bestseller The Shoemaker's Wife; the Big Stone Gap series; Very Valentine; Brava, Valentine; Lucia, Lucia; and the bestselling memoir Don't Sing at the Table, as well as the young adult novels Viola in Reel Life and Viola in the Spotlight. She has written the screenplay for her debut novel Big Stone Gap, which she will also direct. She lives in New York City with her husband and daughter.
Find out more about Adriana at her website, connect with her on Facebook, and follow her on Twitter.
Adriana's Tour Stops
Tuesday, May 6th: More Than Just Magic
Wednesday, May 7th: Bibliotica
Thursday, May 8th: nightlyreading
Friday, May 9th: Literary Lindsey
Monday, May 12th: The Infinite Shelf
Thursday, May 15th: Books, Books Everywhere!
Monday, May 19th: Books on the Table
Monday, May 26th: Calico Critic
Monday, June 2nd: Open Book Society
Thursday, June 5th: Jo-Jo Loves to Read!
Friday, June 6th: Peppermint PhD
Monday, June 9th: Patricia's Wisdom