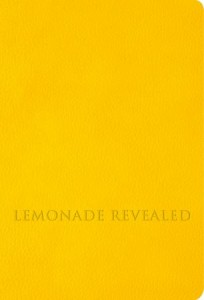 About Lemonade Revealed
• Leather-finishing in Yellow: 256 pages
• Publisher: Twiitaga Pte LTD (June, 2014)
FICTION: A boy on a voyage to find his true father regained consciousness on an unknown island to the curious stares of three old men: a warrior, a trader, and a priest. The lost boy would later discover through a mysterious man–a skinhead with an eye tattoo on his neck–that one among the trio could be the father he'd been looking for….
NONFICTION: This "little yellow book" is a good place to reclaim such good old-fashioned gems as "faith" and "hope" under the demythologized light of human reason. It is a phenomenological examination on the possibility and probability of a divine existent vis-à-vis a real world of human frailties and frictions. Lemonade Revealed is a timely discourse in a timeless (and engaging) story.

 Purchase Link
About Will Chluho
As an urban pragmatist, Will Chluho was a creative director who'd served on world-renowned brands such as BlackBerry, Mercedes-Benz, and Singapore Airlines. As a spiritual "romanticist" of sorts who sought solace, he'd lived four years as a Franciscan friar, a major in philosophy and theology. He's 44, married, and advancing his philosophical studies with the University of London.
Will's Tour Stops
Monday, May 19th: Karen's Korner Blog
Wednesday, May 21st: You Can Read Me Anything
Monday, May 26th: Tiffany's Bookshelf
Wednesday, May 28th: Cruising Susan Reviews
Thursday, May 29th: The Road to Here
Friday, May 30th: ebookclassics
Monday, June 2nd: Ms. Nose in a Book
Wednesday, June 4th: Back Porchervations
Thursday, June 12th: Patricia's Wisdom
Friday, June 13th: Forever Obsession
Wednesday, June 18th: guiltless reading – Guest Post
Tuesday, June 24th: I'd Rather Be At The Beach
Saturday, June 28th: The Way Forward
Monday, June 30th:  Breezes at Dawn
Monday, July 7th: guiltless reading – Review