About The Supreme Macaroni Company
• Hardcover: 352 pages
• Publisher: Harper (November 26, 2013)
For over a hundred years, the Angelini Shoe Company in Greenwich Village has relied on the leather produced by Vechiarelli & Son in Tuscany. This historic business partnership provides the twist of fate for Valentine Roncalli, the school teacher turned shoemaker, to fall in love with Gianluca Vechiarelli, a tanner with a complex past . . . and a secret.
A piece of surprising news is revealed at The Feast of the Seven Fishes when Valentine and Gianluca join her extended family on a fateful Christmas Eve. Now faced with life altering choices, Valentine remembers the wise words that inspired her in the early days of her beloved Angelini Shoe Company: "A person who can build a pair of shoes can do just about anything." The proud, passionate Valentine is going to fight for everything she wants and savor all she deserves—the bitter and the sweetness of life itself.
The Supreme Macaroni Company is Trigiani at her comedic and dramatic best, the inside story of a family business, and the shoemaker who carries on the tradition while juggling a new marriage and family. The pull between old world Italian ways and American ambition tear at Valentine, as a secret is revealed that changes the course of her life. The story takes the reader from the cobblestone streets of Greenwich Village, to lush New Orleans, and home to Italy, in Tuscany and on the Amalfi coast, with a surprise twist that takes the action to America's rust belt, Youngstown, Ohio.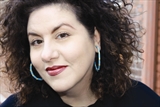 About Adriana Trigiani
Adriana Trigiani is an award-winning playwright, television writer, and documentary filmmaker. Her books include the New York Times best seller The Shoemaker's Wife; the Big Stone Gap series; Very Valentine; Brava, Valentine; Lucia, Lucia; and the best-selling memoir Don't Sing at the Table, as well as the young adult novels Viola in Reel Life and Viola in the Spotlight. She has written the screenplay for Big Stone Gap. which she will also direct. She lives in New York City with her husband and daughter.
Find out more about Adriana at her website, connect with her on Facebook, and follow her on Twitter.
Adriana's Tour Stops
Monday, November 11th: Bloggin' 'Bout Books
Tuesday, November 12th: Hopelessly Devoted Bibliophile
Wednesday, November 13th: Becca's Byline
Thursday, November 14th: Kritters Ramblings
Friday, November 15th: Satisfaction for Insatiable Readers
Monday, November 18th: Svetlana's Reads and Views
Tuesday, November 19th: Peeking Between the Pages
Thursday, November 21st: Always With a Book
Monday, November 25th: Broken Teepee
Tuesday, November 26th: bookchickdi
Wednesday, November 27th: Bibliophilia, Please
Friday, November 29th: Lesa's Book Critiques
Monday, December 2nd: Book Addict Katie
Tuesday, December 3rd: Alison's Book Marks
Wednesday, December 4th: Ageless Pages Reviews
Sunday, December 8th: Lavish Bookshelf
Monday, December 9th: Joyfully Retired
Wednesday, December 11th: Love at First Book
Thursday, December 12th: A Book Geek
Thursday, December 12th: A Chick Who Reads
Friday, December 13th: Books and Movies
Tuesday, December 17th: Lisa's Yarns
Wednesday, December 18th: Col Reads
Friday, December 20th: Drey's Library
Wednesday, January 1st: The Lost Entwife
Wednesday, January 1st: Tiffany's Bookshelf
Thursday, January 2nd: Book-alicious Mama
Thursday, January 2nd: red headed book child
Monday, January 6th: Reflections of a Bookaholic
Tuesday, January 7th: A Bookish Way of Life
Wednesday, January 8th: Time 2 Read
Wednesday, January 8th: Stephany Writes
Thursday, January 9th: Walking With Nora