About Sense & Sensibility
• Hardcover: 384 pages
• Publisher: Harper (October 29, 2013)
John Dashwood promised his dying father that he would take care of his half-sisters. But his wife, Fanny, has no desire to share their newly inherited estate with Belle Dashwood's daughters. When she descends upon Norland Park with her Romanian nanny and her mood boards, the three Dashwood girls—Elinor, Marianne, and Margaret—are suddenly faced with the cruelties of life without their father, their home, or their money.
As they come to terms with life without the status of their country house, the protection of the family name, or the comfort of an inheritance, Elinor and Marianne are confronted by the cold hard reality of a world where people's attitudes can change as drastically as their circumstances.
With her sparkling wit, Joanna Trollope casts a clever, satirical eye on the tales of Elinor and Marianne Dashwood. Reimagining Sense and Sensibility in a fresh, modern new light, she spins the novel's romance, bonnets, and betrothals into a wonderfully witty coming-of-age story about the stuff that really makes the world go around. For when it comes to money, some things never change. . . .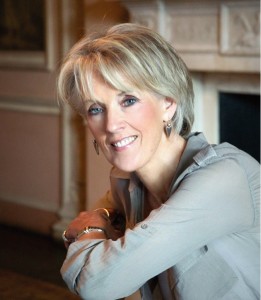 About Joanna Trollope
Joanna Trollope is the #1 bestselling author of eighteen novels, including The Soldier's Wife, Daughters-in-Law, Friday Nights, The Other Family, Marrying the Mistress, and The Rector's Wife. Her works have been translated into more than twenty-five languages and several have been adapted for television. She was appointed to the Order of the British Empire in 1996 for her services to literature, and served as the Chair of Judges for the Orange Prize for Fiction 2012. She lives in London and Gloucestershire.
Find out more about Joanna on her website.
Joanna's Tour Stops
Tuesday, October 29th: BookNAround
Wednesday, October 30th: Diary of an Eccentric
Thursday, October 31st: Savvy Verse & Wit
Friday, November 1st: Doing Dewey
Tuesday, November 5th: No More Grumpy Bookseller
Wednesday, November 6th: Lavish Bookshelf
Thursday, November 7th: A Chick Who Reads
Monday, November 11th: Kritters Ramblings
Tuesday, November 12th: BoundbyWords
Wednesday, November 13th: Book-alicious Mama
Thursday, November 14th: Kahakai Kitchen
Monday, November 18th: Diary of a Stay at Home Mom
Tuesday, November 19th: Alison's Book Marks
Wednesday, November 20th: A Bookish Way of Life
Monday, November 25th: Peppermint PhD
Tuesday, November 26th: A Reader of Fictions
Thursday, November 28th: Excellent Library