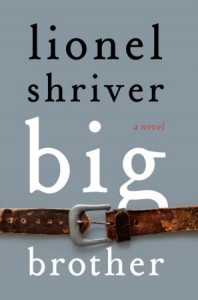 About Big Brother
• Hardcover: 384 pages
• Publisher: Harper (June 4, 2013)
From the acclaimed author of the National Book Award finalist So Much for That and the international bestseller We Need to Talk About Kevin comes a striking new novel about siblings, marriage, and obesity.
When Pandora picks up her older brother Edison at her local Iowa airport, she literally doesn't recognize him. In the four years since the siblings last saw each other, the once slim, hip New York jazz pianist has gained hundreds of pounds. What happened?
After the brother-in-law has more than overstayed his welcome, Fletcher delivers his wife an ultimatum: It's him or me. Putting her marriage and adopted family on the line, Pandora chooses her brother—who, without her support in losing weight, will surely eat himself into an early grave.And it's not just the weight. Imposing himself on Pandora's world, Edison breaks her husband Fletcher's handcrafted furniture, makes overkill breakfasts for the family, and entices her stepson not only to forgo college but to drop out of high school.
Rich with Shriver's distinctive wit and ferocious energy, Big Brother is about fat—an issue both social and excruciatingly personal. It asks just how much we'll sacrifice to rescue single members of our families, and whether it's ever possible to save loved ones from themselves.
About Lionel Shriver
Lionel Shriver is a novelist whose previous books include Orange Prize–winner We Need to Talk About Kevin, The Post-Birthday World, A Perfectly Good Family, Game Control, Double Fault, The Female of the Species, Checker and the Derailleurs, and Ordinary Decent Criminals. She is widely published as a journalist, writing features, columns, op-eds, and book reviews for the Guardian, the New York Times, the Wall Street Journal, the Financial Times, the Economist, Marie Claire, and many other publications. She is frequently interviewed on television, radio, and in print media. She lives in London and Brooklyn, NY.
Find her on Facebook.
Lionel's Tour Stops
Tuesday, June 4th: The Blog of Lit Wits
Thursday, June 6th: she treads softly
Monday, June 10th: Bibliophiliac
Tuesday, June 11th: The Well-Read Redhead
Wednesday, June 12th: Man of La Book
Thursday, June 13th: Book Hooked Blog
Monday, June 17th: BookNAround
Wednesday, June 19th: nomadreader
Thursday, June 20th:  Books in the City
Monday, June 24th: Tiffany's Bookshelf
Tuesday, June 25th: A Dream Within A Dream
Thursday, June 27th: 5 Minutes For Books
Friday, June 28th: The Book Chick
Tuesday, July 2nd: Olduvai Reads