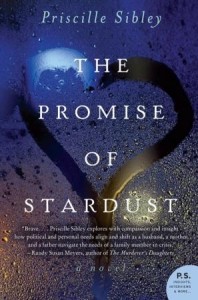 About The Promise of Stardust
• Paperback: 416 pages
• Publisher: William Morrow Paperbacks; Original edition (February 5, 2013)
Matt Beaulieu was two years old the first time he held Elle McClure in his arms, seventeen when he first kissed her under a sky filled with shooting stars, and thirty-three when they wed. Now in their late thirties, the deeply devoted couple has everything—except the baby they've always wanted.
When a tragic accident leaves Elle brain-dead, Matt is devastated. Though he cannot bear losing her, he knows his wife, a thoughtful and adventurous scientist, feared only one thing—a slow death. Just before Matt agrees to remove Elle from life support, the doctors discover that she is pregnant. Now what was once a clear-cut decision becomes an impossible choice. Matt knows how much this child would have meant to Elle. While there is no certainty her body can sustain the pregnancy, he is sure Elle would want the baby to have a chance. Linney, Matt's mother, believes her son is blind with denial. She loves Elle, too, and insists that Elle would never want to be kept alive by artificial means, no matter what the situation.
Divided by the love they share, driven by principle, Matt and Linney fight for what each believes is right, and the result is a disagreement that escalates into a controversial legal battle, ultimately going beyond one family and one single life.
Told with sensitivity and compassion, The Promise of Stardust is an emotionally resonant and thought-provoking tale that raises profound questions about life and death, faith and medicine—and illuminates, with beauty and grace, the power of love to wound . . . and to heal.
About Priscille Sibley
Priscille Sibley is a neonatal intensive care nurse who lives in New Jersey with her husband and three teenage sons. Her short fiction has appeared in MiPoesias and her poetry in The Shine Journal. She is a member of Backspace Writers Forum and Liberty State Fiction Writers. The Promise of Stardust is her first novel.
Find out more about Priscille at her website, connect with her on Facebook, follow her on Twitter, and see what she's pinning on Pinterest.
Priscille's Tour Stops
Tuesday, February 5th: Kritters Ramblings
Wednesday, February 6th: Mrs. Q: Book Addict
Monday, February 11th: Peppermint PhD
Tuesday, February 12th: Tiffany's Bookshelf
Wednesday, February 13th: Broken Teepee
Thursday, February 14th: Walking With Nora
Friday, February 15th: Dreaming in Books
Monday, February 18th: From L.A. to LA
Tuesday, February 19th: Book Addiction
Wednesday, February 20th: a novel toybox
Thursday, February 21st: BookNAround
Monday, February 25th: Tina's Book Reviews