About Falling Together
• Paperback: 384 pages
• Publisher: William Morrow Paperbacks (October 2, 2012)
It's been six years since Pen Calloway watched Cat and Will, her best friends from college, walk out of her life. Through the birth of her daughter, the death of her father, and the vicissitudes of single motherhood, she has never stopped missing them. When, after years of silence, Cat—the bewitching, charismatic center of their group—urgently requests that the three meet at their college reunion, Pen can't refuse. But instead of a happy reconciliation, what awaits is a collision of past and present that sends Pen and Will on a journey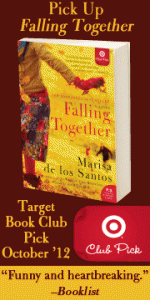 around the world, with Pen's five-year-old daughter and Cat's hostile husband in tow. And as Pen and Will struggle to uncover the truth about Cat, they find more than they bargained for: startling truths about who they were before and who they are now.
With her trademark wit, vivid prose, and gift for creating authentic, captivating characters, Marisa de los Santos returns with an emotionally resonant novel about our deepest human connections.
.
.
About Marisa de los Santos
Marisa de los Santos is a New York Times bestselling author and an award-winning poet with a Ph.D. in literature and creative writing. She lives in Delaware with her husband, David Teague, and their son and daughter.
.
.
Marisa's Tour Stops
Tuesday, October 2nd: Reflections of a Bookaholic
Wednesday, October 3rd: Reading Lark
Thursday, October 4th: girilichef
Friday, October 5th: The Adventures of an Intrepid Reader
Monday, October 8th: A Reader of Fictions
Tuesday, October 9th: A Patchwork of Books
Wednesday, October 10th: No More Grumpy Bookseller
Thursday, October 11th: The Feminist Texican [Reads]
Friday, October 12th: Book Spark
Monday, October 15th: Books and Movies
Tuesday, October 16th: Kritters Ramblings
Thursday, October 18th: Between the Covers
Monday, October 22nd: Silver & Grace
Wednesday, October 24th: Book Hooked Blog
Thursday, October 25th: My Bookshelf
Friday, October 26th: Iwriteinbooks's blog
Monday, October 29th: Lit and Life
Tuesday, October 30th: The Book Bag
Sunday, November 4th: Raging Bibliomania