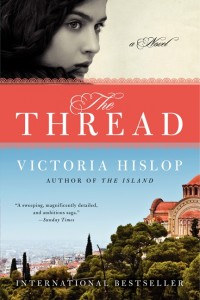 About The Thread
• Paperback:400 pages
• Publisher: Harper Paperbacks (July 10, 2012)
From the internationally acclaimed author of The Island and The Return comes a sweeping and unforgettable story of love and friendship and the choices that must be made when loyalties are challenged.
Thessaloniki, Greece, 1917: As Dimitri Komninos is born, a fire sweeps through the thriving multicultural city where Christians, Jews, and Muslims live side by side. It is the first of many catastrophic events that will forever change this place and its people. Five years later, as the Turkish army pushes west through Asia Minor, young Katerina loses her mother in the crowd of refugees clambering for boats to Greece. Landing in Thessaloniki's harbor, she is at the mercy of strangers in an unknown city. For the next eighty years, the lives of Dimitri and Katerina will be entwined with each other and—through Nazi occupation, civil war, persecution, and economic collapse—with the story of their homeland.
Thessaloniki, Greece, 2007: A young Anglo-Greek hears his grandparents' remarkable story for the first time and understands he has a decision to make. For decades, Dimitri and Katerina have looked after the treasures of those who have been forced from their beloved city. Should he become their new custodian? Should he stay or should he go?
About Victoria Hislop
Victoria Hislop is the internationally bestselling author of The Island and The Return. She writes travel features for the Sunday Telegraph, the Mail on Sunday, House & Garden, and Woman & Home. She divides her time among rural Kent, London, and Crete. She is married and has two children.
Victoria's Tour Stops
Tuesday, July 10th: Unabridged Chick
Wednesday, July 11th: Bibliosue
Monday, July 16th: A Library of My Own
Wednesday, July 18th: BookNAround
Thursday, July 19th: A Bookish Affair
Friday, July 20th: The Adventures of an Intrepid Reader
Tuesday, July 24th: Mom in Love with Fiction
Thursday, July 26th: Twisting the Lens
Monday, July 30th: Drey's Library
Thursday, August 2nd: JulzReads
Friday, August 3rd: My Bookshelf – interview