About Going Solo
• Hardcover: 288 pages
• Publisher: The Penguin Press (February 2, 2012)
A revelatory examination of the most significant demographic shift since the baby boom-the sharp increase in the number of people who live alone-that offers surprising insights on the benefits of this epochal change.
Renowned sociologist and author Eric Klinenberg explores the dramatic rise of solo living and examines the seismic impact it's having on our culture, business, and politics. Conventional wisdom tells us that living by oneself leads to loneliness and isolation, but, as Klinenberg shows, most solo dwellers are deeply engaged in social and civic life. In fact, compared with their married counterparts, they are more likely to eat out and exercise, go to art and music classes, attend public events and lectures, and volunteer. There's even evidence that people who live alone enjoy better mental health than unmarried people who live with others and have more environmentally sustainable lifestyles than families, since they favor urban apartments over large suburban homes.
It is now more common for an American adult to live alone than with family or a roommate, and Klinenberg analyzes the challenges and opportunities these people face: young professionals who pay higher rent for the freedom and privacy of their own apartments; singles in their thirties and forties who refuse to compromise their career or lifestyle for an unsatisfying partner; divorced men and women who no longer believe that marriage is a reliable source of happiness or stability; and the elderly, most of whom prefer living by themselves to living with friends or their children. Living alone is more the rule than the exception in places like Manhattan, half of whose residents live by themselves, and many of America's largest cities, where more than a third of the population does. Drawing on over three hundred interviews with men and women of all ages and every class who live alone, Klinenberg reaches a startling conclusion: In a world of ubiquitous media and hyperconnectivity, this way of life helps us discover ourselves and appreciate the pleasure of good company.
With eye-opening statistics, original data, and vivid portraits of people who go solo, Klinenberg upends the conventional wisdom to deliver the definitive take on how the rise of living alone is transforming the American experience. Going Solo is a powerful- and necessary-assessment of an unprecedented social change.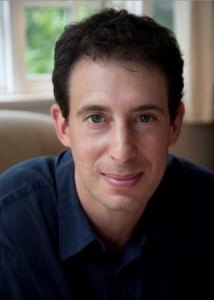 About Eric Klinenberg
Eric Klinenberg is a professor of sociology at New York University and the editor of the journal Public Culture. His first book, Heat Wave, won several scholarly and literary prizes and was declared a "Favorite Book" by the Chicago Tribune. His research has been heralded in The New Yorker and on CNN and NPR, and his stories have appeared in The New York Times Magazine, Rolling Stone, and on This American Life.
Eric's Tour Stops
Tuesday, January 31st: The Feminist Texican
Wednesday, February 1st: Living Single
Thursday, February 2nd: Rachel's Musings
Friday, February 3rd: Book Club Classics!
Monday, February 6th: The Spinsterlicious Life
Wednesday, February 8th: Carol Scibelli
Thursday, February 9th: Sixty and Single in Seattle
Monday, February 20th: Lesa's Book Critiques
Tuesday, February 21st: Singularly Happy
Thursday, February 23rd: It's All About Balance
Monday, February 27th: Womens Talk
Tuesday, February 28th: Onely: Single and Happy
Friday, March 2nd: Ted Lehmann's Bluegrass, Books, and Brainstorms
.
.