About The Year of the Gadfly
• Hardcover: 384 pages
• Publisher: Houghton Mifflin Harcourt (May 8, 2012)
Storied Mariana Academy was founded with a serious honor code, its reputation unsullied for decades. Now Prisom's Party threatens its placid halls.
A budding journalist whose only confidant is the chain-smoking specter of Edward R. Murrow, Iris Dupont knows that she can break into the ranks of The Devil's Advocate, the Party's underground newspaper, and there uncover the real source of its blackmail schemes and vilifying rumors. Some involve her favorite teacher, Mr. Kaplan. Others point to an albino student who left school abruptly, never to return. And everything connects to a rare book called Marvelous Species. But the truth is not without its own dangers, leaving Iris torn between her allegiances, her reporter's instinct, and her own troubled past.
The Year of the Gadfly is an exhilarating journey of double-crosses, long-buried secrets, and all the charge of adolescence, following in the footsteps of classic school novels like Prep and The Secret History, and reminding us how these years haunt our lives forever.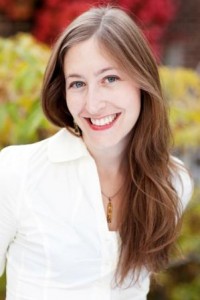 About Jennifer Miller
JENNIFER MILLER, author of Inheriting the Holy Land: An American's Search for Hope in the Middle East, holds an undergraduate degree from Brown and graduate degrees in journalism and fiction from Columbia. Her work has been published in the New York Times, Marie Claire, Men's Health, the Christian Science Monitor, Salon.com, and others. She is a native of Washington, D.C. and lives in Brooklyn.
Jennifer's Tour Stops
Tuesday, May 8th: The Scarlet Letter
Wednesday, May 9th: Unabridged Chick
Thursday, May 10th: Just Joanna
Monday, May 14th: Books in the City
Tuesday, May 15th: Drey's Library
Wednesday, May 16th: Bookstack
Thursday, May 17th: Books Distilled
Monday, May 21st: Sophisticated Dorkiness
Tuesday, May 22nd: so much shouting, so much laughter
Wednesday, May 23rd: Book Hooked Blog
Thursday, May 24th: Under My Apple Tree
Tuesday, May 29th: Reflections of a Bookaholic