About Gillespie and I
• Paperback: 528 pages
• Publisher: Harper Perennial (January 31, 2012)
From the award-winning author of The Observations comes a beautifully conjured and wickedly sharp tale of art and deception in nineteenth-century Scotland.
As she sits in her Bloomsbury home with her two pet birds for company, elderly Harriet Baxter recounts the story of her friendship with Ned Gillespie—a talented artist whose life came to a tragic end before he ever achieved the fame and recognition that Harriet maintains he deserved.
In 1888, young Harriet arrives in Glasgow during the International Exhibition. After a chance encounter with Ned, she befriends the Gillespie family and soon becomes a fixture in their lives. But when tragedy strikes, culminating in a notorious criminal trial, the certainty of Harriet's new world rapidly spirals into suspicion and despair.
Infused with rich period detail, shot through with sly humor, and featuring a memorable cast of characters, Gillespie and I is an absorbing, atmospheric tale of one young woman's friendship with a volatile artist and her place in the controversy that consumes him—a tour de force from one of the emerging names of modern fiction.
About Jane Harris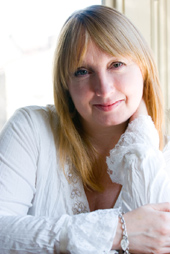 Jane Harris is the author of the award-winning novel The Observations. She lives in London.
Jane's Tour Stops
Tuesday, January 31st: Unabridged Chick
Monday, February 6th: Wordsmithonia
Tuesday, February 7th: The House of the Seven Tails
Tuesday, February 7th: BookNAround
Wednesday, February 8th: Broken Teepee
Monday, February 13th: Library of Clean Reads
Tuesday, February 14th: Reviews by Lola
Wednesday, February 15th: The Lost Entwife
Friday, February 17th: Amused By Books
Monday, February 20th: Amusing Reviews
Wednesday, February 22nd: Tales of a Capricious Reader
Thursday, February 23rd: nomadreader