Fate takes many forms. . . .
When Henry receives a letter from an elderly taxidermist, it poses a puzzle that he cannot resist. As he is pulled further into the world of this strange and calculating man, Henry becomes increasingly involved with the lives of a donkey and a howler monkey—named Beatrice and Virgil—and the epic journey they undertake together.
With all the spirit and originality that made Life of Pi so beloved, this brilliant  novel takes the reader on a haunting odyssey. On the way Martel asks profound questions about life and art, truth and deception, responsibility and complicity.
Check out RandomHouse.com for more information!
About Yann Martel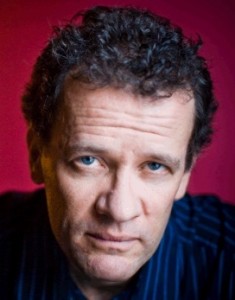 Yann Martel was born in Spain in 1963. After studying philosophy at university, he worked odd jobs and traveled before turning to writing. He is the author of the internationally acclaimed 2002 Man Booker Prize winning novel Life of Pi, which was translated into forty-one languages and spent fifty-seven weeks on the New York Times bestseller list. Yann Martel lives in Saskatchewan, Canada.
Connect with Yann Martel on Facebook.
.
.
..
Yann Martel's TLC Book Tours TOUR STOPS:
.
Monday, February 21st:  Book Addiction
Tuesday, February 22nd:  Nonsuch Book
Wednesday, February 23rd:  Rundpinne
Thursday, February 24th:  Book Hooked Blog
Friday, February 25th:  Musings of an All Purpose Monkey
Monday, February 28th:  Man of La Book
Tuesday, March 1st:  Suko's Notebook
Wednesday, March 2nd:  Book Club Classics!

Thursday, March 3rd:  Lit and Life
Monday, March 7th:  In the Next Room
Wednesday, March 9th:  Luxury Reading
Monday, March 14th:  The Brain Lair