Queen Hereafter chronicles the life of Margaret of Scotland, a contemporary of the infamous Lady Macbeth, and a woman destined for sainthood.
Margaret, a young Saxon princess, is shipwrecked with her family on the coast of Scotland and forced to accept sanctuary from the recently widowed warrior-king Malcolm Canmore of Scotland.  Malcolm sees a political prize in Margaret, and promises to help her brother, the outlawed rebel Edgar of England, in return for his sister's hand in marriage.
When Malcolm brings a female bard, Eva, to court as a hostage to ensure good behavior of her kinswoman, his conniving enemy Lady Macbeth, Margaret, and Eva expect to resent one another.  Instead, they discover an unlikely bond as outcasts of a sort–Eva a wild Celtic spirit captive among her enemies, Margaret suppressing her passions as she endures increasing pressure as a queen and a mother of princes.
Torn between loyalties, Eva must betray the king and the new queen in order to honor her devotion to the former queen.  Thrown into Malcolm's dungeon, charged with witchcraft and treason, Eva soon learns that Queen Margaret–counseled by the furious king and his powerful priests–will decide the fate of the young bard and her mentor, the troublesome Lady Macbeth.
About Susan Fraser King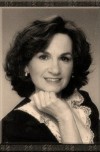 With graduate degrees in art and art history, former college lecturer SUSAN FRASER KING is the author of several bestselling novels praised for lyrical style and historical accuracy. Raised in upstate New York and a frequent visitor to Scotland, she lives in Maryland with her family.
For more info on Susan Fraser King, please visit her website.
.
.
Susan Fraser King's TLC Book Tours TOUR STOPS:
Monday, December 6th:  Royal Reviews – reschedule
Tuesday, December 7th:  Passages to the Past author interview/giveaway
Wednesday, December 8th:  Stiletto Storytime
Thursday, December 9th:  Scandalous Women
Friday, December 10th:  Rundpinne
Monday, December 13th:  Books Like Breathing
Monday, December 13th:  Life in Review
Tuesday, December 14th:  Life in the Thumb
Wednesday, December 15th:  Hist-Fic Chick
Friday, December 17th:  Simply Stacie
Monday, December 20th:  Elevate Difference
Tuesday, December 21st:  The Maiden's Court
Wednesday, December 22nd:  Girls Gone Reading
Thursday, December 23rd:  Thoughts from an Evil Overlord
Monday, December 27th:  Teresa's Reading Corner
Tuesday, December 28th:  The Tome Traveller
Wednesday, December 29th:  Chaotic Compendiums
Friday, January 14th:  Luxury Reading