About LOUDER THAN WORDS:
3 NEW TITLES IN A BREAKTHROUGH TEEN-AUTHORED MEMOIR SERIES!

Alexis Singer gives an honest voice to the very real phenomenon of online solicitation. In Alexis, she shares her harrowing story of being sucked into an emotionally dependent and cybersexual relationship by an older man she met in a chat room. "I probably would have forgotten about that first online conversation if it weren't for his surprising interest in me…I would have dismissed him as just another creep," Alexis writes.
.
.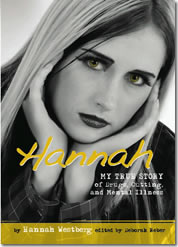 .
In Hannah, author Hannah Westberg writes, "The psych ward is where you go to get from fragile to shattered. It's like taking your car to get washed and getting your windshield broken in the process." As told through brutally honest vignettes, Hannah brings the reader into one teen's world of dangerous behaviors—from pill popping and excessive dieting to cutting and suicide attempts—brought on by the author's borderline personality disorder.
.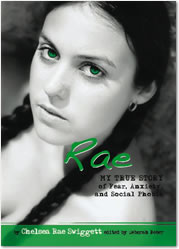 .
In Rae, brilliant young author Chelsea Rae Swiggett writes, "If I keep acting normal, I hope one day I will be, but every time I try, I just let myself down." This incredible memoir gives an inside glimpse of living life with a condition more and more common in today's teens—severe anxiety disorder.
.
.
.
This cutting-edge series gives teens an opportunity to tell their own stories—authentically and with no holds barred. The authors' unique teen perspective,along with their fresh, real voices, hook even the most reluctant teen readers.
HCI Books is proud to present these three powerful new teen-authored memoirs as part of the  Louder Than Words series, due out in August 2010.
Visit the Louder Than Words website for more information!
About the authors and editor:
Alexis Singer is from Pittsburgh, Pennsylvania. At 19, she is about to begin her junior year at Chatham University where she studies political science and women's studies. She attended the Pittsburgh High School for Creative and Performing Arts as a writer. She is a writer, a read, an activist, a feminist, and an avid home cook. Her heroes include AlicePaul, Conan O'Brian, and her mother.
18-year-old Hannah Westberg lives in Vancouver, Washington. She earned her GED and plans to enroll in Portland Community College's drug and alcohol counselor certification program. When she's not babysitting, she is probably volunteering for political and charity organizations, as well as participating in flash mobs.
Chelsea Rae Swiggett is 18 years old and lives in Ohio. She will soon be heading to college to major in English and immerse herself even further into the world of books and writing. She currently serves on the Ypulse Youth Advisory Board and plans on traveling the world—or at least the US—by the time 2012 hits. Just in case. Visit her on her YA book review blog, The Page Flipper.
Deborah Reber, editor of the Louder Than Words memoirs, is a bestselling author of nonfiction books for teens, including Chill and In Their Shoes. Visit her popular blog for girls,  Smart Girls Know.
TLC Book Tours TOUR STOPS for LOUDER THAN WORDS:
Monday, August 2nd:  Shooting Stars Mag (HANNAH)
Tuesday, August 3rd:  The Brain Lair (RAE)
Wednesday, August 4th:  The Book Cellar (ALEXIS)
Thursday, August 5th:  Once Upon a Review (RAE)
Friday, August 6th:  A Good Addiction (HANNAH)
Friday, August 6th:  Bri Meets Books (ALEXIS)
Monday, August 9th:  Luxury Reading (ALEXIS)
Tuesday, August 10th:  La Femme Readers (RAE)
Wednesday, August 11th:  Luxury Reading (HANNAH)
Thursday, August 12th:  Book Junkie (RAE)
Friday, August 13th:  Peeking Between the Pages (ALEXIS)
Friday, August 13th:  Frenetic Reader (RAE)
Monday, August 16th:  Pop Culture Junkie (HANNAH)
Tuesday, August 17th:  Luxury Reading (RAE)
Tuesday, August 17th:  Frenetic Reader (ALEXIS)
Tuesday, August 17th:  Katie's Book Blog (HANNAH)
Thursday, August 19th:  Carrie's YA Bookshelf (HANNAH)
Friday, August 20th:  YA Book Queen (RAE)
Monday, August 23rd:  Frenetic Reader (HANNAH)
Monday, August 23rd:  Shooting Stars Mag (ALEXIS)
Tuesday, August 24th:  Peeking Between the Pages (HANNAH)
Thursday, August 25th:  Ticket to Anywhere (ALEXIS)
Thursday, August 26th:  WORD for Teens (RAE)
Friday, August 27th:  Rundpinne (ALEXIS)
Monday, August 30th:  The Compulsive Reader (HANNAH)
Tuesday, August 31st:  Peeking Between the Pages (RAE)
Friday, September 3rd:  The Book Scout (RAE)