Paperback: 320 pages
Publisher: St. Martin's Griffin (September 28, 2010)
In the most imaginative and haunting love story since the The Time Traveler's Wife, a world unfolds where magic is a fickle and powerful force, love can save and destroy, and a couple's fate can be sealed by a mere sleight of hand…
In her elegant debut novel, The Art of Disappearing, Ivy Pochoda asks how love can be real if so much else is an illusion.
Toby Warring seems too young and too attractive to be sending drinks to strange women in a small-town Nevada saloon, but that is exactly how he meets Mel Snow, a textile designer who is selling her wares throughout the country.  In a brief but strangely familiar conversation, Toby shows Mel that he is a rare "real" magician—actually creating the wine he places in front of her—and explains that all he has ever wanted is to perform in Las Vegas.  They marry the next day.
Soon they learn what—or rather, whom—they are each searching for in the desert.  Years before, Toby performed the classic trick of making his lovely assistant disappear… except that this time, she didn't come back.  Racked with guilt, he wonders when and where she might turn up, if ever.  Mel has been waiting for a miracle in the least likely of places.  After the childhood loss of her brother, who was always more comfortable in water, Mel still expects him to appear somewhere in the dry Nevada land.
When Toby's magic slips dangerously out of his control during his Las Vegas debut, he swears off magic and the pair flee the desert's gaudy heat for the mysterious weather of Amsterdam.  They meet enclave of elderly magicians who, like Toby, could once manifest their illusions before their talents faded.  But as they encourage Toby to return to his craft, Mel feels her marriage begin to unravel.  The growing distance between the couple prompts her to ask, in such a malleable world, is love a constant, or is it susceptible to Toby's magic?
"Ivy Pochoda's beguiling debut novel, The Art of Disappearing (St. Martin's), is a terrific page-turner about a stage magician and a traveling textile designer who meet in Vegas and marry two days later, and all the mystery and mayhem that ensues."
— Lisa Shea, Elle Magazine
About Ivy Pochoda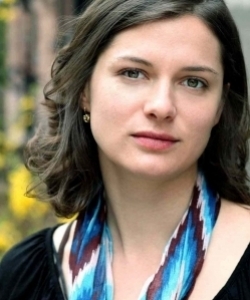 Ivy Pochoda is the author of the novel The Art of Disappearing, which was published in September 2009 by St. Martin's Press. Her short fiction has appeared in HOW Journal.  She is a contributor to the books section of the Huffington Post.
Ivy graduated from Harvard College in 1998 with a BA in Classical Greek and English Literature.  She lived in The Netherlands for many years where she worked as a magazine editor, freelance journalist, as well as playing professional squash. Her articles have appeared in Time Out New York, House & Garden, Canteen Magazine, The Amsterdam Weekly, not to mention Maxim and Butt.
Ivy currently lives in Los Angeles but misses Brooklyn, her hometown.  She is hard at work on a second novel.
Connect with Ivy:
On her Website
On Twitter
On Facebook
Ivy Pochoda's TLC Book Tours TOUR STOPS:
Monday, October 4th:  Musings of a Bookish Kitty
Wednesday, October 6th:  Rundpinne
Thursday, October 7th:  Wise Owl Book Review
Friday, October 8th:  Chaotic Compendiums
Monday, October 11th:  Estella's Revenge
Tuesday, October 12th:  Bibliofreak- reschedule
Tuesday, October 12th:  Lit and Life
Wednesday, October 13th:  Books Like Breathing
Friday, October 15th:  Bookworm with a View
Monday, October 18th:  Brunette on a Budget
Tuesday, October 19th:  One Book Shy
Thursday, October 21st:  Novel Whore
Monday, October 25th:  Daydream Believer
Wednesday, October 27th:  In the Next Room
Thursday, October 28th:  The Tome Traveller