Loosely inspired by the true story of Danish painter Einar Wegener and his California-born wife, this tender portrait of a marriage asks: What do you do when someone you love wants to change?
It starts with a question, a simple favor asked of a husband by his wife on an afternoon chilled by the Baltic wind while both are painting in their studio. Her portrait model has canceled, and would he mind slipping into a pair of women's shoes and stockings for a few moments so she can finish the painting on time. "Of course," he answers. "Anything at all." With that, one of the most passionate and unusual love stories of the twentieth century begins.
Nicole Kidman and Gwyneth Paltrow are slated to star in the film adaptation of this masterful novel that The Boston Globe calls "heartbreaking and unforgettable."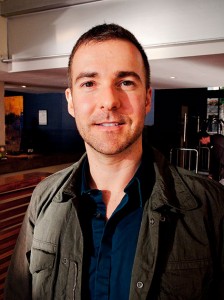 About David
David Ebershoff is the author of four books of fiction, including The Danish Girl, The Rose City,and Pasadena. His most recent novel is the international bestseller, The 19th Wife. He has won a number of awards, including the Rosenthal Foundation Award from the American Academy of Arts and Letters, the Lambda Literary Award, the Ferro-Grumley Award for excellence in gay and lesbian literature. His books have been translated into eighteen languages to critical acclaim. Two of his novels are being adapted for film and television. Ebershoff has taught creative writing at New York University and Princeton and currently teaches in the graduate writing program at Columbia University. He is an editor-at-large at Random House and lives in New York City.
David Ebershoff's TLC Book Tours TOUR STOPS:
Monday, May 3rd: Peekin' Between the Pages
Tuesday, May 4th: Bermuda Onion
Wednesday, May 5th: Lit and Life
Thursday, May 6th: Rundpinne
Friday, May 7th: Redlady's Reading Room
Monday, May 10th: Wordsmithonia
Tuesday, May 11th: Book Addiction
Wednesday, May 12th: Shooting Stars Mag
Thursday, May 13th: The 3R's Blog
Monday, May 17th: The Zen Leaf
Monday, May 17th:  GLBT Reading – author interview
Tuesday, May 18th: Eclectic Eccentric
Wednesday, May 19th: Luxury Reading
Thursday, May 20th: Worducopia
Monday, May 24th: She is Too Fond of Books
Tuesday, May 25th: The Feminist Review
Thursday, May 27th: Book Club Classics
Tuesday, June 1: Regular Rumination