Paperback: 384 pages
Publisher: Ballantine Books (February 23, 2010)
When Henry Oades accepts an accountancy post in New Zealand, his wife, Margaret, and their children follow him to exotic Wellington. But while Henry is an adventurer, Margaret is not. Their new home is rougher and more rustic than they expected-and then a single night of tragedy shatters the family when the native Maori stage an uprising, kidnapping Margaret and her children.
For months, Henry scours the surrounding wilderness, until all hope is lost and his wife and children are presumed dead. Grief-stricken, he books passage to California. There he marries Nancy Foreland, a young widow with a new baby, and it seems they've both found happiness in the midst of their mourning-until Henry's first wife and children show up, alive and having finally escaped captivity.
Narrated primarily by the two wives, and inspired by a widely publicized newspaper account, The Wives of Henry Oades is the riveting story of what happens when Henry, Margaret and Nancy face prosecution for bigamy. Exploring the intricacies of marriage, the construction of family, the changing world of the late 1800s, and the strength of two remarkable women, Johanna Moran turns this unusual family's story into an unforgettable page-turning drama.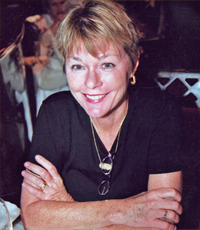 "Intriguing and evocative …. A book group winner." – Publishers Weekly
"Fresh and unusual …. A beguiling, promising debut." – Kirkus Reviews
About Johanna Moran
Johanna Moran comes from a long line of writers and lawyers. She lives on the west coast of Florida with her husband, John.  The Wives of Henry Oades is her first novel.  Check out Johanna's website HERE.
Johanna Moran's TLC Book Tours TOUR STOPS:
Monday, February 15th:  Luxury Reading
Wednesday, February 17th:  Book Club Classics!
Thursday, February 18th:  My Friend Amy
Friday, February 19th:  Beth Fish Reads author guest post
Monday, February 22nd:  Jenn's Bookshelves
Tuesday, February 23rd: The 3 R's Blog
Thursday, February 25th:  It's All About Books
Friday, February 26th:  Thoughts of an Evil Overlord
Monday, March 1st:  Rundpinne
Tuesday, March 2nd:  Peeking Between the Pages
Wednesday, March 3rd:  A High and Hidden Place
Thursday, March 4th:  The Literate Housewife Review
Friday, March 5th:  Stephanie's Confessions of a Book-aholic – reschedule
Monday, March 8th:  Bibliofreak
Tuesday, March 9th: A Lifetime of Books
Wednesday, March 10th:  Starting Fresh
Thursday, March 11th:  Savvy Verse and Wit
Monday, March 15th:  The Calico Critic