Matthew Pearl is the New York Times bestselling author of The Dante Club, The Poe Shadow, and The Last Dickens.
He is also the editor of the Modern Library editions of Dante's Inferno (translated by Henry Wordsworth Longfellow) and Edgar Allan Poe's The Murders in the Rue Morgue:  The Dupin Tales.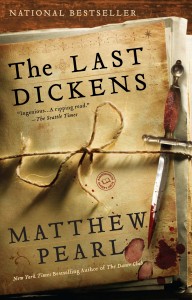 *  Category: Fiction
* Format: Trade Paperback, 416 pages
* On Sale: October 6, 2009
* Price: $14.00
* ISBN: 978-0-8129-7802-5 (0-8129-7802-1)
Boston, 1870.  When news of Charles Dickens sudden death reaches his struggling American publisher, James Osgood sends his trusted clerk, Daniel Sand, to await the arrival of Dickens's unfinished final manuscript.  But Daniel never returns, and when his body is discovered by the docks, Osgood must embark on a quest to find the missing end to the novel and unmask the killer.  With Daniel's sister Rebecca at his side, Osgood races the clock through a dangerous web of opium dens, sadistic thugs, and literary lions to solve a genius's last mystery and save his own-and Rebecca's- lives.
Matthew Pearl's TLC Book Tours TOUR STOPS:
Monday, September 28th:  Book Chatter and Other Stuff
Wednesday, September 30th:  Book Chatter and Other Stuff – guest post
Wednesday, September 30th:  Raging Bibliomania
Thursday, October 1st:  Linus's Blanket
Monday, October 5th:  Life in the Thumb
Tuesday, October 6th:  The Brain Lair
Wednesday, October 7th:  Bookish Ruth
Thursday, October 8th:  A High and Hidden Place
Monday, October 12th:  Life and Times of a "New" New Yorker
Tuesday, October 13th:  Beth Fish Reads
Wednesday, October 14th:  S. Krishna's Books
Thursday, October 15th:  Musings of a Bookish Kitty
Friday, October 16th:  Stephanie's Written Word
Monday, October 19th:  The Tome Traveller
Tuesday, October 20th:  Book Club Classics
Wednesday, October 21st:  Luxury Reading
Thursday, October 22nd:  Savvy Verse and Wit