___________________________
Mere words can't end their families' feud, but the Campbell heir and the Bradshaw heiress plan to write a future together.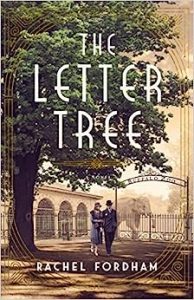 The Letter Tree by Rachel Fordham
Buffalo, NY, 1924
Laura Bradshaw adores stories with happily ever afters. But since her mother died seven years ago, the Bradshaw Shoe Company heiress has been as good as locked away in a tower. Her overbearing father cares little for her dreams, throwing himself instead into his tireless takedown of his competitor, the Campbell Shoe Company. However, Laura has been gifted with a reprieve: a mysterious friend with whom she's been exchanging letters.
As heir to the Campbell Shoe Company, Isaac Campbell is a sought-after bachelor who has never felt an inkling of desire for the women who constantly bat their eyes at him. His thoughts are consumed by an oak tree in the Buffalo Zoo—or rather, the mystery woman he exchanges letters with courtesy of the tree. She's been one of Isaac's only joys in a life consumed by his father's tireless hatred of Bradshaw. A hatred that, Isaac is coming to realize, may affect him more personally than he ever imagined.
When Laura's father orchestrates a match between her and an important business owner, she resolves to pursue her only chance at freedom. But Isaac believes their story isn't bound for a tragic ending. He's certain there's more to the Bradshaw-Campbell feud than meets the eye. And he won't stop digging until he uncovers the truth that might bridge the divide between him and the woman whose words have captured his heart.

Purchase Links
___________________________
This memoir tells the story of Georgia physician Dhaval Desai's life during the Covid-19 pandemic.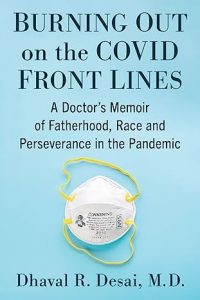 Burning Out on the COVID Front Lines: A Doctor's Memoir of Fatherhood, Race and Perseverance in the Pandemic by Dhaval R. Desai, M.D.
As a new father, frontline physician and healthcare leader on the brink of burnout, and a member of an ethnic minority in the South, his tale is marked by chaotic intersections. Throughout, his commitment to fostering and advocating for caring and compassion in the practice of medicine shines as Desai shares his unique perspective.

Purchase Links
___________________________
Eight years ago, tragedy struck. Eight years ago, Lucy Michaels' life changed forever. But under the surface of her small town lies a secret that could pull her under.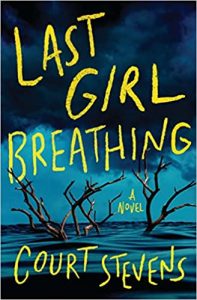 Last Girl Breathing by Court Stevens
No one expected it to rain that much. But the rain kept coming, the dam broke, and lives were lost. Including five-year-old Clay Michaels, who was swept away in the floodwaters. Clay's sister, Lucy, has never forgiven herself for her little brother's death. She was supposed to hold on to him, to keep him from harm during that terrible night. She was supposed to protect him.
Now eight years later, seventeen-year-old Lucy is focused on two things: making the US Olympic air rifle team and protect­ing everyone in her life from any type of trauma. However, with graduation and the Olympics on the horizon, her world is once again shaken when tragedy strikes Grand Junction, and Lucy is right back in the middle of it.
Two of her closest friends have been hunted down in the nature preserve adjoining the town—the same plot of land where her younger brother died—and the fingers of suspicion are pointing everywhere in the community. The prime suspect? Lucy's ex-boyfriend. The more Lucy uncovers about the secrets of those around her, the more she realizes that she, too, is a target—and that now is the time to face her past if she wants to have a future.
Last Girl Breathing is a page-turning hunt for the truth as Court Stevens once again creates nonstop suspense with characters who will break your heart.
A stand-alone young adult thriller

Perfect for fans of 

We Were Liars

 and 

The Good Girl's Guide to Murder

Book length: 76,000 words

Includes discussion questions

Purchase Links
___________________________
With echoes of 
Educated
and 
Born a Crime
, 
How to Say Babylon
 is the stunning story of the author's struggle to break free of her rigid Rastafarian upbringing, ruled by her father's strict patriarchal views and repressive control of her childhood, to find her own voice as a woman and poet.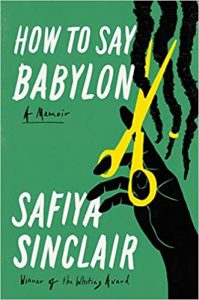 How to Say Babylon by Safiya Sinclair
Throughout her childhood, Safiya Sinclair's father, a volatile reggae musician and militant adherent to a strict sect of Rastafari, became obsessed with her purity, in particular, with the threat of what Rastas call Babylon, the immoral and corrupting influences of the Western world outside their home. He worried that womanhood would make Safiya and her sisters morally weak and impure, and believed a woman's highest virtue was her obedience.
In an effort to keep Babylon outside the gate, he forbade almost everything. In place of pants, the women in her family were made to wear long skirts and dresses to cover their arms and legs, head wraps to cover their hair, no make-up, no jewelry, no opinions, no friends. Safiya's mother, while loyal to her father, nonetheless gave Safiya and her siblings the gift of books, including poetry, to which Safiya latched on for dear life. And as Safiya watched her mother struggle voicelessly for years under housework and the rigidity of her father's beliefs, she increasingly used her education as a sharp tool with which to find her voice and break free. Inevitably, with her rebellion comes clashes with her father, whose rage and paranoia explodes in increasing violence. As Safiya's voice grows, lyrically and poetically, a collision course is set between them.
How to Say Babylon is Sinclair's reckoning with the culture that initially nourished but ultimately sought to silence her; it is her reckoning with patriarchy and tradition, and the legacy of colonialism in Jamaica. Rich in lyricism and language only a poet could evoke, How to Say Babylon is both a universal story of a woman finding her own power and a unique glimpse into a rarefied world we may know how to name, Rastafari, but one we know little about.

Purchase Links
___________________________
On a beautiful September afternoon, a hike through the pristine wild of Still Waters Chasm becomes a path of mystery and deadly danger for Gabriela Domenici and her boyfriend, Daniel Red Deer.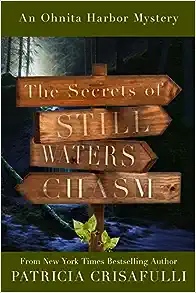 The Secrets of Still Waters Chasm by Patricia Crisafulli
On a beautiful September afternoon, a hike through the pristine wild of Still Waters Chasm becomes a path of mystery and deadly danger for Gabriela Domenici and her boyfriend, Daniel Red Deer. First, they take a side trail to an inexplicable construction site in the middle of the woods, where every tree has been cut down and a huge truck bearing strange-looking equipment is parked in the middle. As they continue their hike to the lake, they find a man convulsing with his last breaths, not far from the lifeless body of a woman. After going for help, Gabriela and Daniel return to the scene—only to find the two people and their canoe and gear are gone. It seems impossible that two bodies could revive and leave on their own, but there is no other explanation.
When she conducts a library outreach program in the rural Town of Livery, near Still Waters Chasm, Gabriela discovers a community that is both curious and suspicious. There, she meets Lucinda Nanz, an herbalist whose encyclopedic knowledge of plants for help and harm is both fascinating and troubling, and Wendy Haughton, a young woman who desperately wants to sell an old drawing of unknown origin so she can escape her abusive husband. Despite the state police's warnings to stay out of the investigation, and Daniel's urging to not get involved, Gabriela cannot stay away from Livery and Still Waters Chasm—which puts her on a collision course with yet another murder and people who will stop at nothing to prevent her from getting too close to the truth that could destroy chasm.

Purchase Links
___________________________
Sometimes it's the most unlikely meetings that give us life's greatest gifts.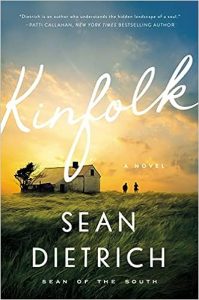 Kinfolk by Sean Dietrich
1970s, Southern Alabama. Sixty-two-year-old Jeremiah Lewis Taylor, or "Nub," has spent his whole life listening to those he loves tell him he's no good—first his ex-wife, now his always-disapproving daughter. Sure, his escapades have made him, along with his cousin and perennial sidekick, Benny, just a smidge too familiar with small-town law enforcement, but he's never harmed anyone—except perhaps himself.
Nub never meant to change his ways, but when he and fifteen-year-old Waffle House waitress Minnie form an unlikely friendship, he realizes for the first time that there may be some good in him after all. Six-foot-five Minnie has been dealt a full deck of bad luck—her father is a convicted murderer serving a life sentence, her mother is dead and buried, and she has a Grand Ole Opry–worthy singing voice with no place to perform. Oh, and there's the small fact that she's unexpectedly pregnant, courtesy of a no-good high-school boy.
Gradually, Nub realizes the gift he's been given: a second chance to make a difference.
Beloved Southern writer Sean Dietrich, also known as Sean of the South, once again brings people and places to life in this lyrical song-turned-story about found family, second chances, country music, and the poignant power of love and forgiveness.
Heartwarming Southern fiction from Sean of the South

Stand-alone novel

Includes discussion questions for book clubs

Also by Sean Dietrich: 

The Incredible Winston Brown

e,

 Stars of Alabama

, and 

You Are My Sunshine

Purchase Links
___________________________
Harper Muse Classics – The Jane Austen Collection
Jane Austen's iconic novels are available in exclusive collector's edition featuring a delicate laser-cut jacket on a textured book with foil stamping and ribbon marker, making it ideal for fiction lovers and book collectors alike. Austen fans will love this exquisitely designed volume from their beloved literary heroine.
The winning book club will receive copies of Emma, Persuasion, and Sense & Sensibility.

Purchase Links can be found here:
___________________________
A botanical illustration of a butterfly. A missing baby. And a twisted mystery fifty years in the making.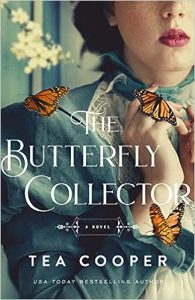 The Butterfly Collector by Tea Cooper
1868, Morpeth. Theodora Breckenridge, still in mourning after the loss of her parents and brother at sea, is more interested in working quietly on her art at the family's country estate than she is finding a husband in Sydney society, even if her elder sister Florence has other ideas. Theodora seeks to emulate prestigious nature illustrators, the Scott sisters, who lived nearby. She cannot believe her luck when she discovers a butterfly never before seen in Australia. With the help of her maid Clarrie and her beautiful drawings, Theodora is poised to make a scientific discovery that will put her name on the map. Then Clarrie's newborn son goes missing and everything changes.
1922, Sydney. When would-be journalist Verity Binks is sent an anonymous parcel containing a spectacular butterfly costume along with an invitation to the Sydney Artists Masquerade Ball the same day she loses her job at The Arrow, she is both baffled and determined to attend. Her late grandfather, Sid, an esteemed newspaperman, would expect no less of her. At the ball she lands a juicy commission to write the history of the Treadwell Foundation, an institution that supports disgraced young women and their babies. As she begins to dig, her research quickly leads her to an increasingly dark and complex mystery—a mystery fifty years in the making. Can she solve it? And will anyone believe her if she does?
The Butterfly Collector is USA TODAY bestselling author Tea Cooper at her best.

Purchase Links
___________________________
Scott Fad's Southern Gothic masterwork, King of Nod, layers time and secrets in an intricate pattern of half-truths and glimpses of redemption…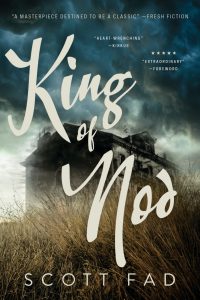 King of Nod by Scott Fad
"Folks say evil can't cross water," she told the boy, "which is why islands is ripe with all kinds'a inbred nastiness."
Sweetpatch Island, South Carolina, 1971. For young Boo Taylor it's a land of lush salt marshes and sun-soaked beaches, rich in history and folklore—yet steeped in superstition and hiding a terrifying secret.
After twenty years of self-imposed exile, Boo is summoned home to Sweetpatch upon news of his father's strange death to face the friends and enemies of his youth, including his long-forsaken love. It seems everything he ran away from—the bigotry, the violence, the betrayal—has been buried under a modern landscape of golf courses and luxury hotels. Yet his homecoming reawakens the ancient forces that haunt the island and seek to right a centuries-old crime.
Scott Fad's Southern Gothic masterwork, King of Nod, layers time and secrets in an intricate pattern of half-truths and glimpses of redemption to unravel the island's great mystery—and its inexorable connection to Boo's own fate.

Purchase Links
___________________________
Discouraged that you will never fulfill your dreams? Stephanie Nelson, creator of the wildly successful Coupon Mom movement, 
shares an inspiring, motivating roadmap for achieving dreams, saving money, and giving generously with big faith.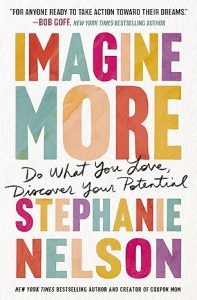 Imagine More: Do What You Love, Discover Your Potential by Stephanie Nelson
If you feel stuck in life and unable to make progress toward your deepest hopes and dreams, let Stephanie Nelson share a practical path to reaching your full potential. The creator of the Coupon Mom and jump-starter of the coupon craze that started in 2008 with the recession, Stephanie can relate to holding on to dreams that seem bigger than abilities. She started the Coupon Mom website with a thirty-five dollar investment and never borrowed or spent more than the project earned. With no extra money or experience in technology, Stephanie grew a tiny website into a multimillion-dollar business that has helped millions of people save money and donate groceries to charities, all while using the free Coupon Mom program.
Sharing her story to unpack life lessons, Stephanie shares a path to
banish fear and embrace opportunity,

develop a vision and pursue dreams,

identify God's plan to use your abilities to help others, and

build community by including others in your success.
It's never too late to imagine more, chase your dreams, and impact the world through your unique gifts and talents; Stephanie shows readers how to exchange their ordinary for God's extraordinary. Imagine More will encourage anyone who wants to use their passions and skills to benefit others and fulfill their most cherished dreams.
Bonus content: The 35-page bonus ebook, Imagine More Savings: Digital Hacks,is included via QR code in the book and ebook.

Purchase Links
___________________________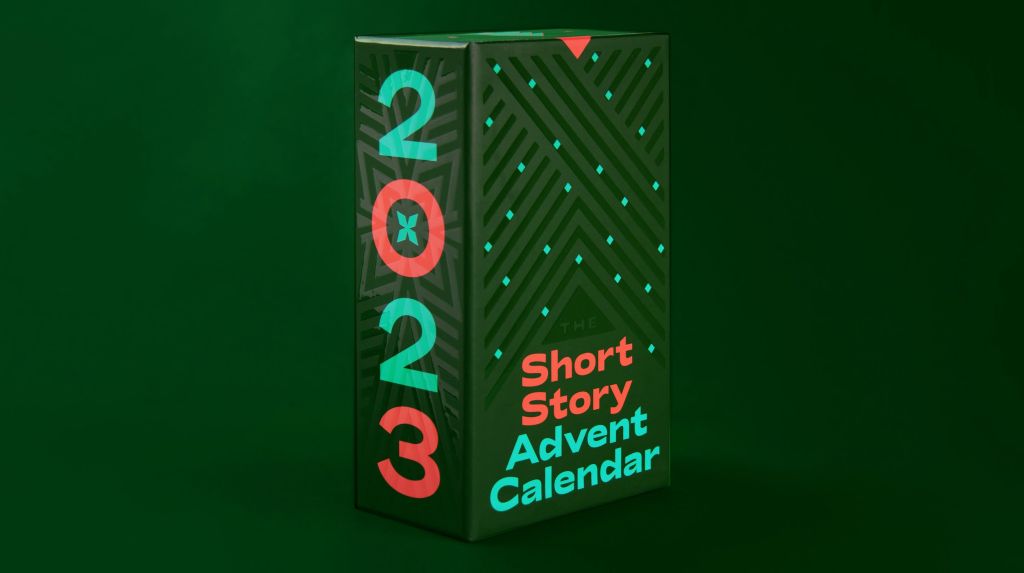 Curl up inside this winter with the 2023 Short Story Advent Calendar!
Now in its ninth year, the SSAC is back to once again bring readers a deluxe, peppermint-fresh collection of 25 short stories from some of the best writers in North America and beyond.
Contributors to the 2023 Short Story Advent Calendar include:
Melissa Broder (Milk Fed)

Thomas King (Indians on Vacation)

Naben Ruthnum (A Hero of Our Time)

Colin Winnette (Users)

Hilma Wolitzer (Today a Woman Went Mad in the Supermarket)

and 20 more!
(This is a collection of literary, non-religious short stories for adults. For more information, visit the publisher's Frequently Asked Questions page.)
Purchase Link
___________________________

Please fill out our super short registration form (click the "Enter Now" button above) by November 30th for a chance to win a set of up to ten copies of one of these great books for your book club! We will randomly choose a winner at the end of the month. This giveaway is open to clubs in the US only (our apologies to friends in other countries). 
Best of luck!
We LOVE Book Clubs!