___________________________
From the bestselling author of 
The Vibrant Years
 comes an emotional story of three women navigating ugly truths and safe lies with only love to guide them on a journey of motherhood, friendship, and life.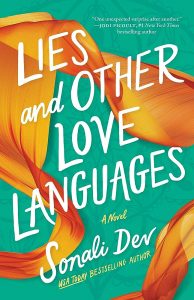 Lies and Other Love Languages by Sonali Dev
Bestselling advice columnist Vandy Guru built her career teaching others how to live honestly and courageously, but after the loss of her husband, Vandy's public veneer can barely conceal her grief. When her beloved daughter Mallika suddenly disappears and her estranged childhood best friend Rani returns, stirring up long-buried secrets, Vandy's carefully crafted life feels at risk.
Aspiring choreographer Mallika Guru is tired of failure. When another audition ends in rejection, she signs up for a genetic study to find out why she's so different from her accomplished family. But the results reveal her whole life to be a lie, and Rani seems to be the only one who knows the truth.
Rani Parekh sacrificed everything for Vandy once. But to hold on to the life she's rebuilt, she must confront her troubled history and face Vandy and Mallika. Join these three extraordinary women as they journey from LA to Mumbai on an incredible path of discovery, hope, and love.

Purchase Links
___________________________
Blood holds all kinds of curses.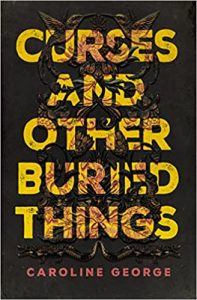 Curses and Other Buried Things by Caroline George
Seven generations of women in Susana Prather's family have been lost to the Georgia swamp behind her house. The morning after her eighteenth birthday, she awakens soaked with water, with no memory of sleepwalking. No matter how she tries to stop it, she's pulled from her safe bed night after night, haunted by her own family history and legacy. Now, the truth feels unavoidable: it's only a matter of time before she loses her mind and the swamp becomes her grave.
Unless she can figure out how to break the curse.
When she isn't sleepwalking, she's dreaming of her great-great-great-great-grandmother, Suzanna Yawn, who set the curse in motion in 1855. Her ancestor's life bears such similarity to her own that it might hold the key she seeks. Or it might only foretell tragedy.
As Susana seeks solutions in the past and the present, family members hold secrets tighter to their chests, friends grow distant, and old flames threaten to sputter and die. But Susana has something no one else has been able to seize: the unflagging belief that all curses can be broken and that love can help a new future begin.
Based on her own family history, award-winning novelist Caroline George's latest novel is a staggeringly beautiful work of hope.
Stand-alone young adult contemporary Southern gothic

Perfect for fans of 

Wilder Girls

, 

Dark and Shallow Lies

, and 

Swamplandia!

Book length: 97,000 words

Includes discussion questions for book clubs

Purchase Links
___________________________
Brando Skyhorse, the PEN/Hemingway Award
–
winning author of 
The Madonnas of Echo Park
, returns with a riveting literary dystopian novel set in a near-future America where mandatory identification wristbands make second-generation immigrants into second-class citizens—a powerful family saga for readers of Mohsin Hamid's 
Exit West
 and Rumaan Alam's 
Leave the World Behind
.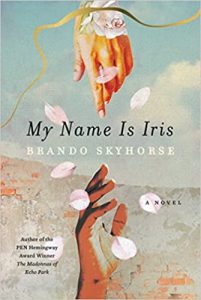 My Name is Iris by Brando Skyhorse
Iris Prince is starting over. After years of drifting apart, she and her husband are going through a surprisingly drama-free divorce. She's moved to a new house in a new neighborhood, and has plans for gardening, coffee clubs, and spending more time with her nine-year-old daughter Melanie. It feels like her life is finally exactly what she wants it to be.
Then, one beautiful morning, she looks outside her kitchen window–and sees that a wall has appeared in her front yard overnight. Where did it come from? What does it mean? And why does it seem to keep growing?
Meanwhile, a Silicon Valley startup has launched a high-tech wrist wearable called "the Band." Pitched as a convenient, eco-friendly tool to help track local utilities and replace driver's licenses and IDs, the Band is available only to those who can prove parental citizenship. Suddenly, Iris, a proud second-generation Mexican American, is now of "unverifiable origin," unable to prove who she is, or where she, and her undocumented loved ones, belong. Amid a climate of fear and hate-fueled violence, Iris must confront how far she'll go to protect what matters to her most.
My Name Is Iris is an all-too-possible story about family, intolerance, and hope, offering a brilliant and timely look at one woman's journey to discover who she can't–and can–be.

Purchase Links
___________________________
With echoes of 
Educated
and 
Born a Crime
, 
How to Say Babylon
 is the stunning story of the author's struggle to break free of her rigid Rastafarian upbringing, ruled by her father's strict patriarchal views and repressive control of her childhood, to find her own voice as a woman and poet.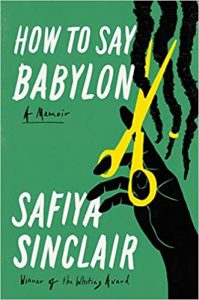 How to Say Babylon by Safiya Sinclair
Throughout her childhood, Safiya Sinclair's father, a volatile reggae musician and militant adherent to a strict sect of Rastafari, became obsessed with her purity, in particular, with the threat of what Rastas call Babylon, the immoral and corrupting influences of the Western world outside their home. He worried that womanhood would make Safiya and her sisters morally weak and impure, and believed a woman's highest virtue was her obedience.
In an effort to keep Babylon outside the gate, he forbade almost everything. In place of pants, the women in her family were made to wear long skirts and dresses to cover their arms and legs, head wraps to cover their hair, no make-up, no jewelry, no opinions, no friends. Safiya's mother, while loyal to her father, nonetheless gave Safiya and her siblings the gift of books, including poetry, to which Safiya latched on for dear life. And as Safiya watched her mother struggle voicelessly for years under housework and the rigidity of her father's beliefs, she increasingly used her education as a sharp tool with which to find her voice and break free. Inevitably, with her rebellion comes clashes with her father, whose rage and paranoia explodes in increasing violence. As Safiya's voice grows, lyrically and poetically, a collision course is set between them.
How to Say Babylon is Sinclair's reckoning with the culture that initially nourished but ultimately sought to silence her; it is her reckoning with patriarchy and tradition, and the legacy of colonialism in Jamaica. Rich in lyricism and language only a poet could evoke, How to Say Babylon is both a universal story of a woman finding her own power and a unique glimpse into a rarefied world we may know how to name, Rastafari, but one we know little about.

Purchase Links
___________________________
On a beautiful September afternoon, a hike through the pristine wild of Still Waters Chasm becomes a path of mystery and deadly danger for Gabriela Domenici and her boyfriend, Daniel Red Deer.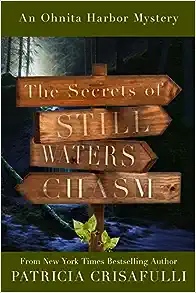 The Secrets of Still Waters Chasm by Patricia Crisafulli
On a beautiful September afternoon, a hike through the pristine wild of Still Waters Chasm becomes a path of mystery and deadly danger for Gabriela Domenici and her boyfriend, Daniel Red Deer. First, they take a side trail to an inexplicable construction site in the middle of the woods, where every tree has been cut down and a huge truck bearing strange-looking equipment is parked in the middle. As they continue their hike to the lake, they find a man convulsing with his last breaths, not far from the lifeless body of a woman. After going for help, Gabriela and Daniel return to the scene—only to find the two people and their canoe and gear are gone. It seems impossible that two bodies could revive and leave on their own, but there is no other explanation.
When she conducts a library outreach program in the rural Town of Livery, near Still Waters Chasm, Gabriela discovers a community that is both curious and suspicious. There, she meets Lucinda Nanz, an herbalist whose encyclopedic knowledge of plants for help and harm is both fascinating and troubling, and Wendy Haughton, a young woman who desperately wants to sell an old drawing of unknown origin so she can escape her abusive husband. Despite the state police's warnings to stay out of the investigation, and Daniel's urging to not get involved, Gabriela cannot stay away from Livery and Still Waters Chasm—which puts her on a collision course with yet another murder and people who will stop at nothing to prevent her from getting too close to the truth that could destroy chasm.

Purchase Links
___________________________
The country is changing, and her own world is being turned upside down. Nothing—and no one—will ever be the same.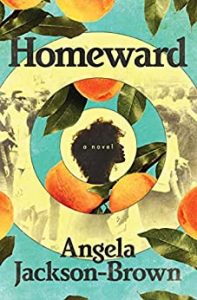 Homeward by Angela Jackson-Brown
Georgia, 1962. Rose Perkins Bourdon returns home to Parsons, GA, without her husband and pregnant with another man's baby. After tragedy strikes her husband in the war overseas, a numb Rose is left with pieces of who she used to be and is forced to figure out what she is going to do with the rest of her life. Her sister introduces her to members of the Student Nonviolent Coordinating Committee—young people are taking risks and fighting battles Rose has only seen on television. Feeling emotions for the first time in what feels like forever, the excited and frightened Rose finds herself becoming increasingly involved in the resistance efforts. And of course, there is also the young man, Isaac Weinberg, whose passion for activism stirs something in her she didn't think she would ever feel again.
Homeward follows Rose's path toward self-discovery and growth as she becomes involved in the Civil Rights Movement, finally becoming the woman she has always dreamed of being.

Purchase Links
___________________________
With Regrets

, from author Lee Kelly, is equal parts 

Big Little Lies

 and 

Bird Box

, a suburban drama wrapped in a 24-hour survival story at the end of the world, perfect for fans of David Koepp's Aurora.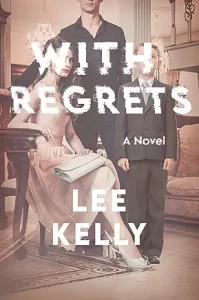 With Regrets by Lee Kelly
Seven courses, seven guests, twenty-four hours that will obliterate everything.
When recent NYC-transplant Liz Brinkley and her husband are invited to an exclusive soiree by their neighbor, "lifestyle guru" Britta Harris-Che, Liz's immediate thought is hell no. Britta is insufferable, and Liz is wary to leave her young children with a barely-teenage babysitter. And yet she RSVPs anyway, trying to extend an olive branch to her withdrawing husband, who seems desperate to get in with the cliquey elite.
They've barely made it through their first round of champagne when a "red alert" comes through their phones, and every channel on the television tells the same story: strange atmospheric masses, reported to look like "glimmering clouds," have been spreading through major U.S. cities and killing anyone they touch. Authorities have just one clear directive: Find shelter. Immediately.
A collective panic seizes the dinner party; all the guests have children at home. In the mad dash to their cars, they see it: a shimmering net floating over the town. The street is littered with wrecked cars and dead bodies. Leaving now is not an option. Instead, the group launches into survival mode, grabbing supplies to take shelter in the hosts' wine cellar. But everyone has very different opinions about the best plan from there.
Liz becomes increasingly willing to do anything it takes to get back to her children. As the glimmering clouds continue to kill anyone who steps outside, the tensions and suspicions among the party guests near a boiling point. But she begins to realize that there may be others in that cellar even more desperate than she is.

Purchase Links
___________________________

Please fill out our super short registration form (click the "Enter Now" button above) by October 31st for a chance to win a set of up to ten copies of one of these great books for your book club! We will randomly choose a winner at the end of the month. This giveaway is open to clubs in the US only (our apologies to friends in other countries). 
Best of luck!
We LOVE Book Clubs!