To get your book club in the mood for the holidays, we have gathered up some wonderful titles for this special CHRISTMAS IS COMING book club giveaway!
______________________________________________
The winning book club of Christmas Ever After will also win a 60-minute "Christmas Camp" Zoom chat Q/A with "Christmas Karen"!
From Karen Schaler, the Emmy Award-winning writer of the Netflix romantic comedy 

A Christmas Prince 

and 

Christmas Camp, 

the Hallmark movie and novel, comes this new Christmas romance for 2023, a heartfelt holiday love story about second chances and believing anything is possible at Christmas…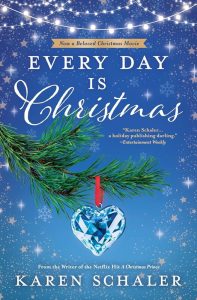 Every Day is Christmas by Karen Schaler
A shrewd money manager at the top of her game, Alexis Taylor is a proud workaholic who "humbugs" Christmas and love. The only holiday tradition Alexis embraces is always breaking up with her boyfriends right before Christmas.
But this Christmas, everything changes when Alexis gets a holiday visit of a lifetime. As Alexis's past, present, and future collide, she's forced to risk the one thing money can't buy…her heart.
Inspired by Karen Schaler's beloved Lifetime Christmas movie Every Day Is Christmas and the Charles Dickens classic A Christmas Carol, this heartwarming Christmas romance of self-discovery, forgiveness, and transformation, is filled with heart and hope.
This new Christmas love story about redemption, family, and second chances, Every Day Is Christmas is written with Karen's signature warmth and humor, celebrating the power of true love and Christmas miracles.
Bonus Content: Includes exclusive Christmas recipes, holiday activities, and pictures from the movie set.
Every Day Is Christmas is an uplifting, powerful, feel-good Christmas romance novel that will appeal to fans of Christmas romance authors Debbie Macomber, Susan Mallery, Shelia Roberts, and RaeAnne Thayne.
***Head over to Karen Schaler's website to sign up for her VIP newsletter for the latest on her many giveaways, special event and sneak peeks and much more!***

Purchase Links
______________________________________________
Spend this Christmas with bestselling author Melody Carlson as she whisks you away to a royal holiday you'll never forget!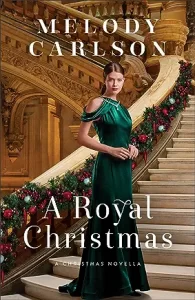 A Royal Christmas by Melody Carlson
Adelaide Smith is too busy for fairy tales. She's been working hard to put herself through law school and now that the end is in sight, she's determined to stay focused on her goals. Then she receives a letter notifying her that she has been found through a DNA registry to be a direct descendant of King Maximillian V, the ruler of a small Eastern European principality called Montovia. She's understandably skeptical. This is the stuff of cheesy made-for-TV movies, not real life.
Although the pieces of this surprising family puzzle seem too good to be true, curiosity gets the best of her. At the king's invitation, Adelaide embarks on a Christmas break trip that is chock-full of surprises, including a charming village, an opulent palace, family mysteries, royal jealousies, a handsome young member of Parliament–and the chance at a real fairy tale romance with a happily-ever-after ending.

Purchase Links
______________________________________________
With unabashed winter charm, 
The Wishing Bridge
sparkles with the humor and heart fans of Kristy Woodson Harvey, Nancy Thayer and Jenny Colgan love most.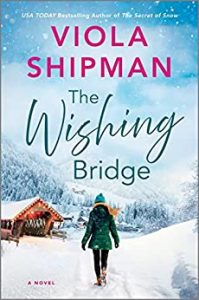 The Wishing Bridge: A Sparkling Christmas Novel by Viola Shipman
Once the hottest mergers and acquisitions executive in the company, Henrietta Wegner can see the ambitious and impossibly young up-and-comers gunning for her job. When Henri's boss makes it clear she'll be starting the New Year unemployed unless she can close a big deal before the holidays, Henri impulsively tells him that she can convince her aging parents to sell Wegner's—their iconic Frankenmuth, Michigan, Christmas store—to a massive, soulless corporation. It's the kind of deal cool, corporate Henri has built her career on.
Home for the holidays has typically meant a perfunctory twenty-four-hour visit for Henri, then back to Detroit as fast as her car will drive her. So turning up at the Wegner's offices in early December raises some eyebrows: from her delighted, if puzzled, parents to her suspicious brother and curious childhood friends. But as Henri fields impatient texts from her boss while reconnecting with the magic of the store and warmth of her hometown, what sounded great in the boardroom begins to lose its luster in real life. She's running out of time to pull the trigger on what could be the greatest success of her career…or the most awkward family holiday of her life.
Includes the bonus novella Christmas Angels.

Purchase Links
______________________________________________
Discover why 

It's a Wonderful Life

 is more than just a holiday tradition–it's an inspiration for us to lead better lives, to become people of honor and integrity, and to recognize what really matters.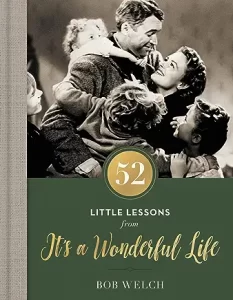 52 Little Lessons from It's a Wonderful Life by Bob Welch
If George and Mary Bailey are annual guests at your home every winter, you already know that It's a Wonderful Life is more than just a holiday tradition–it's a powerful reminder that our lives can change everyone around us, for better or worse. But what can this Christmas classic teach us about our everyday lives?
52 Little Lessons from It's a Wonderful Life will change the way you think about this holiday staple, from the lightheartedness of George and Mary's floor-parting dance to the poignancy of a community that rallies to save a desperate man, Bob Welch's 52 Little Lessons from It's a Wonderful Life will inspire you to live for the things that matter most.
Welch invites us to revisit the defining lessons in Frank Capra's 1946 classic and discover new dimensions of the film you've seen time and again, including:
What can we all learn from Mary's quiet contentedness?

Can George's selflessness make you rethink your own priorities?

What impact do we have on the people around us?
Join Welch for a close-up of the characters and themes that shape this timeless story of resilience and redemption. You'll be reminded that life's most important work is often the work we never planned to do, that God can use the most unlikely among us to get the job done, and that grace is the greatest gift we can possibly give.

Purchase Links
______________________________________________
On a rare trip home for the holidays, Ella may have finally uncovered the secret to a joy-filled future by getting lost in her past.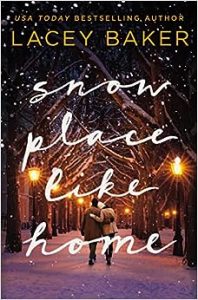 Snow Place Like Home by Lacey Baker
Ella Wilson has avoided home and the holidays for nearly a decade. For her, the season is plagued by a jinx that's brought nothing but painful memories: her mother's death nearly two decades ago, her fiancé's abandonment last year, and now the loss of her job as an art curator. But without work to occupy her, home is exactly where Ella has ended up. And somehow, she's also been roped into planning the town's Christmas tree auction—side by side with her first love.
Seth Hamil knows that home is where the heart is, and for him, it's always been the sleepy community of Bellepoint, Pennsylvania . . . and for a while in high school that included Ella Wilson. Since then, he's been married and widowed and has spent the year throwing himself into his career as a music teacher and trying to keep his wife's memory alive, starting with the church fundraiser she launched to support local kids. So, despite their history, Seth isn't about to let his wife's vision for the event be easily dismissed by Ella's temporary presence and big-city ideas.
To find a way to work together, the two strike a deal: Ella can incorporate her splashy ideas into the auction if she will allow Seth to show her why Christmas is about more than decorations. Soon both begin to wonder whether fate has brought them together for a fresh start—and if Christmas wishes really can come true.
A romantic holiday novel

Perfect for fans of Nancy Naigle and Brenda Jackson

Book length: 83,000 words

Includes discussion questions for book clubs

Purchase Links
______________________________________________
A beautifully packaged anniversary edition of #1 
New York Times
 bestselling author Richard Paul Evans's classic tale of faith, hope, and Christmas miracles.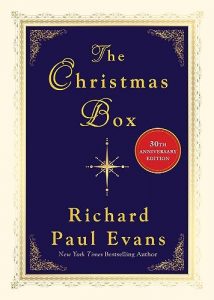 The Christmas Box: 30th Anniversary Edition by Richard Paul Evans
Thirty years ago, Richard Paul Evans wrote a small Christmas tale for his two young daughters—an expression of love celebrating the joy of fatherhood and the beauty of childhood. Evans printed a couple dozen copies of his book and shared it with family and friends, which they began sharing with their loved ones. As demand for his book grew, Evans printed up copies of his sweet tale and began selling them at local stores in Salt Lake City. Within a few years, what began as a private expression of love for his two young daughters evolved into a beloved gift whose popularity quickly spread throughout the world. Soon, his masterpiece became a global phenomenon, becoming one of the most bestselling books of the century.
Now, this special anniversary edition brings this heartwarming novel to a new generation. The moving and unforgettable story of a widow and the young family who come to live with her is a modern classic you'll want to share with all your loved ones from the "king of Christmas fiction" (The New York Times).

Purchase Links
______________________________________________
Come home to Shelter Springs this Christmas, where hearts are warm and hopes are bright…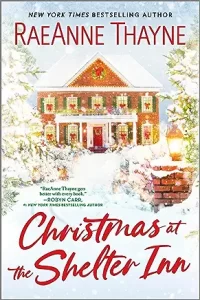 Christmas at the Shelter Inn by RaeAnne Thayne
Growing up at the Shelter Inn hotel, Natalie Shepherd envied guests who could come and go as they pleased. So when it was time to finally leave for college and put the lush green mountains around Shelter Springs–along with the cloud of loss that seemed to follow her family–behind her, she swore she'd never come back. But now her sister McKenna needs a favor. On pregnancy bed rest at doctor's orders, McKenna needs a helping hand with her two young daughters and someone to take over the inn during the hectic holiday season, and Nat can't refuse. And just when things can't get worse, she runs into her late brother's best friend, Griffin Taylor…
Griff has mixed feelings about Natalie's return. She's just as beautiful and full of life as he remembered, but there's a secret he's carried for years about her brother–and the guilt is eating away at him. Still, Christmas in this small town is filled with treasured traditions and new adventures that hold the promise of something sweet and lasting. From matchmaking seniors to rambunctious nieces, it seems everyone is hoping Nat and Griff will put loss behind them and find a happy new beginning…

Purchase Links
______________________________________________
All he wants for Christmas is her.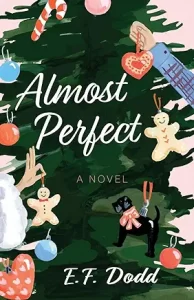 Almost Perfect by E. F. Dodd
Dave Richardson's life hasn't turned out the way he thought it would. He never expected to slink back to his hometown of Rochester two years ago and take a bartending job, nor did he expect he'd still be tending said bar. Everyone thought he would achieve great things. Hell, he'd believed he would achieve great things. But when Vivian Walters walked into his bar, wearing that dress, on a random Wednesday night . . . things were looking up for the first time in a long time. And they looked even better when he got her number, even if it was obvious she didn't see things between them lasting beyond her night out on Sunday. If he wanted to keep a woman like her, he'd need to become the man he was supposed to be, and fast.
If there was one thing Vivian "V" Walters liked almost as much as designer heels, it was checklists. They'd served her well her entire life- first with college, then med school, landing the perfect internship followed by an even better residency, and, finally, her dream job. So far, her checklist for the perfect man hadn't panned out the same way. But that didn't mean she would lose her ever-loving mind and chuck it all out the window for a hot, sweaty weekend with a bartender . . . right? No matter how good he looked in those worn jeans, or how his blond hair curled just so at the nape of his neck, or the way his deep-brown gaze made her stomach somersault. And even if she gave in to her purely physical attraction to him, it wouldn't be anything other than a fling . . . would it?

Purchase Links
______________________________________________
In 52 Little Lessons from A Christmas Carol, discover why A Christmas Carol is more than just a holiday tradition–it's an exploration of charity, grief, and making the most of the lives that we're given.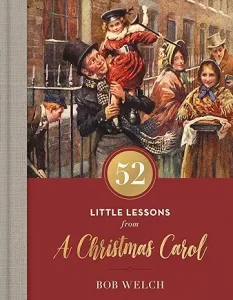 52 Little Lessons from A Christmas Carol by Bob Welch
How do we learn life lessons from a grumpy penny-pincher so unpleasant that dogs run from him on sight? Does Scripture suggest we all have a touch of Scrooge in us? Can we all benefit from reexamining who we've become in our own life stories? Bestselling author Bob Welch invites us to discover these questions and more in 52 Little Lessons from A Christmas Carol.
Join Welch as he takes you deeper into the nuances of this timeless story by Charles Dickens. From the stinginess of Scrooge to the innocence of Tiny Tim, the biblically based devotions in 52 Little Lessons from A Christmas Carol will inspire you to live for what really matters–not only at Christmas, but all year long.
52 Little Lessons from A Christmas Carol will help you get to know this holiday classic–and yourself–better. This devotional, much like the original novel, is tinted with a fair share of how-not-to-live lessons as well as how-to-live lessons, helping us see that we can learn from both, just like we do in scripture.
As you enjoy A Christmas Carol in this brand new light, you'll learn that:
Death is a comma, not a period

It's never too late to change

Generosity changes your perspective

Life is best lived imaginatively

With help from others, we can all become the best versions of ourselves

Purchase Links
______________________________________________

Please fill out our super short registration form (click the "Enter Now" button above) by October 31st for a chance to win a set of up to ten copies of one of these great books for your book club! We will randomly choose a winner at the end of the month. This contest is open to clubs in the US only (our apologies to friends in other countries). 
Best of luck!
We LOVE Book Clubs!