___________________________
Two girls' lives are irrevocably intertwined the summer of 1985 in the streets of Brooklyn, New York, and neither will ever be the same in this coming-of-age story that spans decades.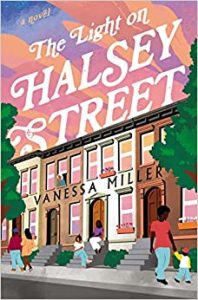 The Light on Halsey Street by Vanessa Miller
In the summer of 1985, Lisa Whitaker is a church kid headed to college on a scholarship while her best friend, Dana, is floundering in the wake of her mother's latest eviction. Though Lisa tries to help, their paths diverge. Fifteen years later, Lisa has a beautiful family and is stepping into her dream job as the director for a social services organization. Everything is going right—until her future is snatched away by identity theft. Her life begins to unravel, and Lisa wants nothing more than to see the woman responsible pay for her crimes.
When she was a teenager, Dana Jones always felt alone in this world. Her mother was addicted to drugs, her boyfriend was entering a life of crime, and it seemed Dana, too, was heading down the wrong path. The only bright light was her friendship with Lisa. Now, in the new millennium, Dana finally gives herself permission to dream—to believe she is stepping into better days. But when the betrayal of their friendship comes to light, it will take a lifetime to forgive the destruction that youthful summer in Bed-Stuy set in motion.
In this latest story from beloved author Vanessa Miller, two girls from the Bed-Stuy neighborhood of Brooklyn, New York, find that their paths have been woven together by the love of community and a friendship that is tested by time, betrayal, and unforgiveness.
Inspirational Christian fiction

Stand-alone novel

Perfect for fans of Tara M. Stringfellow, Terry McMillan, and Kimberla Lawson Roby

Book length: approximately 85,000 words

Includes discussion questions for book clubs

Purchase Links
___________________________
A 
Real Simple
 Must-Read Book of Summer 2023
"Mai Nguyen has proven herself to be a real standout." –Taylor Jenkins Reid, 
New York Times 
bestselling author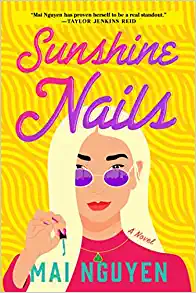 Sunshine Nails by Mai Nguyen
A tender, humorous, and page-turning debut about a Vietnamese Canadian family in Toronto who will do whatever it takes to protect their no-frills nail salon after a new high end salon opens up–even if it tears the family apart. Perfect for readers of Olga Dies Dreaming and The Fortunes of Jaded Women.
Vietnamese refugees Debbie and Phil Tran have built a comfortable life for themselves in Toronto with their family nail salon. But when an ultra-glam chain salon opens across the street, their world is rocked.
Complicating matters further, their landlord has jacked up the rent and it seems only a matter of time before they lose their business and everything they've built. They enlist the help of their daughter, Jessica, who has just returned home after a messy breakup and a messier firing. Together with their son, Dustin, and niece, Thuy, they devise some good old-fashioned sabotage. Relationships are put to the test as the line between right and wrong gets blurred. Debbie and Phil must choose: do they keep their family intact or fight for their salon?
Sunshine Nails is a light-hearted, urgent fable of gentrification with a cast of memorable and complex characters who showcase the diversity of immigrant experiences and community resilience.

Purchase Links
___________________________
Brando Skyhorse, the PEN/Hemingway Award
–
winning author of 
The Madonnas of Echo Park
, returns with a riveting literary dystopian novel set in a near-future America where mandatory identification wristbands make second-generation immigrants into second-class citizens—a powerful family saga for readers of Mohsin Hamid's 
Exit West
 and Rumaan Alam's 
Leave the World Behind
.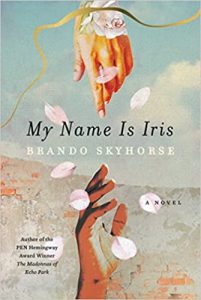 My Name is Iris by Brando Skyhorse
Iris Prince is starting over. After years of drifting apart, she and her husband are going through a surprisingly drama-free divorce. She's moved to a new house in a new neighborhood, and has plans for gardening, coffee clubs, and spending more time with her nine-year-old daughter Melanie. It feels like her life is finally exactly what she wants it to be.
Then, one beautiful morning, she looks outside her kitchen window–and sees that a wall has appeared in her front yard overnight. Where did it come from? What does it mean? And why does it seem to keep growing?
Meanwhile, a Silicon Valley startup has launched a high-tech wrist wearable called "the Band." Pitched as a convenient, eco-friendly tool to help track local utilities and replace driver's licenses and IDs, the Band is available only to those who can prove parental citizenship. Suddenly, Iris, a proud second-generation Mexican American, is now of "unverifiable origin," unable to prove who she is, or where she, and her undocumented loved ones, belong. Amid a climate of fear and hate-fueled violence, Iris must confront how far she'll go to protect what matters to her most.
My Name Is Iris is an all-too-possible story about family, intolerance, and hope, offering a brilliant and timely look at one woman's journey to discover who she can't–and can–be.

Purchase Links
___________________________
From the 
USA Today
 bestselling author of 
When We Believed in Mermaids
 comes an emotional novel about two women facing the betrayals, heartbreaks, and refuge of true friendship.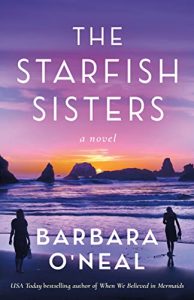 The Starfish Sisters by Barbara O'Neal
Phoebe and Suze used to be closer than sisters. Growing up in a quiet and wildly beautiful coastal town in Oregon, they shared everything. Until the secrets they couldn't share threatened their bond and complicated their lives.
Now, decades later, Suze, a famous actress desperate for safe haven following a brutal attack, is back in town. Phoebe, a successful illustrator and fabric designer, has discovered keeping a secret means she can't let anyone get close, aside from her beloved granddaughter, Jasmine. As Jasmine's move to London looms, Phoebe doesn't know how to face the return of her old friend and all that's still unsaid between them. Can the two women who've never confronted their past do it now when the choice is between healing and survival?
Heartfelt and layered, The Starfish Sisters is a moving story about the complicated nature of female friendship, the joys and heartbreaks of life, and the resiliency and power that women possess.

Purchase Links
___________________________
On a beautiful September afternoon, a hike through the pristine wild of Still Waters Chasm becomes a path of mystery and deadly danger for Gabriela Domenici and her boyfriend, Daniel Red Deer.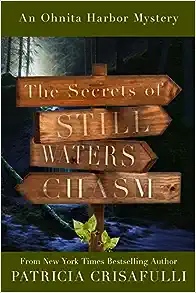 The Secrets of Still Waters Chasm by Patricia Crisafulli
On a beautiful September afternoon, a hike through the pristine wild of Still Waters Chasm becomes a path of mystery and deadly danger for Gabriela Domenici and her boyfriend, Daniel Red Deer. First, they take a side trail to an inexplicable construction site in the middle of the woods, where every tree has been cut down and a huge truck bearing strange-looking equipment is parked in the middle. As they continue their hike to the lake, they find a man convulsing with his last breaths, not far from the lifeless body of a woman. After going for help, Gabriela and Daniel return to the scene—only to find the two people and their canoe and gear are gone. It seems impossible that two bodies could revive and leave on their own, but there is no other explanation.
When she conducts a library outreach program in the rural Town of Livery, near Still Waters Chasm, Gabriela discovers a community that is both curious and suspicious. There, she meets Lucinda Nanz, an herbalist whose encyclopedic knowledge of plants for help and harm is both fascinating and troubling, and Wendy Haughton, a young woman who desperately wants to sell an old drawing of unknown origin so she can escape her abusive husband. Despite the state police's warnings to stay out of the investigation, and Daniel's urging to not get involved, Gabriela cannot stay away from Livery and Still Waters Chasm—which puts her on a collision course with yet another murder and people who will stop at nothing to prevent her from getting too close to the truth that could destroy chasm.

Purchase Links
___________________________
With echoes of 
Educated 
and 
Born a Crime
, 
How to Say Babylon
 is the stunning story of the author's struggle to break free of her rigid Rastafarian upbringing, ruled by her father's strict patriarchal views and repressive control of her childhood, to find her own voice as a woman and poet.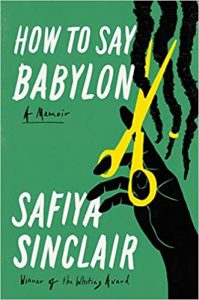 How to Say Babylon by Safiya Sinclair
Throughout her childhood, Safiya Sinclair's father, a volatile reggae musician and militant adherent to a strict sect of Rastafari, became obsessed with her purity, in particular, with the threat of what Rastas call Babylon, the immoral and corrupting influences of the Western world outside their home. He worried that womanhood would make Safiya and her sisters morally weak and impure, and believed a woman's highest virtue was her obedience.
In an effort to keep Babylon outside the gate, he forbade almost everything. In place of pants, the women in her family were made to wear long skirts and dresses to cover their arms and legs, head wraps to cover their hair, no make-up, no jewelry, no opinions, no friends. Safiya's mother, while loyal to her father, nonetheless gave Safiya and her siblings the gift of books, including poetry, to which Safiya latched on for dear life. And as Safiya watched her mother struggle voicelessly for years under housework and the rigidity of her father's beliefs, she increasingly used her education as a sharp tool with which to find her voice and break free. Inevitably, with her rebellion comes clashes with her father, whose rage and paranoia explodes in increasing violence. As Safiya's voice grows, lyrically and poetically, a collision course is set between them.
How to Say Babylon is Sinclair's reckoning with the culture that initially nourished but ultimately sought to silence her; it is her reckoning with patriarchy and tradition, and the legacy of colonialism in Jamaica. Rich in lyricism and language only a poet could evoke, How to Say Babylon is both a universal story of a woman finding her own power and a unique glimpse into a rarefied world we may know how to name, Rastafari, but one we know little about.

Purchase Links
___________________________

Please fill out our super short registration form (click the "Enter Now" button above) by September 30th for a chance to win a set of up to ten copies of one of these great books for your book club! We will randomly choose a winner at the end of the month. This giveaway is open to clubs in the US only (our apologies to friends in other countries). 
Best of luck!
We LOVE Book Clubs!