To get your book club in the mood for the holidays, we have gathered up some wonderful titles for this special CHRISTMAS IS COMING book club giveaway!
______________________________________________
Two workplace rivals. One festive competition. And a romance that upends it all.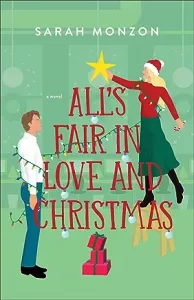 All's Fair in Love and Christmas by Sarah Monzon
Every December two things are guaranteed for graphic designer Mackenzie Graham–Christmas celebrations and the annual promotion at her workplace. Those two things are by no means mutually exclusive. In fact, the better an employee is at harnessing the Christmas spirit, the more likely they'll win the new job. With her social anxiety, Mackenzie never thought she'd be a contender in her company's holiday competition, so how exactly has she found herself dueling her workplace crush with wrapping paper tubes and using tinsel as her weapon of choice for a much-needed raise?
Jeremy Fletcher's life is meticulously planned out, including how to win this year's promotion at work. Not only will the new position fulfill some of his career goals, but as a single guardian to his twin niece and nephew, he needs the salary increase to support his family. Jeremy has barely noticed Mackenzie Graham around the office, but now that she's his rival, he can't stop thinking about her. Her quirkiness intrigues him, and he's afraid that if he can't get his head on straight, the promotion isn't the only thing he'll end up losing to Mackenzie.
"Inspirational rom-com readers are going to love this one."–BETHANY TURNER, bestselling author of The Do-Over

Purchase Links
______________________________________________
Snowed in for the holidays…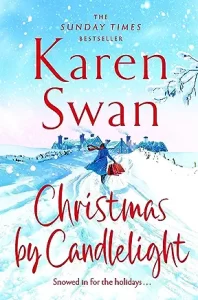 Christmas by Candlelight by Karen Swan
It's three days before Christmas and just starting to snow… Against her better judgement, Libby Pugh has been persuaded by her best friend to stop in on their university reunion on her way back from a wedding in North Yorkshire with her boyfriend, Max.
The host is Archie Templeton, the playboy of their group, who has finally inherited his father's title and estate – even if the latter is more stately heap than palace. Libby is surprised at how good it feels to catch up with old friends. The night is a great success but when they come to leave, the road is now impassable and she and Max are given a bed for the night.
At first being snowed in with old friends is rather lovely – they spend the next day in high spirits as they wait for the local farmer to clear the snow. But as the hours pass and he doesn't come, everyone grows restless. Christmas is two days away and everyone has plans, other places to be. Then the power goes out . . .
By the fireside and by candlelight, the old friends must hunker down together as they await help. They reminisce about times past, good and bad. But as the cracks in their relationships, old and new, start to show, Libby is confronted with a truth she has long tried to deny . . .

Purchase Links
______________________________________________
It's the most wonderful time of the year–for everyone except Starr Lewis.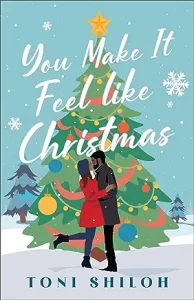 You Make it Feel Like Christmas by Toni Shiloh
As if going home for the holidays jobless and single wasn't bad enough, she's dragged into a holiday season full of activities leading up to her sister's uber-romantic Christmas Eve wedding–to Starr's ex-boyfriend. But when her brother's best friend, Waylon Emmerson, attends their family Thanksgiving, she starts to wonder if maybe coming home for Christmas isn't so bad after all.
As Starr finds the perfect distraction in helping Waylon make over his late mother's Christmas shop, the most wonderful time of the year works its magic and the spark between them grows. But with the holidays fast approaching, Starr must decide what she wants out of life after the gifts are unwrapped and the ornaments are put away–to go back to New York City or to open her heart to a love that will last beyond Christmas Day?

Purchase Links
______________________________________________
This Christmas, 

USA Today 

bestselling author Sarah Morgan returns with another heartfelt exploration of change, the power of books to heal, and the enduring strength of female friendship.   Perfect for fans of Emily Henry and Jennifer Weiner.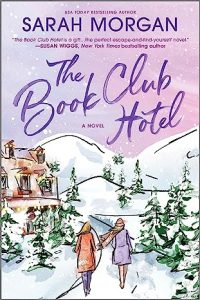 The Book Club Hotel by Sarah Morgan
"The Book Club Hotel is a gift…the perfect escape-and-find-yourself novel."–Susan Wiggs, New York Times bestselling author
With its historic charm and picture-perfect library, the Maple Sugar Inn is considered the winter destination. As the holidays approach, the inn is fully booked with guests looking for their dream vacation. But widowed far too young, and exhausted from juggling the hotel with being a dedicated single mom, Hattie Coleman dreams only of making it through the festive season.
But when Erica, Claudia and Anna–lifelong friends who seem to have it all–check in for a girlfriends' book club holiday, it changes everything. Their close friendship and shared love of books have carried them through life's ups and downs. But Hattie can see they're also packing some major emotional baggage, and nothing prepares her for how deeply her own story is about to become entwined in theirs.
In the span of a week over the most enchanting time of the year, can these four women come together to improve each other's lives and make this the start of a whole new chapter?
Get lost in more holiday reads by Sarah Morgan:
Snowed In for Christmas

The Christmas Escape

One More for Christmas

A Wedding in December

The Christmas Sisters

Purchase Links
______________________________________________

Please fill out our super short registration form (click the "Enter Now" button above) by September 30th for a chance to win a set of up to ten copies of one of these great books for your book club! We will randomly choose a winner at the end of the month. This contest is open to clubs in the US only (our apologies to friends in other countries). 
Best of luck!
We LOVE Book Clubs!