___________________________
A 
Real Simple
 Must-Read Book of Summer 2023
"Mai Nguyen has proven herself to be a real standout." –Taylor Jenkins Reid,
New York Times 
bestselling author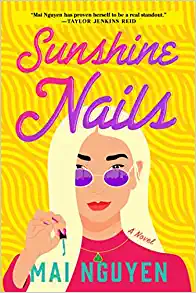 Sunshine Nails by Mai Nguyen
A tender, humorous, and page-turning debut about a Vietnamese Canadian family in Toronto who will do whatever it takes to protect their no-frills nail salon after a new high end salon opens up–even if it tears the family apart. Perfect for readers of Olga Dies Dreaming and The Fortunes of Jaded Women.
Vietnamese refugees Debbie and Phil Tran have built a comfortable life for themselves in Toronto with their family nail salon. But when an ultra-glam chain salon opens across the street, their world is rocked.
Complicating matters further, their landlord has jacked up the rent and it seems only a matter of time before they lose their business and everything they've built. They enlist the help of their daughter, Jessica, who has just returned home after a messy breakup and a messier firing. Together with their son, Dustin, and niece, Thuy, they devise some good old-fashioned sabotage. Relationships are put to the test as the line between right and wrong gets blurred. Debbie and Phil must choose: do they keep their family intact or fight for their salon?
Sunshine Nails is a light-hearted, urgent fable of gentrification with a cast of memorable and complex characters who showcase the diversity of immigrant experiences and community resilience.

Purchase Links
___________________________
Anji is forty-one, single, of Indian origin, and grew up in Colombia. Now a successful journalist in New York City, she's missing only love in her life.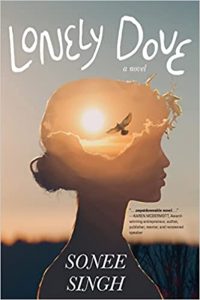 Lonely Dove by Sonee Singh
Anji is forty-one, single, of Indian origin, and grew up in Colombia. Now a successful journalist in New York City, she's missing only love in her life. Then a vision reveals her soul mate; he calls her "lonely dove"-two words that describe her perfectly-but she cannot see his face. Determined to find this mysterious man, she draws on all her work and personal resources to find him. As Anji embraces the signs and visions she receives, she discovers a need to heal from her past relationships. Will she ever find her twin flame-and will she be ready when she does?

Purchase Links
___________________________
They say love is all you need…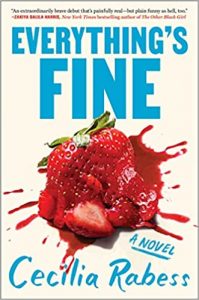 Everything's Fine by Cecilia Rabess
"Extraordinarily brave…plain funny as hell, too." –Zakiya Dalila Harris, New York Times bestselling author of The Other Black Girl
"A subtle, ironic, wise, state-of-the-nation novel, sharp enough to draw blood, hidden inside a moving, intimate, sincere and very real love story–or vice versa." –Nick Hornby
On Jess's first day at Goldman Sachs, she's less than thrilled to learn she'll be on the same team as Josh, her white, conservative sparring partner from college. Josh loves playing the devil's advocate and is just…the worst.
But when Jess finds herself the sole Black woman on the floor, overlooked and underestimated, it's Josh who shows up for her in surprising–if imperfect–ways. Before long, an unlikely friendship–one tinged with undeniable chemistry–forms between the two. A friendship that gradually, and then suddenly, turns into an electrifying romance that shocks them both.
Despite their differences, the force of their attraction propels the relationship forward, and Jess begins to question whether it's more important to be happy than right. But then it's 2016, and the cultural and political landscape shifts underneath them. And Jess, who is just beginning to discover who she is and who she has the right to be, is forced to ask herself what she's willing to compromise for love and whether, in fact, everything's fine.
A stunning debut that introduces Cecilia Rabess as a blazing new talent, Everything's Fine is a poignant and sharp novel that doesn't just ask will they, but…should they?

Purchase Links
___________________________
The Annie Pederson series is a thrilling trilogy for fans of Laura Dave, Sarah Pearse, Allison Brennan and Dani Pettrey
The winning book club will receive up to ten copies of each title in the series:

 Break of Day by Colleen Coble
Annie Pederson's happily ever after is finally within sight . . . If she can stay alive long enough to grasp it.
Law enforcement officer Annie Pederson's life has been rocked by tragedy, but things finally seem to be heading in the right direction. Her relationship with the love of her life–who's also the biological father of her precious daughter–has never been better, and it looks like an engagement ring is in Annie's future. She's also slowly building back trust with her sister, Sarah, after a separation that lasted for decades.
When a man escapes law enforcement custody and Sarah's safety is suddenly in question, Annie's personal and professional lives once again merge. Meanwhile, her investigation of hikers who have gone missing in the remote woods of Michigan's Upper Peninsula puts her in the crosshairs of a deadly game.
Now, Annie is the one being hunted. When she discovers the terrible truth about the men who are stalking her, she realizes that she's in for the fight of her life if she's going to redeem the sister she once lost, build the family she dreams of, and keep all those she loves safe.
Return to the beloved town of Rock Harbor in the final installment of the Annie Pederson trilogy by bestselling suspense author Colleen Coble.
Third installment in the Annie Pederson series:

Book One: 

Edge of Dusk

Book Two: 

Dark of Night

Book Three: 

Break of Day

Includes cameo appearances from beloved characters in Colleen's Rock Harbor series

Also by Colleen Coble: 

A Stranger's Game, One Little Lie, Without a Trace

Includes discussion questions for book clubs

Purchase Links
___________________________
Someone stands to gain millions of dollars from a hunter's accidental death . . . unless that death wasn't an accident.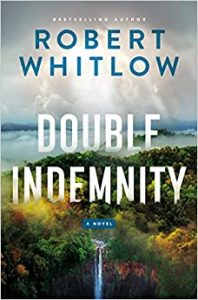 Double Indemnity by Robert Whitlow
Matt and Elena Thompson present the picture of perfection. But their enviable life isn't all it seems. Their marriage is on the rocks, and financial disaster looms. Then Matt is killed in a hunting accident, and the questions and accusations begin to mount.
Attorney Liz Acosta, newly arrived in the mountains of north Georgia after graduating from law school, plans to get some job experience on her resume before returning home to seek a position with a big-time firm. Intellectual pastor Connor Grantham isn't sure that shepherding a rural congregation is what he ultimately wants to do with his life. Drawn to philosophy, theology, and nature, he's beginning to feel more at home in north Georgia–especially after he meets the brilliant and energetic Liz.
While Liz and Connor spend more time with each other and discover just how compatible two people from wildly different backgrounds can be, they're also being drawn into the shadowy world of Matt and Elena Thompson. As the couple's marriage counselor, Connor finds himself in the middle of their explosive arguments. As Elena's attorney, Liz is caught in the tailspin created by Matt's death.
Together, Connor and Liz attempt to solve the mystery of what really happened to Matt. If his death is ruled an accident, then the double indemnity clause in his life insurance would go into effect, essentially doubling the payout. But as Liz sorts through the legal paperwork of who stands to gain an immense sum of money from Matt's death, Connor is accused of the unthinkable with much more at stake than millions of dollars.
Contemporary Christian legal drama

Perfect for fans of John Grisham

Includes discussion questions for book clubs

Purchase Links
___________________________
A young widow faces an uncertain future . . . until an unexpected encounter with her first love gives her heart a second chance in this Regency romance set on the Yorkshire Moors.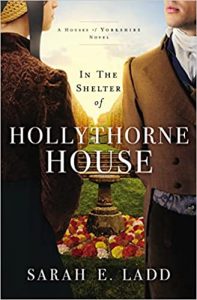 In the Shelter of Hollythorne House by Sarah E. Ladd
England, 1817—Charlotte Grey thought she had seen the last of Anthony Welbourne. Knowing her father would never consent to his only daughter marrying a man he deemed beneath their family's station, Charlotte bid her final farewell to Anthony and vowed never to turn back. Instead, she honored her father's wishes by marrying the wealthy Roland Prior.
Determined to put his love for Charlotte in the past, Anthony chose to immerse himself in a life full of meaning–first as a soldier fighting a war overseas, then as a member of William Walstead's watchmen, a rugged band of men dispatched to deal with perilous situations. Fearless and persistent, he makes it his life's focus to fight for those who can't fight for themselves.
When Charlotte's husband dies unexpectedly, she quickly realizes how blind she'd been to his nefarious ambitions and how many people he'd angered on his relentless quest for wealth. To protect her infant son, Henry, from those who wish him harm, she and the baby flee to Hollythorne House, her childhood home. There Charlotte comes face-to-face with her former love, who has been sent as one of the hired watchman to protect her and Henry until the details of her late husband's estate are settled.
Anthony's presence brings back feelings she never expected to have again, and she struggles to trust his intentions. Are the watchmen really looking after Charlotte as they claim–or are they looking to make trouble for Roland's estate and heir? Despite the constant reminders of their past, Anthony must remain focused on the task he was hired to do. But when new threats emerge and the past collides with the present, both must decide what they are willing to risk for the chance to right old wrongs and carve out a new future . . . together.
Sweet Regency romance

Part of the Houses of Yorkshire series but can be read as a stand-alone novel

Includes discussion questions for book clubs

Purchase Links
___________________________
When career-driven Olivia Farnsworth and Kingston Bedford refuse to act on their obvious chemistry, the town of Maple Falls schemes to pair the two up—and dance their way to another happy ending.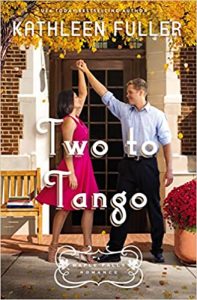 Two to Tango (A Maple Falls Romance) by Kathleen Fuller
Olivia Farnsworth always has a plan and knows just what she likes. She likes her job as head librarian. She likes spending time with her aunt Bea and with her close-knit group of friends. She likes attending the cinema's monthly Vintage Movie Night. What she does not like is stepping outside her comfort zone. But when Kingston Bedford, her best friend's older brother, runs into her at the movies, that's exactly what she does. She takes a chance on the gorgeous pediatrician she's known her whole life–only to crash land her way into heartache. Twice. One year later, she's determined to avoid him forever. Aunt Bea and her Bosom Buddies, however, have other ideas. Plans that begin with ballroom dancing lessons . . . and end with one of the Bosom Buddies getting a taste of her own matchmaking medicine.
Kingston never thought he'd be utterly alone–as his mother puts it–in his thirties. But somehow, he's let his life spiral out of control. His career has taken over, leaving no time for romance. That is, until his clinic forces him to take a two-month sabbatical. But is it too late to start over with the girl he can't get off his mind?
Luckily, the scheming town of Maple Falls is once again ready to help make sparks fly.
Delightful small-town contemporary romance

Perfect for fans of Debbie Macomber and Jan Karon, as well as Hallmark movie fans

Fourth book in the Maple Falls contemporary romance series

Book One: 

Hooked on You

Book Two: 

Much Ado About a Latte

Book Three: 

Sold on Love

Book length: approximately 85,000 words

Includes discussion questions for book clubs

Purchase Links
___________________________
From three bestselling authors comes an interwoven tale about a trio of World War II nurses stationed in the South Pacific who wage their own battle for freedom and survival.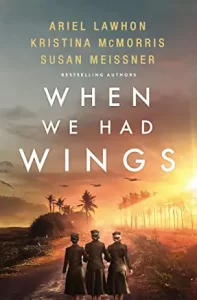 When We Had Wings by Ariel Lawhon, Kristina McMorris, and Susan Meissner
The Philippines, 1941. When U.S. Navy nurse Eleanor Lindstrom, U.S. Army nurse Penny Franklin, and Filipina nurse Lita Capel forge a friendship at the Army Navy Club in Manila, they believe they're living a paradise assignment. All three are seeking a way to escape their pasts, but soon the beauty and promise of their surroundings give way to the heavy mantle of war.
Caught in the crosshairs of a fight between the U.S. military and the Imperial Japanese Army for control of the Philippine Islands, the nurses are forced to serve under combat conditions and, ultimately, endure captivity as the first female prisoners of the Second World War. As their resiliency is tested in the face of squalid living arrangements, food shortages, and the enemy's blatant disregard for the articles of the Geneva Convention, the women strive to keep their hope— and their fellow inmates—alive, though not without great cost.
In this sweeping story based on the true experiences of nurses dubbed "the Angels of Bataan," three women shift in and out of each other's lives through the darkest days of the war, buoyed by their unwavering friendship and distant dreams of liberation.
"Three of the biggest powerhouses in historical fiction come together to pen this breathtaking story of three nurses serving in the Philippines during the Second World War." —PAM JENOFF, New York Times bestselling author of The Woman with the Blue Star
World War II historical fiction inspired by real-life experiences

Stand-alone novel

Includes discussion questions for book clubs

Also by authors: 

Code Name Hélène

, 

The Ways We Hide

, 

The Nature of Fragile Things

Purchase Links
___________________________
"…Patricia Crisafulli expertly creates a suspenseful and intriguing story of a small community and its library in upstate New York harboring a valuable Medieval cross in its complicated history…" —Michele Weldon, award-winning author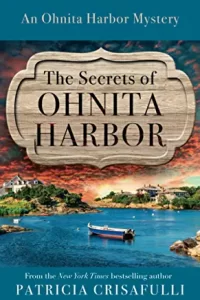 The Secrets of Ohnita Harbor by Patricia Crisafulli
Amid a mountain of rain-soaked donations to the Ohnita Harbor Public Library rummage sale, Gabriela Domenici finds a small box that contains an odd-looking cross. When the carved center turns out to be ivory and a clue links the cross to Catherine of Siena, a medieval saint, Gabriela turns to her expertise as an authenticator of historic documents to lead the quest to discover the truth about this mysterious object. But the cross isn't the only secret in town: first, a beloved Ohnita Harbor resident is found floating in the harbor and then someone else is murdered on the library lawn. As Gabriela races to solve the mystery of the cross, she discerns between infatuation and what could be the start of true love. All the while, she must stay one step ahead of the danger that slowly encircles her.

Purchase Links
___________________________
Moving between the Second World War and the present, an exhilarating debut novel in the vein of Jennifer Robson, Kate Quinn, and Natasha Lester, about two women, decades apart, whose fates converge in Florence, Italy.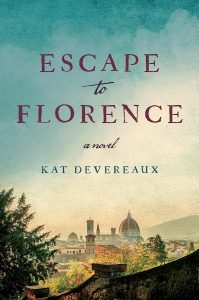 Escape to Florence by Kat Devereaux
Only fourteen, Stella Infuriati is the youngest member of her town's resistance network during World War II. Risking torture and death, she relays messages, supplies, and weapons to partisan groups in the Tuscan hills. Her parents have no idea, consumed instead by love and fear for their beloved son, Achille, a courier and unofficial mechanic for a communist partisan brigade.
Then, after 1945, Stella seemingly vanishes from the records. Her name and story are overshadowed by the tragic death of her brother—until a young writer arrives in Tuscany in the spring of 2019, uncovering long-buried secrets.
Fleeing an emotionally abusive marriage and a lonely life on an isolated estate, Tori MacNair has come to Florence, the beautiful city her grandmother taught her to love, to build a new life. As she digs into her family history with the help of Marco, a handsome lawyer, Tori starts to uncover secrets of the past—truths that stretch back decades, to a young woman who risked everything to save her world . . .

Purchase Links
___________________________

Please fill out our super short registration form (click the "Enter Now" button above) by July 31st for a chance to win a set of up to ten copies of one of these great books for your book club! We will randomly choose a winner at the end of the month. This giveaway is open to clubs in the US only (our apologies to friends in other countries). 
Best of luck!
We LOVE Book Clubs!