___________________________
They say love is all you need…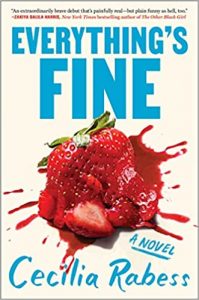 Everything's Fine by Cecilia Rabess
"Extraordinarily brave…plain funny as hell, too." —Zakiya Dalila Harris, New York Times bestselling author of The Other Black Girl
"A subtle, ironic, wise, state-of-the-nation novel, sharp enough to draw blood, hidden inside a moving, intimate, sincere and very real love story–or vice versa." —Nick Hornby
On Jess's first day at Goldman Sachs, she's less than thrilled to learn she'll be on the same team as Josh, her white, conservative sparring partner from college. Josh loves playing the devil's advocate and is just…the worst.
But when Jess finds herself the sole Black woman on the floor, overlooked and underestimated, it's Josh who shows up for her in surprising–if imperfect–ways. Before long, an unlikely friendship–one tinged with undeniable chemistry–forms between the two. A friendship that gradually, and then suddenly, turns into an electrifying romance that shocks them both.
Despite their differences, the force of their attraction propels the relationship forward, and Jess begins to question whether it's more important to be happy than right. But then it's 2016, and the cultural and political landscape shifts underneath them. And Jess, who is just beginning to discover who she is and who she has the right to be, is forced to ask herself what she's willing to compromise for love and whether, in fact, everything's fine.
A stunning debut that introduces Cecilia Rabess as a blazing new talent, Everything's Fine is a poignant and sharp novel that doesn't just ask will they, but…should they?

Purchase Links
___________________________
In this women-centered nod to the beloved Indiana Jones stories, 

The Antiquity Affair

 is a high-stakes, trans-Atlantic thrill ride, with the page-turning excitement and romance of classic adventure novels and a poignant story of sisterhood at its core.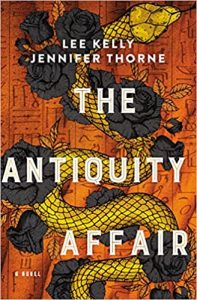 The Antiquity Affair by Lee Kelly and Jennifer Thorne
An archaeologist's estranged daughters.
1907: The dawn of Egyptology is a time of imperialism and plunder, opulence and unrest, and Dr. Warren Ford, esteemed archaeologist, is the man of the hour. His daughters–intellectual Lila, on the eve of her debut as a Manhattan socialite, and nonconformist Tess, who dreams of following in his footsteps–have always lived in his shadow, and their lives couldn't feel more different. But when a secretive organization seeks to find a lost relic legendary for its dangerous power, it isn't Dr. Ford they turn to–it's his two remarkable daughters.
A legendary artifact known as the Serpent's Crown.
Rumored to reside in the mysterious Tomb of the Five Ladies, the Serpent's Crown will only be found by solving a seemingly impossible riddle that will open the tomb–and the organization believes that one of the Ford daughters holds the key to deciphering the code. What was supposed to be an elegant debutante ball for elder sister Lila quickly turns sinister when Tess is kidnapped and put on a ship across the Atlantic. When Lila and her father realize that Tess's life is in danger, they must act quickly to track her down and stop the Serpent's Crown from falling into the wrong hands.
A puzzle three millennia in the making.
A race for the Crown begins, with Lila and her father in hot pursuit of the organization and Tess. With lives at stake, the fractured family must keep their wits about them, find the artifact, and escape the ruthless men who are also determined to possess the Crown and use it to their own advantage–no matter the cost.
In this women-centered nod to the beloved Indiana Jones stories, The Antiquity Affair is a high-stakes, trans-Atlantic thrill ride, with the page-turning excitement and romance of classic adventure novels and a poignant story of sisterhood at its core.
An exciting turn-of-the-century adventure

Stand-alone novel

Book length: 100,000 words

Perfect for fans of Deanna Raybourn, Laurie King, Clive Cussler, and Indiana Jones

Includes discussion questions for book clubs

Purchase Links
___________________________
Change the Goal, Not the Feeling
A psychologist's six-step roadmap to a life beyond happiness—one of sustainable lifetime satisfaction.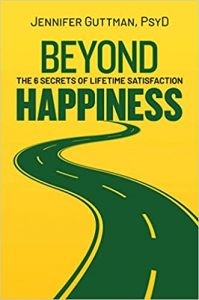 Beyond Happiness: The 6 Secrets of Lifetime Satisfaction by Dr. Jennifer Gutman
Dr. Jennifer Guttman is a strong advocate of providing guidance for self-improvement outside of the confines of traditional therapy, and to that end, her strategy works so well because of its universal applicability. In Beyond Happiness, Dr. Guttman lays out six techniques that will empower you to gain control over your own happiness: avoiding assumptions; reducing people-pleasing behaviors; facing fears; making decisions; closing; and active self-reinforcement.
The immense success that Dr. Guttman has had using these techniques within her practice is a testament to just how effective they are. She has shown how moving beyond happiness to satisfaction and contentment is a very achievable and rewarding journey.

Purchase Links
___________________________
Someone stands to gain millions of dollars from a hunter's accidental death . . . unless that death wasn't an accident.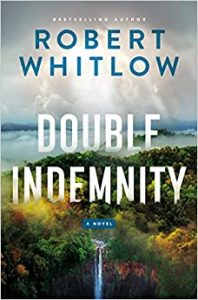 Double Indemnity by Robert Whitlow
Matt and Elena Thompson present the picture of perfection. But their enviable life isn't all it seems. Their marriage is on the rocks, and financial disaster looms. Then Matt is killed in a hunting accident, and the questions and accusations begin to mount.
Attorney Liz Acosta, newly arrived in the mountains of north Georgia after graduating from law school, plans to get some job experience on her resume before returning home to seek a position with a big-time firm. Intellectual pastor Connor Grantham isn't sure that shepherding a rural congregation is what he ultimately wants to do with his life. Drawn to philosophy, theology, and nature, he's beginning to feel more at home in north Georgia—especially after he meets the brilliant and energetic Liz.
While Liz and Connor spend more time with each other and discover just how compatible two people from wildly different backgrounds can be, they're also being drawn into the shadowy world of Matt and Elena Thompson. As the couple's marriage counselor, Connor finds himself in the middle of their explosive arguments. As Elena's attorney, Liz is caught in the tailspin created by Matt's death.
Together, Connor and Liz attempt to solve the mystery of what really happened to Matt. If his death is ruled an accident, then the double indemnity clause in his life insurance would go into effect, essentially doubling the payout. But as Liz sorts through the legal paperwork of who stands to gain an immense sum of money from Matt's death, Connor is accused of the unthinkable with much more at stake than millions of dollars.
Contemporary Christian legal drama

Perfect for fans of John Grisham

Includes discussion questions for book clubs

Purchase Links
___________________________
"
A nuanced, complex, and highly original novel." —
Charles Yu, National Book Award
–
winning author of 
Interior Chinatown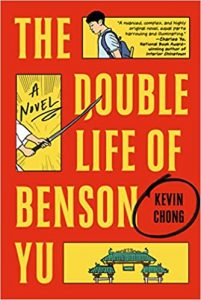 The Double Life of Benson Yu by Kevin Chong
This fresh and unique work of metafiction follows Benson Yu, a writer, who loses control of his own narrative when he attempts to write the story of his fraught upbringing in 1980s Chinatown.
In a Chinatown housing project lives twelve-year-old Benny, his ailing grandmother, and his strange neighbor Constantine, a man who believes he's a reincarnated medieval samurai. When his grandmother is hospitalized, Benny manages to survive on his own until a social worker comes snooping. With no other family, he is reluctantly taken in by Constantine and soon, an unlikely bond forms between the two.
At least, that's what Yu, the narrator of the story, wants to write.
The creator of a bestselling comic book, Yu is struggling with continuing the poignant tale of Benny and Constantine and can't help but interject from the present day, slowly revealing a darker backstory. Can Yu confront the demons he's spent his adult life avoiding or risk his own life…and Benny's?

Purchase Links
___________________________
"It's rare that a book actually makes you a better human, but that's exactly what Rachel Baribeau has done in Relentless Joy."—Laura Rutledge, ESPN Sports host and reporter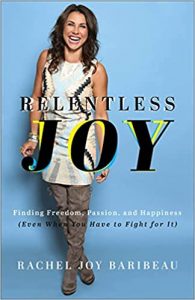 Relentless Joy: Finding Freedom, Passion, and Happiness (Even When You Have to Fight for It) by Rachel Joy Baribeau
We all want more joy, but what happens when life kicks you in the gut? How do you maintain hope or look forward to the future?
Relentless Joy will show you how to · reclaim joy when your life feels barren or burdened · throw off the chains of what you are "supposed to be" · see God working in surprising ways you may have missed · identify the unique dream that sets your soul on fire · serve others and walk in joy for the rest of your life. With gut-level honesty, award-winning storyteller and former national sportscaster Rachel Joy Baribeau shares her own story of changing the narrative of her life from stuck, overwhelmed, and anxious to confident in her identity and joyful in her life's purpose.
With the odds stacked against her, Rachel became the first female sportscaster to host on SiriusXM College channels and hosted the very first College Football Playoff National Championship game. She has shared the secrets to her trailblazing journey with over 100,000 fans and students through her live events and her movement, I'm Changing the Narrative.
Relentless Joy is not just another book about how to be happy. Instead, Rachel reveals how to embrace commonly missed opportunities to experience joy and share it with others. No matter your circumstance, you can always change the narrative. Your story isn't over. The best is yet to come!
"I always encouraged the young men in my football program to surround themselves with people who will make their lives better. At the top of that list for me is Rachel Baribeau. Her book, Relentless Joy, is a fantastic read for all ages."—Coach Bill Snyder, former head football coach of Kansas State University
"In Relentless Joy, Rachel Baribeau explains how she has survived, thrived, and arrived to deliver the recipe of an overcomer. Do yourself a favor and jump on the joy train!"—David Tyree, former New York Giants wide receiver and Super Bowl champion

Purchase Links
___________________________
Private investigator-turned-psychotherapist Tom Dashiel is dangerously close to discovering where his threshold is – the point of no return for his sanity.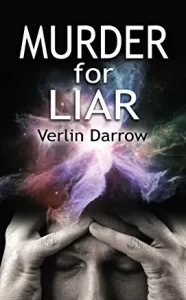 Murder for Liar by Verlin Darrow
Private investigator-turned-psychotherapist Tom Dashiel is dangerously close to discovering where his threshold is-the point of no return for his sanity. His encounter with the killer represents one more bizarre hot potato he's forced to juggle instead of filing away neatly. It's not one too many, but what if the next one is? And could all the coincidences that keep happening to Tom be nothing more than that? Could a young woman named Zig-Zag really be an angel? How could a dog lead Tom to one of the most important clues? The questions pile up, much as the murders do.
Swept up in a perilous world where nothing is as it seems, Tom struggles to make sense of the decidedly dangerous, downright deadly scheme in which he has somehow unwittingly become a key player. Tom is about to discover that in this treacherous reality, the truth is far, far stranger than fiction…but the real danger is not knowing which is which.
"The attention to detail that Darrow uses in his book allows the reader to see clearly what each character looks like down to what he or she is wearing, their expressions, and their actions. The philosophical conversations between Tom and the other characters in the book give the reader something to ponder over as well." –Kristi Elizabeth, The Seattle Book Review
"Murder for Liar is an excellent novel, and I would highly recommend it to anyone who loves a good mystery or an amazing psychological thriller.  I cannot wait to see what is next for this wonderful writer.  I can only assume that the next ride will be just as exciting as this one.  5 Stars!" –Kathy Stickles for Reader Views

Purchase Links
___________________________
She's out to prove that there's 

no such thing as choosing happiness.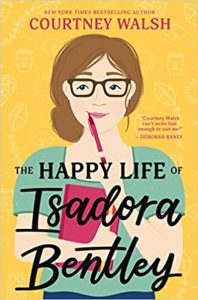 The Happy Life of Isadora Bentley by Courtney Walsh
Isadora Bentley follows the rules. Isadora Bentley likes things just so. Isadora Bentley believes that happiness is something that flat-out doesn't exist in her life–and never will.
As a university researcher, Isadora keeps to herself as much as possible. She avoids the students she's supposed to befriend and mentor. She stays away from her neighbors and lives her own quiet, organized life in her own quiet, organized apartment. And she will never get involved in a romantic relationship again–especially with another academic. It will be just Isadora and her research. Forever.
But on her thirtieth birthday, Isadora does something completely out of character. The young woman who never does anything "on a whim" makes an impulse purchase of a magazine featuring a silly article detailing "Thirty-One Ways to Be Happy"–which includes everything from smiling at strangers to exercising for endorphins to giving in to your chocolate cravings. Isadora decides to create her own secret research project—proving the writer of the ridiculous piece wrong.
As Isadora gets deeper into her research–and meets a handsome professor along the way–she's stunned to discover that maybe, just maybe, she's proving herself wrong. Perhaps there's actually something to this happiness concept, and possibly there's something to be said for loosening up and letting life take you somewhere . . . happy.
Christian women's fiction

Stand-alone novel

Book length: 100,000 words

Perfect for fans of Rachel Linden, Gail Honeyman, and Linda Holmes

Includes discussion questions for book clubs

Purchase Links
___________________________
In this fresh look at finding balance between work and sabbath rest, Justin McRoberts leads readers on their journey from false self to true self, discovering that growth and maturity take root in the knowledge of their belovedness in Christ.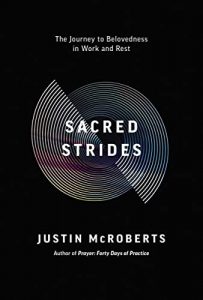 Sacred Strides: The Journey to Belovedness in Work and Rest by Justin McRoberts
In his two decades working as a full-time artist and spiritual guide, Justin McRoberts has experienced first-hand the tension between "The Hustle" and "Self Care." In recent years, that conversation has turned to argument as people have suggested that one is more important than the other. But Justin disagrees entirely with such a one-sided approach.
Justin says, "My natural posture is not work, nor is my natural posture rest. My natural posture is belovedness, and both work and rest spring from my belovedness, and return me to it." In this book, he uses humorous and poignant stories to help readers discover the deep truths about us being laborers for/with Christ, empowered by the Spirit, as well as worshipers of God the Father. Readers will learn how
Sabbath is a gift and a practice that frees us from the anxiety of proving ourselves

They are loved and valued by God for who and whose they are—not for what they do

Rest is not the absence of work; it is what gives work meaning

We can love our world and the people in it through what we do
We are not tools in God's tool belt, valued only for our gifts and talents. Nor are we ascetics called to abandon "daily life" to find God in the desert and just sit there. We are beloved by the One who holds all things together . . . including our need to work and our need to rest.

Purchase Links
___________________________

Please fill out our super short registration form (click the "Enter Now" button above) by June 30th for a chance to win a set of up to ten copies of one of these great books for your book club! We will randomly choose a winner at the end of the month. This giveaway is open to clubs in the US only (our apologies to friends in other countries). 
Best of luck!
We LOVE Book Clubs!