Celebrate Mom!
We've gathered up some wonderful books that moms are sure to love!
___________________________
In this brilliant debut novel full of heart and warmth, three very different sisters—and their free-spirited mother—must grapple with life, responsibilities, and family secrets.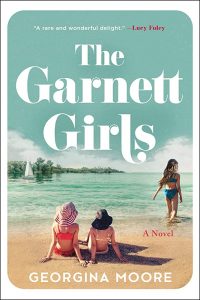 The Garnett Girls by Georgina Moore
Love makes you do things you never thought you were capable of…
Forbidden, passionate and all-encompassing, Margo and Richard's love affair was the stuff of legend—but, ultimately, doomed.
When Richard walked out, Margo locked herself away, leaving her three daughters, Rachel, Imogen, and Sasha, to run wild.
Years later, charismatic Margo entertains lovers and friends in her cottage on the Isle of Wight, refusing to ever speak of Richard and her painful past. But her silence is keeping each of the Garnett girls from finding true happiness.
Rachel is desperate to return to London but is held hostage by responsibility for Sandcove, their beloved but crumbling family home.
Dreamy Imogen feels the pressure to marry her kind, considerate fiancé, even when life is taking an unexpected turn.
And wild, passionate Sasha, trapped between her fractured family and controlling husband, is weighed down by a secret that could shake the family to its core…
The Garnett Girls, the captivating debut novel from Georgina Moore, asks whether children can ever be free of the mistakes of their parents.

Purchase Links
___________________________
From the author of The Restoration of Celia Fairchild, comes a novel about the meaning of family and the places we call home. If you love "southern summer" fiction authors like Mary Alice Monroe and Kristy Woodson Harvey you'll love this delicious novel about family, friendship, and finding your true path in life.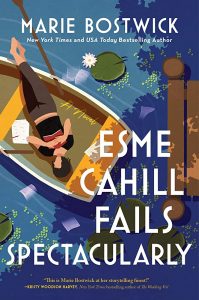 Esme Cahill Fails Spectacularly by Marie Bostwick
Esme Cahill thinks she has failed spectacularly: fired from her New York City publishing job, divorced from her husband, and possessing little more than a broken-down car and a pile of unfinished manuscripts, she drives home to Asheville at the request of her late grandmother, Adele, who had begged her, just before she died, to return to the place she grew up.
There she discovers the once-charming lakeside retreat run by her family is sliding toward financial ruin, so with the help of her grandfather, George; estranged mother, Robyn; and a travelling chef Dawes (maker of the world's best grilled cheese sandwich) they set to work. In the attic, Esme unearths a trove of museum-worthy art quilts, sewn by Adele. Piecing together the inspiration behind them, Esme discovers a forgotten chapter in her family history and her grandmother's untold story, that of a gifted artist who never received her due.
This is an always-emotional, sometimes humorous, very human novel of what it means to be family—the ties that bind us together and the unintentional hurts that can rend us apart. And, along the way, Esme learns that failure can be the first step toward the life you're meant to find.

Purchase Links
___________________________
The first year of life for your new baby is an exciting time full of milestones, and you don't want to forget a single moment. This weekly devotional journal will inspire you to record stories and prayers for your newborn as you create a memory book that you (and they) will treasure for years to come. And you'll feel God's presence and comfort with devotions and Scripture selected especially for new moms.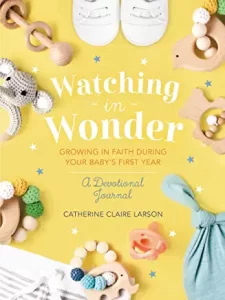 Watching in Wonder: Growing in Faith During Your Baby's First Year by Catherine Claire Larson
In these pages, you will encounter a God who lovingly cares for you and your little one. Marvel anew at His goodness and the miracle of life that is growing day by day before your eyes.
This devotional includes:
A weekly inspirational devotional theme on one of God's unchanging characteristics

Monthly "Memories and Milestones" sections to help you document your baby's growth

Devotions that lead you closer to God

Thoughtful journaling prompts with space to record stories and prayers
With its invitation to draw near to God as you navigate your baby's first year of life, Watching in Wonder is a sweet and thoughtful gift for friends' and loved ones' baby showers or as a gift for yourself at this memorable time of life.
Embrace the exhilarating, exhausting, and joy-filled first year of motherhood with this devotional journal, a gift you can one day give your son or daughter as a reminder of the love and prayers you shared throughout his or her first year in the world.

Purchase Links
___________________________
In a culture where so many people think of middle age as a downward slope into comfy sneakers and quiet, meaningless existence, we can redefine the second half of life, shaping it into decades of fulfillment, fun, strength, and purpose.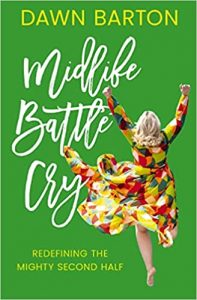 Midlife Battle Cry: Redefining the Mighty Second Half  by Dawn Barton
In our forties, fifties, and beyond, we're wrestling with new questions. Is this it? Did I do what I wanted to do in my life? Who am I now that my kids have moved out? Will my sagging skin eventually hang all the way down to my feet? We feel a little like the world has nudged us aside for the younger crowd.
But God still has much in store for us.
God doesn't bring us to the middle of our lives so we can park in front of the TV and binge-watch home makeover shows. There is no "midlife" to him! We are his gift to this world at every age and in every season, and it's time to embrace it like never before. Right now, we are the best we've ever been. We know more, we've done more, we've lost and loved more. We've figured out that all tweezers are not created equal for chin hairs and, best of all, we've crossed into a space of feeling more ourselves than ever before. These are exhilarating and empowering years.
In Midlife Battle Cry, bestselling author Dawn Barton will inspire you to:
realize that God isn't done with you (honestly, he's just getting started),

view midlife as a pivot point, the start of a bold and powerful season,

embrace who you are physically, spiritually, and emotionally,

learn to share your experiences and wisdom with a younger generation, and

accept that sometimes adding arch support to your cutest shoes is a really good idea.
Blending lots of humor, honesty, stories, and insights, Dawn will walk you through redefining the mighty second half of life. It's time to rediscover your passions, pursue your dreams—and know your actions can cause not just a ripple effect but a magnificent tidal wave.

Purchase Links
___________________________
Four women. One week. One question.
Recent widow Willa Silvester, struggling to find a future, invites three friends to her Montana homestead, where they can learn from nature and one another as they contemplate their second acts.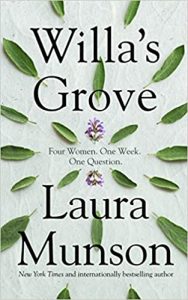 Willa's Grove by Laura Munson
You are invited to the rest of your life.
Three women, from coast to coast and in between, open their mailboxes to the same intriguing invitation. Although leading entirely different lives, each has found herself at a similar, jarring crossroads. Right when these women thought they'd be comfortably settling into middle age, their carefully curated futures have turned out to be dead ends.
The sender of the invitation is Willa Silvester, who is reeling from the untimely death of her beloved husband and the reality that she must say goodbye to the small mountain town they founded together. Yet as Willa mourns her losses, an impossible question keeps staring her in the face: So now what?
Struggling to find the answer alone, fiercely independent Willa eventually calls a childhood friend who happens to be in her own world of hurt — and that's where the idea sparks. They decide to host a weeklong interlude from life, and invite two other friends facing their own quandaries. Soon the four women converge at Willa's Montana homestead, a place where they can learn from nature and one another as they contemplate their second acts together in the rugged wilderness of big sky country.

Purchase Links
___________________________
"I don't know how my life would be different if I never had my sister, but I do know that the steadiness in how I stand in the world is in large part because she exists."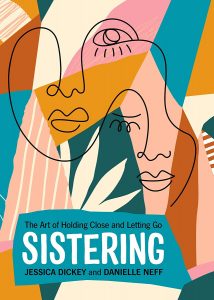 Sistering: The Art of Holding Close and Letting Go by Jessica Dickey and Danielle Neff
If "life is all a stage," it matters how we are encouraged to have voice on that stage and how we connect to other actors. It matters because we come to understand ourselves in our voices. It matters because we practice healing through those connections.
On an actual stage, a play aims to reveal life truths that might draw us toward healing, draw us toward one another. And on another sort of stage, in the space of worship, the sermon aims to do the same. Sistering: The Art of Holding Close and Letting Go brings together the two stages to offer up some truths that might be healing to you, too.
With honesty, laughter, adoration, and a few choice swear words, author-sisters Jessie and Dani—one a playwright, one a pastor—look together at their lives, their voices, and the love that shapes them.

Purchase Links
___________________________

Please fill out our super short registration form (click the "Enter Now" button above) by May 31st for a chance to win a set of up to ten copies of one of these great books for your book club! We will randomly choose a winner at the end of the month. This giveaway is open to clubs in the US only (our apologies to friends in other countries). 
Best of luck!
We 
LOVE

 Book Clubs!