___________________________
Home is not a place—it's a feeling.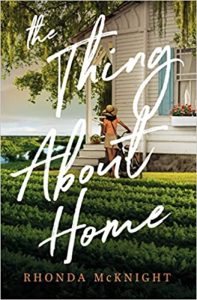 The Thing About Home by Rhonda McKnight
Casey Black needs an escape. When her picture-perfect vow renewal ceremony ends in her being left at the altar, the former model turned social media influencer has new fame—the kind she never wanted. An embarrassing viral video has cost her millions of followers, and her seven-year marriage is over. With her personal and business lives in shambles, Casey runs from New York City to South Carolina's Lowcountry hoping to find long-lost family. Family who can give her more answers about her past than her controlling mom-slash-manager has ever been willing to share.
What Casey doesn't expect is a postcard-worthy property on a three-hundred-acre farm, history, culture, and a love of sweet tea. She spends her days caring for the land and her nights cooking much needed Southern comfort foods. She also meets Nigel, the handsome farm manager whose friendship has become everything she's never had. And then there are the secrets her mother can no longer hide.
Through the pages of her great-grandmother's journals, Casey discovers her roots run deeper than the Lowcountry soil. She learns that she has people. A home. A legacy to uphold. And a great new love story—if only she is brave enough to leave her old life behind.
". . . a beautifully written story about family, self-discovery, secrets, and forgiveness." —Kimberla Lawson Roby, New York Times bestselling author
Inspiring contemporary fiction

Stand-alone novel

Book length: approximately 100,000 words

Includes discussion questions for book clubs

Purchase Links
___________________________
"
A nuanced, complex, and highly original novel." —
Charles Yu, National Book Award
–
winning author of 
Interior Chinatown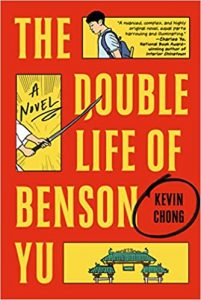 The Double Life of Benson Yu by Kevin Chong
This fresh and unique work of metafiction follows Benson Yu, a writer, who loses control of his own narrative when he attempts to write the story of his fraught upbringing in 1980s Chinatown.
In a Chinatown housing project lives twelve-year-old Benny, his ailing grandmother, and his strange neighbor Constantine, a man who believes he's a reincarnated medieval samurai. When his grandmother is hospitalized, Benny manages to survive on his own until a social worker comes snooping. With no other family, he is reluctantly taken in by Constantine and soon, an unlikely bond forms between the two.
At least, that's what Yu, the narrator of the story, wants to write.
The creator of a bestselling comic book, Yu is struggling with continuing the poignant tale of Benny and Constantine and can't help but interject from the present day, slowly revealing a darker backstory. Can Yu confront the demons he's spent his adult life avoiding or risk his own life…and Benny's?

Purchase Links
___________________________
A stunning YA fantasy debut, perfect for fans of Holly Black and Justina Ireland, about a Black girl (and sword expert) fighting a Fae uprising in Shakespearean London.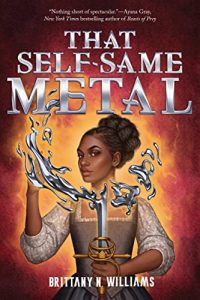 That Self-Same Metal: The Forge & Fracture Saga, Book 1 by Brittany N. Williams, narrated by Patricia Allison
Sixteen-year-old Joan Sands is a gifted craftswoman who creates and upkeeps the stage blades for William Shakespeare's acting company, The King's Men. Joan's skill with her blades comes from a magical ability to control metal—an ability gifted by her Head Orisha, Ogun. Because her whole family is Orisha-blessed, the Sands family have always kept tabs on the Fae presence in London. Usually that doesn't involve much except noting the faint glow around a Fae's body as they try to blend in with London society, but lately, there has been an uptick in brutal Fae attacks. After Joan wounds a powerful Fae and saves the son of a cruel Lord, she is drawn into political intrigue in the human and Fae worlds.
Swashbuckling, romantic, and full of the sights and sounds of Shakespeare's London, this series starter delivers an unforgettable story—and a heroine unlike any other.
**Members of the winning book club will receive Spotify codes to redeem their copies of the book (up to ten members)

Purchase Links
___________________________
Change the Goal, Not the Feeling
A psychologist's six-step roadmap to a life beyond happiness—one of sustainable lifetime satisfaction.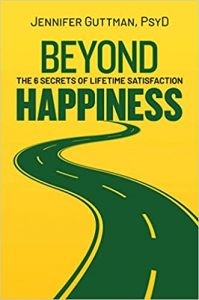 Beyond Happiness: The 6 Secrets of Lifetime Satisfaction by Dr. Jennifer Gutman
Dr. Jennifer Guttman is a strong advocate of providing guidance for self-improvement outside of the confines of traditional therapy, and to that end, her strategy works so well because of its universal applicability. In Beyond Happiness, Dr. Guttman lays out six techniques that will empower you to gain control over your own happiness: avoiding assumptions; reducing people-pleasing behaviors; facing fears; making decisions; closing; and active self-reinforcement.
The immense success that Dr. Guttman has had using these techniques within her practice is a testament to just how effective they are. She has shown how moving beyond happiness to satisfaction and contentment is a very achievable and rewarding journey.

Purchase Links
___________________________
Using the written word as her witness statement, Jessica Willis Fisher gives a lacerating portrait of a girl finding her voice after years of being silenced and an unforgettable story of risk and faith.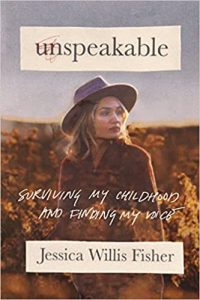 Unspeakable:Surviving My Childhood and Finding My Voice by Jessica Willis Fisher
Growing up the eldest daughter in a large, highly controlled, fundamentalist Christian household, Jessica Willis was groomed to perform, and to conform to her father's disturbing and chaotic teachings. Cut off from anything unapproved by her father, Jessica was persistently curious about the outside world, always wondering what was normal or potentially dangerous about her upbringing.
When the Willis family rocketed into fame after their appearances on multiple televised talent competitions in 2014, Jessica and her family landed their own reality TV show and toured across the globe, singing and dancing for millions. The world loved this beautiful family of kids; young and vivacious, the Willis's presented themselves to be extraordinary and happy. But the older and wiser Jessica got, the more she had to face that what was going on behind closed doors would forever be escalating.
In this elegant, harrowing story of the manipulation and codependency that defines abusive family relationships, Jessica Willis Fisher lets us see the formative moments of her childhood through her eyes. Fisher's haunting coming-of-age memoir captures the beauty and ugliness of a young woman finding her way—filled with longing, fear, confusion, secrecy, and most importantly, hope for the future.
Unspeakable: Surviving My Childhood and Finding My Voice shares:
An unflinching look at the manipulation and codependency that defines abusive family relationships

The formative moments of Jessica's childhood through her eyes

An unforgettable story of courage and strength
Beautifully written and monumental in its bravery, Fisher's story is proof that we can all become so much more that the things that happen to us.

Purchase Links
___________________________
A surprise inheritance. A cache of family secrets. A choice that will change her life forever.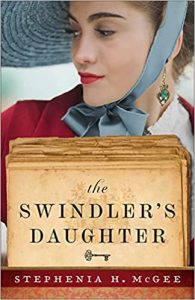 The Swindler's Daughter by Stephenia H. McGee
Lillian Doyle has lived her entire high-society life with her widowed mother, believing her father died long ago. But when news arrives that her estranged father only recently passed away–in jail–Lillian is startled to find that the man has left a business and all of his possessions to her, making her a rather unusual heiress.
When she goes to take possession of her father's house in a backwoods Georgia town, the dilapidated structure is already occupied by another woman who claims it was promised to her son, Jonah. In her attempts to untangle the mess, Lillian will discover not only a family she never knew she had but a family business that is more than meets the eye–and has put a target on her back.
To discover the truth and take hold of the independence she's always dreamed of, she'll have to make friends with adversaries and strangers–especially Jonah, the dusty and unrefined cowboy who has secret aspirations of his own.

Purchase Links
___________________________
A collection of refreshingly honest and hilarious essays from 
Southern Living
 columnist Elizabeth Passarella about navigating change–whether emotional or logistical–and staying sane during life's unexpected twists and turns.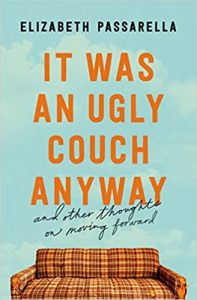 It Was An Ugly Couch Anyway: And Other Thoughts on Moving Forward by Elizabeth Passarella
After Elizabeth Passarella and her husband finally decided that it was time to sell their two-bedroom apartment in Manhattan, she found herself wondering, Is there a proper technique for skinning a couch? The couch in question was a beloved hand-me-down from her father–who had recently passed away–and she was surprisingly reluctant to let the nine-foot, plaid, velour-covered piece of furniture go. So, out came the scissors. She kept the fabric and tossed the couch.
We've all had to make decisions in our lives about what to keep and what to toss–habits, attitudes, friends, even homes. In this new collection of essays, Elizabeth explores the ups and downs of moving forward–both emotionally and logistically–with her welcome candor and sense of humor that readers have come to love. She enters into a remarkable (and strange) relationship with an elderly neighbor whose apartment she hopes to buy, examines her own stubborn stances on motherhood and therapy, and tries to come to terms with a family health crisis that brings more questions than answers. Along the way Elizabeth reminds readers that when they feel stuck or their load feels heavy, there is always light breaking in somewhere.
It Was an Ugly Couch Anyway will make readers laugh, cry, and feel a little less alone as they navigate their own lives that are filled with uncertainty, change, and things beyond their control.

Purchase Links
___________________________
REESE'S FEBRUARY 2023 BOOK CLUB PICK
AN INSTANT 
NEW YORK TIMES 
BESTSELLER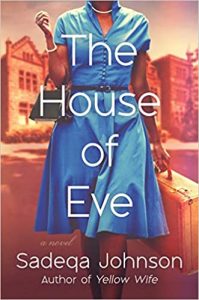 The House of Eve by Sadeqa Johnson
"Amazing…These two women's lives intersect in the most wonderful and unlikely of ways. I was completely surprised by the ending of this beautifully told and written book." —Reese Witherspoon
"A triumph of historical fiction" (The Washington Post) set in 1950s Philadelphia and Washington, DC, that explores what it means to be a woman and a mother, and how much one is willing to sacrifice to achieve her greatest goal.
1950s Philadelphia: fifteen-year-old Ruby Pearsall is on track to becoming the first in her family to attend college, in spite of having a mother more interested in keeping a man than raising a daughter. But a taboo love affair threatens to pull her back down into the poverty and desperation that has been passed on to her like a birthright.
Eleanor Quarles arrives in Washington, DC, with ambition and secrets. When she meets the handsome William Pride at Howard University, they fall madly in love. But William hails from one of DC's elite wealthy Black families, and his par­ents don't let just anyone into their fold. Eleanor hopes that a baby will make her finally feel at home in William's family and grant her the life she's been searching for. But having a baby—and fitting in—is easier said than done.
With their stories colliding in the most unexpected of ways, Ruby and Eleanor will both make decisions that shape the trajectory of their lives.

Purchase Links
___________________________
Showcasing the confidence she's gathered from her own life journey, Kim Gravel–beloved QVC star and creator of Belle by Kim Gravel and Belle Beauty–invites you to look at yourself with a fresh new lens, encouraging you to start where you are and become the person you were meant to be.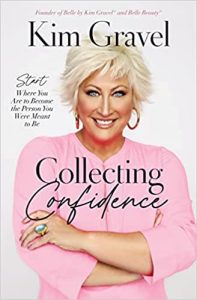 Collecting Confidence: Start Where You Are to Become the Person You Were Meant to Be by Kim Gravel
In Collecting Confidence, Kim reminds you that you are not your current circumstance. You are not your current habits. Where you are right now is, in fact, simply your starting place to become who you're meant to be. If you've lost your way and forgotten who you are, this book will
equip you to glean empowerment from life's lowest moments.

blend down-home wisdom with laugh-out-loud humor.

inspire you with no-holds-barred stories from Graceland to Piggly Wiggly.

help you understand the importance of how you see yourself.

change your perspective to realize mistakes can be stepping stones.
Now is the time to be still, listen to God, and start collecting confidence one step, one lesson, one experience, and even one mistake at a time. As Kim says, "You can't be authentic in the world if you can't be real with yourself." Collecting Confidence is a sumptuous collection of life experiences, hard-earned wisdom, and unexpected blessings.

Purchase Links
___________________________
"A fascinating story of love's ability to overcome family curses, scandals, and even war. Told in three parts, this multi-generational tale is wonderfully heartwarming!" —Madeline Martin, 
New York Times

 bestselling author of 

The Last Bookshop in London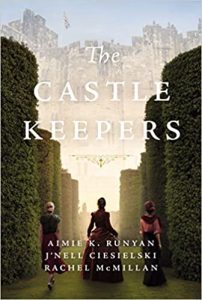 The Castle Keepers by Aimee K. Runyan, J'Nell Ciesielski, and Rachel McMillan
Leedswick Castle has housed the Alnwick family in the English countryside for generations, despite a family curse determined to destroy their legacy and erase them from history.
1870. After a disastrous dinner at the Astor mansion forces her to flee New York in disgrace, socialite Beatrice Holbrook knows her performance in London must be a triumph. When she catches the eye of Charles Alnwick, one of the town's most enviably titled bachelors, she prepares to attempt a social coup and become the future Marchioness of Northridge. Then tragedy and scandal strike the Alnwick family, and Beatrice must assume the role of a lifetime: that of her true, brave self.
1917. Artist Elena Hamilton arrives in Northumberland determined to transform a soldier's wounds into something beautiful. Tobias Alnwick's parents have commissioned a lifelike mask to help their son return to his former self after battle wounds partially destroyed his face. But Elena doesn't see a man who needs fixing—she sees a man who needn't hide. Yet secrets from their past threaten to chase away the peace they've found in each other and destroy the future they're creating.
1945. Alec Alnwick returns home from the war haunted but determined to leave death and destruction behind. With the help of Brigitta Mayr, the brilliant young psychoanalyst whose correspondence was a lifeline during his time on the Western Front, he reconstructs his family's large estate into a rehabilitation center for similarly wounded soldiers. Alec's efforts may be the only chance to redeem his family legacy—and break the curse on the Alnwick name—once and for all.
Three beloved authors share stories of the Alnwick family through the generations, revealing how love and war can change a place—but only its people can unshackle it from the misdeeds of the past.
Multiple historical timelines following generations of one family

Stand-alone collection of connected stories

Includes discussion questions for book clubs

Purchase Links
___________________________
"A remarkable feat of literary conjuration." —Jennifer Haigh, nationally bestselling author of 
Mercy Street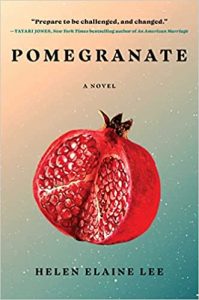 Pomegranate by Helen Elaine Lee
The acclaimed author of The Serpent's Gift returns with this gripping and powerful novel of healing, redemption, and love, following a queer Black woman who works to stay clean, pull her life together, and heal after being released from prison.
Ranita Atwater is "getting short."
She is almost done with her four-year sentence for opiate possession at Oak Hills Correctional Center. With three years of sobriety, she is determined to stay clean and regain custody of her two children.
My name is Ranita, and I'm an addict, she has said again and again at recovery meetings. But who else is she? Who might she choose to become? As she claims the story housed within her pomegranate-like heart, she is determined to confront the weight of the past and discover what might lie beyond mere survival.
Ranita is regaining her freedom, but she's leaving behind her lover Maxine, who has inspired her to imagine herself and the world differently. Now she must steer clear of the temptations that have pulled her down, while atoning for her missteps and facing old wounds. With a fierce, smart, and sometimes funny voice, Ranita reveals how rocky and winding the path to wellness is for a Black woman, even as she draws on family, memory, faith, and love in order to choose life.
Perfect for fans of Jesmyn Ward and Yaa Gyasi, Pomegranate is a complex portrayal of queer Black womanhood and marginalization in America: a story of loss, healing, redemption, and strength. In lyrical and precise prose, Helen Elaine Lee paints a humane and unflinching portrait of the devastating effects of incarceration and addiction, and of one woman's determination to tell her story.

Purchase Links
___________________________
"A timeless and powerful novel of a daring woman who must decide if she will risk everything to follow her passion and find her voice." —Patti Callahan Henry, 
New York Times

 bestselling author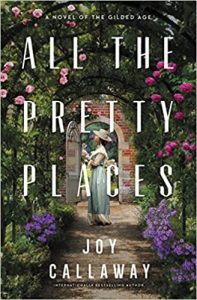 All the Pretty Places: A Novel of the Gilded Age by Joy Callaway
From the moment she was born, the transforming beauty of her family's nurseries has arrested her heart. From the moment she knew love, her heart belonged with his. Now she's at risk of losing them both.
Rye, New York, 1893. Sadie Fremd's dreams hinge on her family's nursery, which has been the supplier of choice for respected landscape architects on the East Coast for decades. Now her small town is in a panic as the economy plummets into a depression, and Sadie's father is pressuring her to secure her future by marrying a wealthy man among her peerage—but Sadie has never been one to play it safe. Besides, her heart is already spoken for.
Rather than seek potential suitors, Sadie pursues new business from her father's most reliable and wealthy clients of the Gilded Age in an attempt to bolster the floundering nursery. But the more time Sadie spends in the secluded gardens of the elite, the more she notices the hopelessness in the eyes of those outside the mansions. The poor, the grieving, the weary. The people with no access to the restorative beauty of nature.
Sadie has always wanted her father to pass his business to her instead of to one of her brothers, but he seems oblivious to her desire and talent—and now to her passion for providing natural beauty to those who can't afford it. When former employee, Sam, shows up unexpectedly, Sadie wonders if their love can be rekindled or if his presence will simply be another reminder of a life she longs for and cannot have.
Joy Callaway illuminates the life of her great-great-grandmother in this captivating story about a daring woman following her passion and finding her voice, while exploring natural beauty and its effect in the lives of those who need it most.
Historical Gilded Age novel about an early American landscape nursery

Stand-alone novel

Also by Joy Callaway: 

The Grand Design

, 

The Fifth Avenue Artists Society

, and 

Secret Sisters

Includes discussion questions for book clubs

Purchase Links
___________________________
For small-town Wisconsin siblings Billy and Jay Johnson, it's a summer of change, confusion, and self-discovery.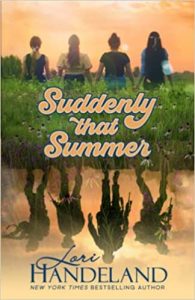 Suddenly That Summer: A Nostalgic Coming of Age Novel by Lori Handeland
Billy enlists in the army and is soon on his way to Vietnam. The letters and sketches he sends home tell the story of the crack-shot soldier he has become. 'Slayer' is a sniper the Vietcong both fear and loathe, an enemy they will never stop hunting. But the more violence Billy sees, the more he kills, the farther he drifts from who he thought he was––or at least who he thought he wanted to be. He draws strength from the friends he makes on his journey and the camaraderie he finds. Billy begins to wonder if he is there for the mission or the men or if, maybe, his mission has become these men.
Jay expects to enjoy the summer with her three lifelong friends, but the Four Musketeers have grown up and grown apart leaving Jay adrift and alone. Then she meets Paul, the dazzling new boy from California, whose anti-war views make her question if things are as cut and dried as she's been taught. Shouldn't she be on the same side of this war as her brother, who believes just as strongly in the right of the conflict as the protestors believe in the wrong of it? Torn, Jay struggles to make sense of her lifelong beliefs versus the turning cultural tide when surprising support comes from the friends she thought she'd lost.
From the voice of New York Times bestselling author Lori Handeland, a heartfelt, coming-of-age story that brings back the feelings of innocence, fireworks and fireflies, warm summer sun on your skin––and the moment you realized everything was about to change.

Purchase Links
___________________________
Welcome to your own little confession booth.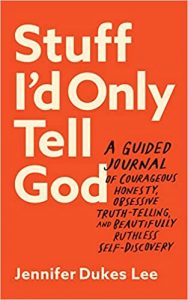 Stuff I'd Only Tell God: A Guided Journal of Courageous Honesty, Obsessive Truth-Telling, and Beautifully Ruthless Self-Discovery by Jennifer Dukes Lee
What would you say if you were completely honest with yourself and with God? It's time to find out.
With daring questions, provocative lists, and quirky charts and illustrations, this journal is a place to record all the stuff you'd only tell God: ideas, beliefs, secrets, memories, wonderings, and wishes–things that might seem outlandish or outrageous to anyone else but are what make you you. You'll find the space, the courage, and the help you need to unearth the real you, the you that is sometimes buried deep beneath a layer of self-protection.

Purchase Links
___________________________
Incorporate a new rhythm for those days when life feels too hard through the daily practice of receiving and releasing—receiving God's encouragement, instruction, and truth to start your day and releasing to God all that's weighing you down at the end of each day. He'll set you on a path toward healing.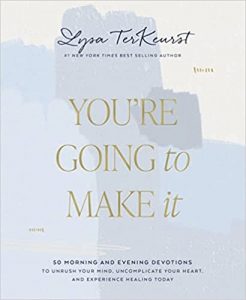 You're Going to Make It: 50 Morning and Evening Devotions to Unleash Your Mind, Uncomplicate Your Heart, and Experience Healing Today by Lysa TerKeurst
In her newest devotional, New York Times bestselling author Lysa TerKeurst helps you stay connected to God and continue loving others even in the middle of discouraging, disappointing, or even devastating circumstances. Experience 50 days of morning and evening devotions complimented with beautiful color photography of significant locations where Lysa has worked through her own healing. Each devotion contains:
a Bible verse to start your day

a statement of truth to remember throughout your day

space to write and release something back to God at the end of your day

a prayer to receive before you go to sleep to better prepare for tomorrow
Without these crucial components woven into the routine of our harder seasons, connecting with the Lord can very quickly begin to feel overwhelming and like just another item on our to-do lists. Lysa understands this struggle and wants to create a sacred space where women can bookend their days with God by simply showing up, soaking in truth, and being reminded they're not alone on their healing journey.
In her gentle, unassuming way, Lysa walks you through the pages of You're Going to Make It, where you will:
receive the biblical truth and encouragement you need when hurtful situations leave you worn out and unmotivated to spend time with God.

escape the loneliness of trying to heal on your own with trusted wisdom from a Bible teacher and friend who understands your pain and wants to help you move forward.

be reassured that though this difficult season is part of your story, it will not be your whole story.
This difficult season doesn't have to be a time of numbing the pain or going through the motions. Let this devotional help you get intentional and know that, though this may be a hard time, it can also be a holy time.

Purchase Links
___________________________
Named "2022 Best Indie Book: Notable Indie" by Shelf Unbound Magazine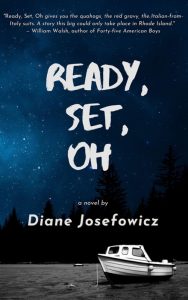 Ready, Set, Oh by Diane Josefowicz
Diane Josefowicz's debut novel, READY, SET, OH, is set against the upheavals of the Sixties and chronicles the struggles of a man who has just lost his draft deferment, a young pregnant woman with fragile mental health, and a UFO-chasing astronomer, each hostages in their own way to their families and to history.
Providence, Rhode Island, 1967, Tino Battuta returns home from medical school in disgrace and without his draft deferment to attend his grandfather's funeral and to spend time with the love of his life, Primrose Tirocchi. Primrose, an art student, has an abusive home life and serious mental health challenges. But Primrose has plans: she is writing The Book of Love with her best friend while dreaming about living in New York and showing her art in galleries. Tino has a dream as well: to escape the war.
Complicating matters, Primrose is soon carrying Tino's baby. Tino isn't giving her the ring she wants, but Primrose isn't so sure about their relationship either. Soon Primrose falls for Lupo Light, a budding astronomer with a deferment, who is caught up in a popular movement to link political liberation to a wave of UFO sightings.
While Tino and his best friend work on a boat that could be their ticket to Canada, Primrose joins the Students for a Democratic Society while trying to keep a grasp on her tenuous mental health.
Together, Primrose and Tino discover the limits of their finite possibilities as well as the fragility of their resilience. Ultimately, they must confront the question: how much choice do we really have in the paths our lives take?

Purchase Links
___________________________
A delicious summer read filled with humor and surprise for readers of Anne Tyler and Kevin Wilson.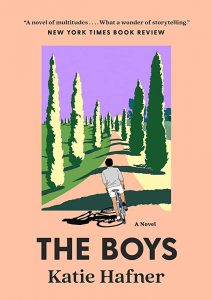 The Boys by Katie Hafner
New York Times Editor's Choice | Good Morning America Reading Pick | LitHub Most Anticipated Book | Christian Science Monitor Summer Reading Pick
When introverted Ethan Fawcett marries fun-loving Barb, so comfortable in the world, he has every reason to believe he will be delivered from a lifetime of solitude. She fills his world with a sense of adventure, expanding his horizons beyond his comfortable routine. To ease Ethan's fears of becoming a father, Barb suggests they foster two young brothers, Tommy and Sam, and Ethan immediately falls in love with the boys.
When the pandemic hits, he becomes obsessed with providing a perfect life for them. But instead of bringing Barb and Ethan closer together, the boys become a wedge in their relationship, as Ethan is unable to share with Barb a secret that has been haunting him since childhood. Then Ethan takes Tommy and Sam on a biking trip in Italy, and it becomes clear just how unusual Ethan and his boys are.

Purchase Links
___________________________

Please fill out our super short registration form (click the "Enter Now" button above) by May 31st for a chance to win a set of up to ten copies of one of these great books for your book club! We will randomly choose a winner at the end of the month. This giveaway is open to clubs in the US only (our apologies to friends in other countries). 
Best of luck!
We LOVE Book Clubs!