___________________________
In this final installment in the acclaimed Black Girls Must Die Exhausted trilogy, Tabitha is juggling work, relationships, and a newborn baby—but will she find the happy ending she's always wanted?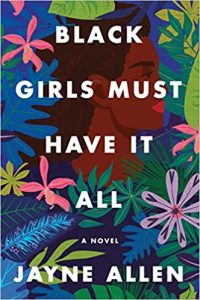 Black Girls Must Have It All by Jayne Allen
After a whirlwind year, Tabitha Walker's carefully organized plan to achieve the life she wanted—perfect job, dream husband, and stylish home—has gone off the rails. Her checklist now consists of diapers changed (infinite), showers taken (zero), tears cried (buckets), and hours of sleep (what's that?).
Don't get her wrong, Tabby loves her new bundle of joy and motherhood is perhaps the only thing that's consistent for her these days. When the news station announces that they will be hiring outside competitors for the new anchor position, Tabby throws herself into her work. But it's not just maintaining her position as the station's weekend anchor that has her worried. All of her relationships seem to be shifting out of their regular orbits. Best friend Alexis can't manage to strike the right balance in her "refurbished" marriage with Rob, and Laila's gone from being a consistent ride-or-die to a newly minted entrepreneur trying to raise capital for her growing business. And when Marc presents her with an ultimatum about their relationship, coupled with an extended "visit" from his mother, Tabby is forced to take stock of her life and make a new plan for the future.
Consumed by work, motherhood, and love, Tabby finds herself isolated from her friends and family just when she needs them most. But help is always there when you ask for it, and Tabby's village will once again rally around her as she comes to terms with her new life and faces her biggest challenge yet—choosing herself.

Purchase Links
___________________________
Using the written word as her witness statement, Jessica Willis Fisher gives a lacerating portrait of a girl finding her voice after years of being silenced and an unforgettable story of risk and faith.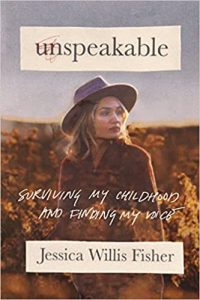 Unspeakable:Surviving My Childhood and Finding My Voice by Jessica Willis Fisher
Growing up the eldest daughter in a large, highly controlled, fundamentalist Christian household, Jessica Willis was groomed to perform, and to conform to her father's disturbing and chaotic teachings. Cut off from anything unapproved by her father, Jessica was persistently curious about the outside world, always wondering what was normal or potentially dangerous about her upbringing.
When the Willis family rocketed into fame after their appearances on multiple televised talent competitions in 2014, Jessica and her family landed their own reality TV show and toured across the globe, singing and dancing for millions. The world loved this beautiful family of kids; young and vivacious, the Willis's presented themselves to be extraordinary and happy. But the older and wiser Jessica got, the more she had to face that what was going on behind closed doors would forever be escalating.
In this elegant, harrowing story of the manipulation and codependency that defines abusive family relationships, Jessica Willis Fisher lets us see the formative moments of her childhood through her eyes. Fisher's haunting coming-of-age memoir captures the beauty and ugliness of a young woman finding her way—filled with longing, fear, confusion, secrecy, and most importantly, hope for the future.
Unspeakable: Surviving My Childhood and Finding My Voice shares:
An unflinching look at the manipulation and codependency that defines abusive family relationships

The formative moments of Jessica's childhood through her eyes

An unforgettable story of courage and strength
Beautifully written and monumental in its bravery, Fisher's story is proof that we can all become so much more that the things that happen to us.

Purchase Links
___________________________
REESE'S FEBRUARY 2023 BOOK CLUB PICK
AN INSTANT 
NEW YORK TIMES 
BESTSELLER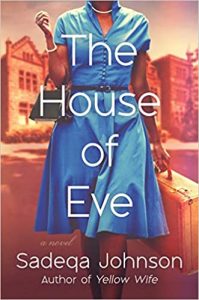 The House of Eve by Sadeqa Johnson
"Amazing…These two women's lives intersect in the most wonderful and unlikely of ways. I was completely surprised by the ending of this beautifully told and written book." —Reese Witherspoon
"A triumph of historical fiction" (The Washington Post) set in 1950s Philadelphia and Washington, DC, that explores what it means to be a woman and a mother, and how much one is willing to sacrifice to achieve her greatest goal.
1950s Philadelphia: fifteen-year-old Ruby Pearsall is on track to becoming the first in her family to attend college, in spite of having a mother more interested in keeping a man than raising a daughter. But a taboo love affair threatens to pull her back down into the poverty and desperation that has been passed on to her like a birthright.
Eleanor Quarles arrives in Washington, DC, with ambition and secrets. When she meets the handsome William Pride at Howard University, they fall madly in love. But William hails from one of DC's elite wealthy Black families, and his par­ents don't let just anyone into their fold. Eleanor hopes that a baby will make her finally feel at home in William's family and grant her the life she's been searching for. But having a baby—and fitting in—is easier said than done.
With their stories colliding in the most unexpected of ways, Ruby and Eleanor will both make decisions that shape the trajectory of their lives.

Purchase Links
___________________________
Based on the true story of an astonishingly brave woman who saved hundreds of mothers and their children during the Spanish Civil War and World War II.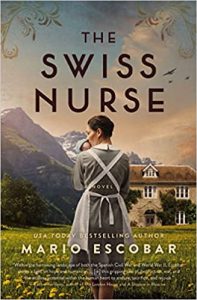 The Swiss Nurse by Mario Escobar
Elisabeth Eidenbenz left Switzerland in 1937 to aid children orphaned during the Spanish Civil War. Now, her work has led her to France, where she's determined to provide expectant mothers and their unborn children a refuge amid one of the worst humanitarian crises of the twentieth century.
Desperate to escape the invasion of Franco's Fascist troops, Isabel Dueñas becomes one of many Spanish patriots fleeing their country. She leaves behind her husband as he fights for democracy, and she seeks asylum in a refugee camp across the border in France. Without adequate shelter, clean drinking water, or medical care, Isabel's future looks bleak—until she meets Elisabeth.
When Germany invades Poland, an avalanche of humanity sweeps into France. In the cascade of crises that follow, Isabel and Elisabeth learn the cost and the unexpected joy of sacrifice.
Based on the true stories of refugees and the woman who risked everything to save them, The Swiss Nurse shares a message of love and strength amid one of history's often overlooked conflicts.
World War II historical fiction inspired by true events

Includes discussion questions for book clubs, a historical timeline, and notes from the author

Book length: 85,000 words

Also by author: 

Auschwitz Lullaby

, 

Children of the Stars

, 

Remember Me

, 

The Librarian of Saint-Malo, The Teacher of Warsaw

.

Purchase Links
___________________________
Waiting in Hope
 gives women an uplifting, accessible resource to comfort, guide, and strengthen them through the journey of infertility.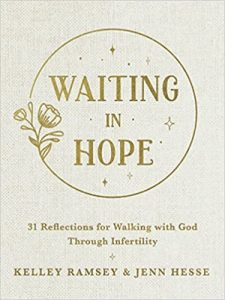 Waiting in Hope: 31 Reflections for Walking With God Through Infertility by Kelley Ramsey & Jenn Hesse
Featuring 31 reflections that address specific aspects of waiting and hoping, each chapter weaves personal narrative, Scripture, and prayers to encourage women longing for a child.
Weary moms have their pick of hundreds of Christian devotionals and books offering encouragement for the trials of motherhood. Women who suffer miscarriage can also choose from a handful of resources, thanks to an industry trend making space for books on grief. But what about the one in eight women who face the heartache of infertility? Where can they turn for comfort and guidance while grieving their dreams and grappling with unfulfilled longing?
Waiting in Hope fills the gap for a biblically grounded, gospel-driven resource that specifically addresses the unique struggles of infertility. Offering 31 reflections filled with biblical wisdom, testimonies, and personal narrative, Waiting in Hope helps women work through their complex emotions, grow in their faith, restore strained relationships, and move forward in their journeys with perseverance and confidence in the Lord.
Much needed Christian resource for the nearly 10 percent of women who face infertility, childlessness, and extended waiting for a child

Compassionate, biblically rich devotional that doesn't give false hope or platitudes

Provides an infertility-specific, journal-like companion to use continuously throughout your journey
As seasoned infertility ministry leaders, Jenn Hesse and Kelley Ramsey have committed to help women turn to Jesus as their hope in sorrow. This book is the resource they wish they'd had ten years ago in the middle of their infertility grief. Women need to hear the good news that Jesus is with them in their wait, and that they can live a life of purpose regardless of how their wait ends.

Purchase Links
___________________________
"A remarkable feat of literary conjuration." —Jennifer Haigh, nationally bestselling author of 
Mercy Street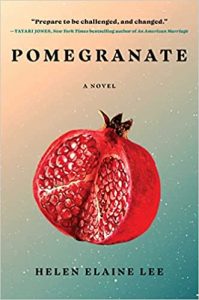 Pomegranate by Helen Elaine Lee
The acclaimed author of The Serpent's Gift returns with this gripping and powerful novel of healing, redemption, and love, following a queer Black woman who works to stay clean, pull her life together, and heal after being released from prison.
Ranita Atwater is "getting short."
She is almost done with her four-year sentence for opiate possession at Oak Hills Correctional Center. With three years of sobriety, she is determined to stay clean and regain custody of her two children.
My name is Ranita, and I'm an addict, she has said again and again at recovery meetings. But who else is she? Who might she choose to become? As she claims the story housed within her pomegranate-like heart, she is determined to confront the weight of the past and discover what might lie beyond mere survival.
Ranita is regaining her freedom, but she's leaving behind her lover Maxine, who has inspired her to imagine herself and the world differently. Now she must steer clear of the temptations that have pulled her down, while atoning for her missteps and facing old wounds. With a fierce, smart, and sometimes funny voice, Ranita reveals how rocky and winding the path to wellness is for a Black woman, even as she draws on family, memory, faith, and love in order to choose life.
Perfect for fans of Jesmyn Ward and Yaa Gyasi, Pomegranate is a complex portrayal of queer Black womanhood and marginalization in America: a story of loss, healing, redemption, and strength. In lyrical and precise prose, Helen Elaine Lee paints a humane and unflinching portrait of the devastating effects of incarceration and addiction, and of one woman's determination to tell her story.

Purchase Links
___________________________
What if everything you remember is a lie?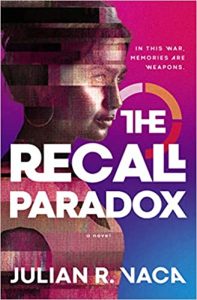 The Recall Paradox (The Memory Index) by Julian R. Vaca
Freya Izquierdo and Fletcher Cohen believe they're done with top-secret memory knifing. After successfully hacking a terrorist's memories and foiling the Memory Ghosts' next attack, they spend their school break intending to clear Fletcher's dad of being accused of colluding with the radical group.
Exposing the truth should be straightforward, if not easy. But Fletcher's house is robbed, and Freya makes a shocking discovery about her flawed recall. When they return to Foxtail Academy, no one but the dean and Dr. Sanders seems to remember Freya, Fletcher, and their friends Chase and Ollie. Then the Memory Ghosts make contact, and everything the four students thought was true proves false.
As they struggle to shine light on the shadowy battlefield between Memory Frontier and the Memory Ghosts, their only option is to undertake the most difficult and risky knifing mission of their lives. But this time, more than their lives are at stake.
In this heart-stopping and gripping conclusion to the critically acclaimed Memory Index duology, the only way out is in, and the only way to safety is through reckless danger that could wipe Freya and Fletcher from everyone's minds . . . forever.
Speculative YA sci/fi novel

Book length: 100,000 words

Get hooked on The Memory Index Duology:

Book 1: 

The Memory Index

Book 2: 

The Recall Paradox

Includes discussion questions for book clubs and author's playlist

Purchase Links
___________________________
"
A nuanced, complex, and highly original novel." —
Charles Yu, National Book Award
–
winning author of 
Interior Chinatown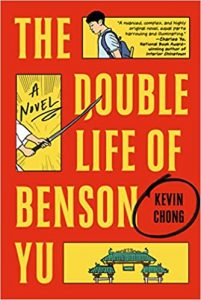 The Double Life of Benson Yu by Kevin Chong
This fresh and unique work of metafiction follows Benson Yu, a writer, who loses control of his own narrative when he attempts to write the story of his fraught upbringing in 1980s Chinatown.
In a Chinatown housing project lives twelve-year-old Benny, his ailing grandmother, and his strange neighbor Constantine, a man who believes he's a reincarnated medieval samurai. When his grandmother is hospitalized, Benny manages to survive on his own until a social worker comes snooping. With no other family, he is reluctantly taken in by Constantine and soon, an unlikely bond forms between the two.
At least, that's what Yu, the narrator of the story, wants to write.
The creator of a bestselling comic book, Yu is struggling with continuing the poignant tale of Benny and Constantine and can't help but interject from the present day, slowly revealing a darker backstory. Can Yu confront the demons he's spent his adult life avoiding or risk his own life…and Benny's?

Purchase Links
___________________________
White Picket Fences is a heartfelt family drama fueled by an honest story of motherhood, written for those of us caught up in our own self-searching journeys.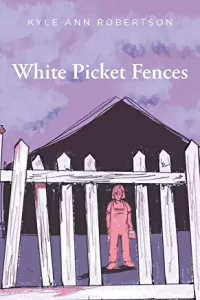 White Picket Fences by Kyle Ann Robertson
The one thing Julie Cahill knows because of her transitory upbringing as a military brat is that she never had a hometown. So she has made sure her kids would grow up in one forever home, in a forever neighborhood, with lots of forever friends. Yet her dream of a permanent hometown has her feeling fenced in.
Set in the Delaware Bay area, Julie has achieved her dreams but struggles with having to accept invisibility, underappreciation, and being taken for granted by her family in trade for her unconditional love. Her guilt over not being available for her family on that one fateful day has her challenging karma by tightening her grip on her daughters and husband, ultimately pushing them away.

Purchase Links
___________________________
A coming-of-middle-age novel that challenges the assumption that the status quo is as good as it gets.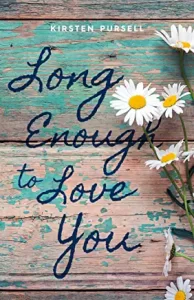 Long Enough to Love You by Kirsten Pursell
A love story of self, of past, of present, of future. One woman's journey to put the pieces of her life together in the most meaningful way — at times chaotic, at times cathartic, but ultimately beautiful in all its imperfect pieces.
Jenn, fifty-something and empty-nesting, feels like a donut: whole on the outside but missing the middle. The deafening sound of silence in the picture-perfect, oversized home she shares with a husband who does not see her makes the voices arguing in her head hard to ignore. One voice tells her to stay because safe and simple is good; another says leave so you can be the version of yourself not defined by others. The thought of ever after without happily feels like purgatory.
The chance discovery of her long-forgotten diaries unearths memories of a first love long buried, reminders that the most beautiful love is sometimes wasted on the young. Her words become a very real reminder of everything first love had been when she reconnects with Tripp in unexpected ways.
Long Enough to Love You by Kirsten Pursell follows Jenn – a courageous yet vulnerable protagonist – as she dissects and unpacks her marriage in an emotional journey to stay true to herself despite societal norms and middle-age stereotypes that would suggest otherwise.
Book club discussion guide can be found HERE.

Purchase Links
___________________________
Dessert with Buddha

 takes the eccentric, sort-of-Buddhist monk, Volya Rinpoche, and his skeptical, middle-of-the-road brother-in-law, Otto Ringling, on another enlightening road trip filled with meals, humor, social commentary, and good times.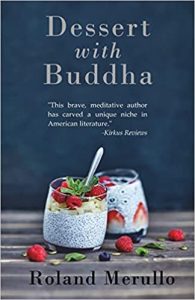 Dessert With Buddha by Roland Merullo
On this journey, the couple that traveled from New York to North Dakota in Breakfast with Buddha, Seattle to North Dakota in Lunch with Buddha, and North Dakota to Las Vegas in Dinner with Buddha heads down the Eastern Seaboard from Boston to points south. Along the way, they meet an array of intriguing characters-from a former NBA star to a Holocaust survivor, from an A.M.E. preacher to a hedge fund executive, from a Syrian refugee to a homeless North Carolinian-tour some famous American sights, and enjoy the kinds of conversations about spirituality that have engrossed hundreds of thousands of readers from China to Turkey to Croatia, and in every U.S. state.
Otto's sister, Cecelia, his daughter Natasha, son Anthony, and niece Shelsa, all have small but important roles in the story, as the famous duo pilots a hybrid pickup along back roads and superhighways, toward the series' climactic finish.
"I wrote Dessert," Merullo says "so that it can be enjoyed as a standalone, or after having read the other three novels. I wanted this one to be a testament to the kind of generosity I grew up with, a full-souled selflessness, an antidote to greed."
Dessert with Buddha enhances the series the way a delicious dish of ice cream or slice of homemade pie enhances a great meal. Enjoy the trip!

Purchase Links
___________________________
On the cusp of middle age, a newlywed journalist discovers and finishes the bucket list of her late free-spirited father.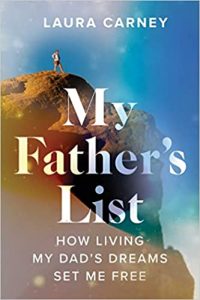 My Father's List: How Living My Dad's Dreams Set Me Free by Laura Carney
Fifty-four adventures in six years. That's what thirty-eight-year-old journalist Laura Carney embarked on when she discovered her late father Mick's bucket list.
Killed in a car crash when Laura was twenty-five, Mick seemed lost forever. My Father's List is the story of how one woman—with the help of family, friends, and even strangers—found the courage to go after her own dreams after realizing those of a beloved yet mysterious man. This is a story about secrets—and the freedom we feel when we learn to trust again: in life, in love, and in a father's lessons on how to fully live.

Purchase Links
___________________________
Here's a secret: God has deposited a gift inside of you.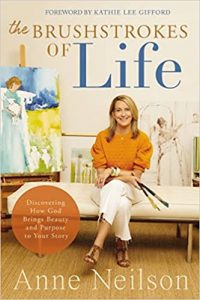 The Brushstrokes of Life: Discovering How God Brings Beauty and Purpose to Your Story by Anne Neilson
Acclaimed angel artist Anne Neilson wants to help you find yours as she shares her personal story of passion and purpose and how faith radiates from every canvas of her life. The Brushstrokes of Life will help you see there are no coincidences with God.
Anne Neilson believes that each of us begins our life as a blank canvas: clean and fresh and ready to find texture in our experiences. Each trial, each joy, each heartache, and each hope leaves an explosion of color and sweeping brushstrokes that shape us. When we allow God to take over as the Master artist, we will find that He carefully adds dimension and highlights to create a beautiful masterpiece in us. Often, though, it's hard to find the beauty when we are wading through mess.
In this beautiful memoir, Anne shares personal stories about why her faith is so important to her and resonates in all her work. In The Brushstrokes of Life, you will learn how to:
Open your hands to God's possibilities

Connect your trials from today into hope for tomorrow

Trust God's role in your story
Including a photo insert with several angel paintings never-before-seen in a book, Anne's stories will be a beautiful reminder that God is both our Creator and the fulfiller of His promises. He is the artist of our life. Creations are messy, but the divine artist never fails to reveal a masterpiece.

Purchase Links
___________________________
"Ward is consistently clear-sighted and perceptive as he charts a genuinely fascinating personal and spiritual evolution."–
Publishers Weekly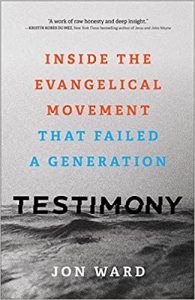 Testimony: Inside the Evangelical Movement That Failed a Generation by Jon Ward
Jon Ward's life is divided in half: two decades inside the evangelical Christian bubble and two decades outside of it.
In Testimony, Wardtells the engaging story of his upbringing in, and eventual break from, an influential evangelical church in the 1980s and 1990s. Ward sheds light on the evangelical movement's troubling political and cultural dimensions, tracing the ways in which the Jesus People movement was seduced by materialism and other factors to become politically captive rather than prophetic.
A respected journalist, Ward asks uncomfortable but necessary questions, calling those inside and outside conservative Christian circles to embrace truth, complexity, and nuance. He recounts his growing alarm and grief over the last several years as evangelical conservatives attacked truth, rejected personal character, and embraced authoritarianism and conspiracism. He shares his search for a faith that embodies the values he was taught as a child.
Ward's experience and reflections will resonate with many readers who grew up in the evangelical movement as well as all those who have an interest in the health of the church and its impact on American life.

Purchase Links
___________________________

Please fill out our super short registration form (click the "Enter Now" button above) by April 30th for a chance to win a set of up to ten copies of one of these great books for your book club! We will randomly choose a winner at the end of the month. This giveaway is open to clubs in the US only (our apologies to friends in other countries). 
Best of luck!
We 
LOVE

 Book Clubs!