___________________________
With the offbeat charm of The Rosie Project and generous warmth of The One Hundred Years of Lenni and Margot, a wry, moving debut novel about a pair of unforgettable siblings and a love triangle of sorts—one with math as its beating heart.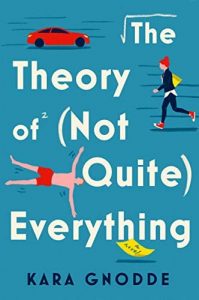 The Theory of (Not Quite) Everything by Kara Gnodde
Meet Art and Mimi Brotherton. Devoted siblings and housemates, they're bound together by the tragic death of their parents. Mathematical genius Art relies on logic, while Mimi prefers to follow her heart.
When Mimi decides she needs more from life than dutifully tending to her brilliant brother, she asks for his help to find love. Art agrees, but on one condition: that she find her soulmate using a strict mathematical principle. Things seem promising, until Mimi meets Frank: a romantic, spontaneous stargazer who's also a mathematician. Despite Mimi's obvious affection for the quirky Frank, Art is wary of him from their very first encounter.
As Art's mistrust of Frank grows, so do Mimi's feelings, and the siblings' relationship is brought to a breaking point. Something about Frank doesn't quite add up, and only Art can see it . . .
The Theory of (Not Quite) Everything is a tender, intelligent and uplifting novel about brothers and sisters, true love in all its forms, and how the answers to life's biggest questions follow a logic of their own.

Purchase Links
___________________________
REESE'S FEBRUARY 2023 BOOK CLUB PICK
AN INSTANT 
NEW YORK TIMES 
BESTSELLER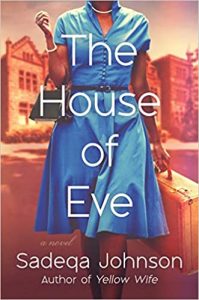 The House of Eve by Sadeqa Johnson
"Amazing…These two women's lives intersect in the most wonderful and unlikely of ways. I was completely surprised by the ending of this beautifully told and written book." —Reese Witherspoon
"A triumph of historical fiction" (The Washington Post) set in 1950s Philadelphia and Washington, DC, that explores what it means to be a woman and a mother, and how much one is willing to sacrifice to achieve her greatest goal.
1950s Philadelphia: fifteen-year-old Ruby Pearsall is on track to becoming the first in her family to attend college, in spite of having a mother more interested in keeping a man than raising a daughter. But a taboo love affair threatens to pull her back down into the poverty and desperation that has been passed on to her like a birthright.
Eleanor Quarles arrives in Washington, DC, with ambition and secrets. When she meets the handsome William Pride at Howard University, they fall madly in love. But William hails from one of DC's elite wealthy Black families, and his par­ents don't let just anyone into their fold. Eleanor hopes that a baby will make her finally feel at home in William's family and grant her the life she's been searching for. But having a baby—and fitting in—is easier said than done.
With their stories colliding in the most unexpected of ways, Ruby and Eleanor will both make decisions that shape the trajectory of their lives.

Purchase Links
___________________________
December 12th, 2019, Jade returns to the rural lake town of Proofrock the same day as convicted Indigenous serial killer Dark Mill South escapes into town to complete his revenge killings, in this riveting sequel to 
My Heart Is a Chainsaw
 from 
New York Times
 bestselling author, Stephen Graham Jones.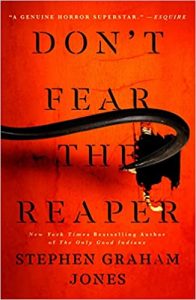 Don't Fear the Reaper: The Indian Lake Trilogy, Book 2 by Stephen Graham Jones
Four years after her tumultuous senior year, Jade Daniels is released from prison right before Christmas when her conviction is overturned. But life beyond bars takes a dangerous turn as soon as she returns to Proofrock. Convicted Serial Killer, Dark Mill South, seeking revenge for thirty-eight Dakota men hanged in 1862, escapes from his prison transfer due to a blizzard, just outside of Proofrock, Idaho.
Dark Mill South's Reunion Tour began on December 12th, 2019, a Thursday.
Thirty-six hours and twenty bodies later, on Friday the 13th, it would be over.
Don't Fear the Reaper is the page-turning sequel to My Heart Is a Chainsaw from New York Times bestselling author Stephen Graham Jones.

Purchase Links
___________________________
"A remarkable feat of literary conjuration." —Jennifer Haigh, nationally bestselling author of 
Mercy Street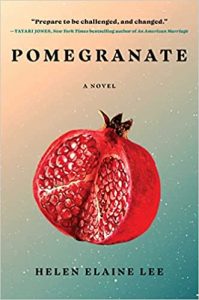 Pomegranate by Helen Elaine Lee
The acclaimed author of The Serpent's Gift returns with this gripping and powerful novel of healing, redemption, and love, following a queer Black woman who works to stay clean, pull her life together, and heal after being released from prison.
Ranita Atwater is "getting short."
She is almost done with her four-year sentence for opiate possession at Oak Hills Correctional Center. With three years of sobriety, she is determined to stay clean and regain custody of her two children.
My name is Ranita, and I'm an addict, she has said again and again at recovery meetings. But who else is she? Who might she choose to become? As she claims the story housed within her pomegranate-like heart, she is determined to confront the weight of the past and discover what might lie beyond mere survival.
Ranita is regaining her freedom, but she's leaving behind her lover Maxine, who has inspired her to imagine herself and the world differently. Now she must steer clear of the temptations that have pulled her down, while atoning for her missteps and facing old wounds. With a fierce, smart, and sometimes funny voice, Ranita reveals how rocky and winding the path to wellness is for a Black woman, even as she draws on family, memory, faith, and love in order to choose life.
Perfect for fans of Jesmyn Ward and Yaa Gyasi, Pomegranate is a complex portrayal of queer Black womanhood and marginalization in America: a story of loss, healing, redemption, and strength. In lyrical and precise prose, Helen Elaine Lee paints a humane and unflinching portrait of the devastating effects of incarceration and addiction, and of one woman's determination to tell her story.

Purchase Links
___________________________
When western novelist Sadie Goodwin must pen a romance novel to rescue her lackluster sales, there's only one tiny problem: she's never been in love.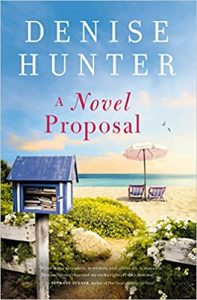 A Novel Proposal by Denise Hunter
Desperate to salvage her career, Sadie accepts an invitation to hole up at her friend's beach duplex for the summer and devote herself to this confounding genre. After all, where better to witness love than on the beautiful South Carolina shore?
But Sadie soon finds many ways to procrastinate the dreaded task—like getting to know the beach regulars and installing a Little Free Library on the property. She even attempts conversation with Sam Ford, the frustratingly stubborn neighbor on the other side of the duplex. But things take an unexpected turn when Sadie finds inside her library an abandoned novel with a secret compartment—and a beautiful engage­ment ring tucked inside.
Suddenly, locating the ring's owner becomes the perfect way to put off writing that romance. Sadie draws a reluctant Sam into her mission. And as the two close in on an answer to the mysterious proposal, she discovers a tender side to him. She begins to wonder if he just might make the perfect hero for her romance novel—or maybe even her heart.
From the bestselling author of The Convenient Groom (now a beloved Hallmark Original movie) comes a sweet and sizzling story of a romance writer surprised by her own happily ever after.
Sweet and thoughtful contemporary read

Stand-alone novel

Book length: 80,000 words

Includes discussion questions for book clubs

Purchase Links
___________________________
Using the written word as her witness statement, Jessica Willis Fisher gives a lacerating portrait of a girl finding her voice after years of being silenced and an unforgettable story of risk and faith.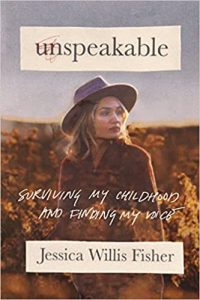 Unspeakable: Surviving My Childhood and Finding My Voice by Jessica Willis Fisher
Growing up the eldest daughter in a large, highly controlled, fundamentalist Christian household, Jessica Willis was groomed to perform, and to conform to her father's disturbing and chaotic teachings. Cut off from anything unapproved by her father, Jessica was persistently curious about the outside world, always wondering what was normal or potentially dangerous about her upbringing.
When the Willis family rocketed into fame after their appearances on multiple televised talent competitions in 2014, Jessica and her family landed their own reality TV show and toured across the globe, singing and dancing for millions. The world loved this beautiful family of kids; young and vivacious, the Willis's presented themselves to be extraordinary and happy. But the older and wiser Jessica got, the more she had to face that what was going on behind closed doors would forever be escalating.
In this elegant, harrowing story of the manipulation and codependency that defines abusive family relationships, Jessica Willis Fisher lets us see the formative moments of her childhood through her eyes. Fisher's haunting coming-of-age memoir captures the beauty and ugliness of a young woman finding her way—filled with longing, fear, confusion, secrecy, and most importantly, hope for the future.
Unspeakable: Surviving My Childhood and Finding My Voice shares:
An unflinching look at the manipulation and codependency that defines abusive family relationships

The formative moments of Jessica's childhood through her eyes

An unforgettable story of courage and strength
Beautifully written and monumental in its bravery, Fisher's story is proof that we can all become so much more that the things that happen to us.

Purchase Links
___________________________
The epic true story of an American hero who flew during WWII, soon to be featured in the upcoming Steven Spielberg and Tom Hanks TV Series,
 Masters of the Air.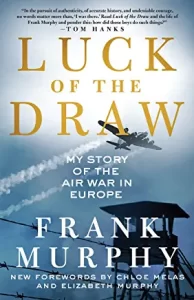 Luck of the Draw: My Story of the Air War in Europe by Frank Murphy
"In the pursuit of authenticity, of accurate history and undeniable courage, no words matter more than, 'I was there.' Read Luck of the Draw and the life of Frank Murphy and ponder this: how did those boys do such things?" –Tom Hanks
Beginning on August 17, 1942, American heavy bomber crews of the Eighth Air Force took off for combat in the hostile skies over occupied Europe. The final price was staggering. 4,300 B-17s and B-24s failed to return; nearly 21,000 men were taken prisoner or interned in a neutral country, and a further 17,650 made the ultimate sacrifice.

Luck of the Draw is more than a war story. It's the incredible, inspiring story of Frank Murphy, one of the few survivors from the 100th Bombardment Group, who cheated death for months in a German POW camp after being shot out of his B-17 Flying Fortress.
Now with a new foreword written by his granddaughter Chloe Melas, of CNN, and daughter Elizabeth Murphy.
"A gripping, inspirational account of incredible bravery, resilience, and sheer will to survive. A truly extraordinary story!" –General David Petraeus, U.S. Army (Ret.)

Purchase Links
___________________________
Now available in trade paper—just in time for women's history month—SIBA bestseller 
The Lost Book of Eleanor Dare
 explores the meaning of women's history and the sacrifices every mother makes for her daughter.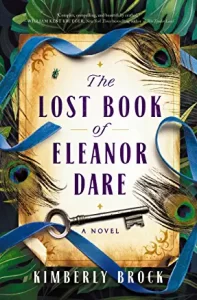 The Lost Book of Eleanor Dare by Kimberly Brock
What happened to the Lost Colony of Roanoke remains a mystery, but the women who descended from Eleanor Dare have long known that the truth lies in what she left behind: a message carved onto a large stone and the contents of her treasured commonplace book. Brought from England on Eleanor's fateful voyage to the New World, her book was passed down through the fifteen generations of daughters who followed as they came of age. Thirteen-year-old Alice had been next in line to receive it, but her mother's tragic death fractured the unbroken legacy and the Dare Stone and the shadowy history recorded in the book faded into memory. Or so Alice hoped.
In the waning days of World War II, Alice is a young widow and a mother herself when she is unexpectedly presented with her birthright: the deed to Evertell, her abandoned family home and the history she thought forgotten. Determined to sell the property and step into a future free of the past, Alice returns to Savannah with her own thirteen-year-old daughter, Penn, in tow. But when Penn's curiosity over the lineage she never knew begins to unveil secrets from beneath every stone and bone and shell of the old house and Eleanor's book is finally found, Alice is forced to reckon with the sacrifices made for love and the realities of their true inheritance as daughters of Eleanor Dare.
In this sweeping tale from award-winning author Kimberly Brock, the answers to a real-life mystery may be found in the pages of a story that was always waiting to be written.
"From the haunting first line, The Lost Book of Eleanor Dare transports the reader to a mysterious land, time and family . . . the captivating women of the Dare legacy must find their true inheritance hiding behind the untold secrets." —Patti Callahan, New York Times bestselling author
Historical women's fiction

Stand-alone novel

Book length: approximately 135,000 words

Includes discussion questions for book clubs

Purchase Links
___________________________
Know what you believe and live it boldly! Phylicia Masonheimer believes that every woman should be a theologian and a student of the heart of God.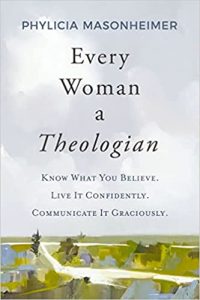 Every Woman a Theologian: Know What You Believe. Live it Confidently. Communicate it Graciously. by Phylicia Masonheimer
Learn the basics of theology and why it's so important to continue your biblical education one step at a time. Discover how deeper scriptural knowledge can help you navigate the world, answer your toughest questions, and engage culture in loving ways.
All of us have guiding principles at work behind our choices, even if we don't realize it. We hold beliefs about the world, ourselves, and God—beliefs perhaps we may have adopted unknowingly based on experience or culture's messages.
But God has revealed Himself through Scripture so it can transform how we view and navigate the world—how we think, act, love, work, marry, and parent. When we do that, we become theologians. No, we're not wearing tweed suits or giving lectures; we're driving to our corporate job every morning, or juggling babies on our own, or connecting with our communities. We are women who want to know who God is and how He answers our toughest questions.
Through engaging stories and compelling truths, Every Woman a Theologian will help you:
Identify your existing beliefs about God, salvation, and the Christian life

Learn how to lovingly communicate Christian truths to those who disagree

Understand theological concepts without feeling overwhelmed

Grow closer to the heart of God
Step in that direction with Phylicia Masonheimer as your guide, and you will grow as a woman able to discern truth, who knows what she believes, and who lives her faith boldly in a post-Christian world.

Purchase Links
___________________________
Set amid Colorado's wild beauty, a heartbreaking coming-of-age story of a resilient young woman whose life is changed forever by one chance encounter. A tragic and uplifting novel of love and loss, family and survival—and hope—for readers of Great Circle, The Four Winds, and Where the Crawdads Sing.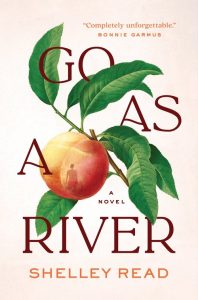 Go as a River by Shelley Read
Seventeen-year-old Victoria Nash runs the household on her family's peach farm in the small ranch town of Iola, Colorado—the sole surviving female in a family of troubled men. Wilson Moon is a young drifter with a mysterious past, displaced from his tribal land and determined to live as he chooses.
Victoria encounters Wil by chance on a street corner, a meeting that profoundly alters both of their young lives, unknowingly igniting as much passion as danger. When tragedy strikes, Victoria leaves the only life she has ever known. She flees into the surrounding mountains where she struggles to survive in the wilderness with no clear notion of what her future will bring. As the seasons change, she also charts the changes in herself, finding in the beautiful but harsh landscape the meaning and strength to move forward and rebuild all that she has lost, even as the Gunnison River threatens to submerge her homeland—its ranches, farms, and the beloved peach orchard that has been in her family for generations.
Inspired by true events surrounding the destruction of the town of Iola in the 1960s, Go as a River is a story of deeply held love in the face of hardship and loss, but also of finding courage, resilience, friendship, and, finally, home—where least expected. This stunning debut explores what it means to lead your life as if it were a river—gathering and flowing, finding a way forward even when a river is dammed.

Purchase Links
___________________________

Please fill out our super short registration form (click the "Enter Now" button above) by March 31st for a chance to win a set of up to ten copies of one of these great books for your book club! We will randomly choose a winner at the end of the month. This giveaway is open to clubs in the US only (our apologies to friends in other countries). 
Best of luck!
We 
LOVE

 Book Clubs!