___________________________
Steeped in mystery and rich in imagination, an exhilarating historical novel set in Georgian London where the discovery of a mysterious ancient Greek vase sets in motion conspiracies, revelations, and romance.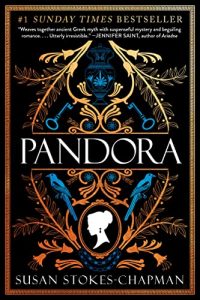 Pandora by Susan Stokes-Chapman
London, 1799. Dora Blake, an aspiring jewelry artist, lives with her odious uncle atop her late parents' once-famed shop of antiquities. After a mysterious Greek vase is delivered, her uncle begins to act suspiciously, keeping the vase locked in the store's basement, away from prying eyes—including Dora's. Intrigued by her uncle's peculiar behavior, Dora turns to young, ambitious antiquarian scholar Edward Lawrence who eagerly agrees to help. Edward believes the ancient vase is the key that will unlock his academic future; Dora sees it as a chance to establish her own name.
But what Edward discovers about the vase has Dora questioning everything she has believed about her life, her family, and the world as she knows it. As Dora uncovers the truth, she comes to understand that some doors are locked and some mysteries are buried for a reason, while others are closer to the surface than they appear.
A story of myth and mystery, secrets and deception, fate and hope, Pandora is an enchanting work of historical fiction as captivating and evocative as The Song of Achilles, The Essex Serpent, and The Miniaturist.

Purchase Links
___________________________
The critically acclaimed author of The Glass Woman and The Metal Heart reimagines the shocking story of one of the most controversial contests in history, the Great Stork Derby, in which a millionaire's death spawns a furious competition for his inheritance.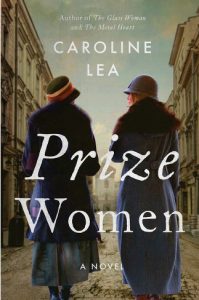 Prize Women by Caroline Lea
Toronto, 1926. Knowing that he will die without an heir, childless millionaire Charles Millar leaves behind a controversial will: the recipient of his fortune will be decided in a contest that will become a media sensation and be known as the Great Stork Derby. His money will go to the winner: the woman who bears the most children in the ten years after his death. It is a bequest that will have dramatic consequences for the lives of two women—allies and close friends.
Lily di Marco is young, pregnant, and terrified of her alcoholic, violent husband. When her town is damaged by an earthquake, she flees to Toronto, arriving, by chance, on the doorstep of the glamourous Mae Thebault.
While Mae presents an elegant, confident face to the world, she secretly struggles with her own tortured past and a present consumed with the never-ending burdens of motherhood. Lily enters her life at a breaking point, and soon a fierce friendship blossoms between the women. That is until the Great Depression and the contest, with its alluring prize, threatens to tear their friendship—and their lives—apart.
Prize Women is an evocative and engrossing novel of motherhood, survival, and the heartbreaking decisions we make to protect the ones we love—even when it hurts those we care for most.

Purchase Links
___________________________
December 12th, 2019, Jade returns to the rural lake town of Proofrock the same day as convicted Indigenous serial killer Dark Mill South escapes into town to complete his revenge killings, in this riveting sequel to 
My Heart Is a Chainsaw
 from 
New York Times
 bestselling author, Stephen Graham Jones.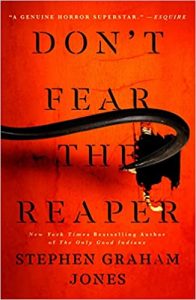 Don't Fear the Reaper: The Indian Lake Trilogy, Book 2 by Stephen Graham Jones
Four years after her tumultuous senior year, Jade Daniels is released from prison right before Christmas when her conviction is overturned. But life beyond bars takes a dangerous turn as soon as she returns to Proofrock. Convicted Serial Killer, Dark Mill South, seeking revenge for thirty-eight Dakota men hanged in 1862, escapes from his prison transfer due to a blizzard, just outside of Proofrock, Idaho.
Dark Mill South's Reunion Tour began on December 12th, 2019, a Thursday.
Thirty-six hours and twenty bodies later, on Friday the 13th, it would be over.
Don't Fear the Reaper is the page-turning sequel to My Heart Is a Chainsaw from New York Times bestselling author Stephen Graham Jones.

Purchase Links
___________________________
In this small Mississippi town, everyone has long memories and loud opinions.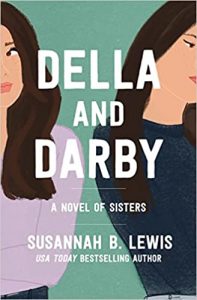 Della and Darby by Susannah B. Lewis
Twins Della and Darby Redd may be identical in appearance, but they couldn't be more different. Della is outspoken, obsessed with purple, and desperate to be accepted by her peers. Darby is introverted, creative, and sees no need to speak to anyone besides her sister and grandmother, Birdie. Due to a tragedy from their past, all three women's lives have been blanketed in judgment, scandal, and rumor, preventing them from experiencing true peace and contentment in their small town of Clay Station, Mississippi.
When the sisters enter the final year of their twenties, Birdie and Della begin planning an elaborate thirtieth birthday bash. Della believes the party will finally win her acceptance with the in-crowd and dreams of bringing her boss, Dr. Brian Faulkner, as her date. But when Darby begins to form an unexpected friendship with her goofy coworker, Cliff, she learns through him about a scandalous secret involving Dr. Faulkner that is sure to end in disaster. Telling her sister the truth will force them both to face the reality of who they have become—and whether they still have a place in each other's future.
In her latest novel, beloved Southern author Susannah B. Lewis explores the burden and blessing of family legacies and the moments along the way for which to give thanks and celebrate.
Southern contemporary women's fiction

Stand-alone novel

Book length: approximately 73,000 words

Includes discussion questions for book clubs

Purchase Links
___________________________
"A sweet novel that reminds you going back is sometimes the best path forward . . . and that planning is never as rewarding as doing." —Jodi Picoult, 
New York Times
 bestselling author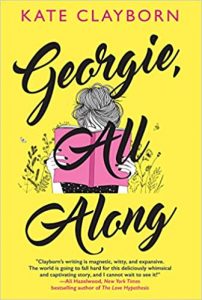 Georgie, All Along by Kate Clayborn
The acclaimed author of Love Lettering weaves a wise and witty new novel that echoes with timely questions about love, career, reconciling with the past, and finding your path while knowing your true worth.
Longtime personal assistant Georgie Mulcahy has made a career out of putting others before herself. When an unexpected upheaval sends her away from her hectic job in L.A. and back to her hometown, Georgie must confront an uncomfortable truth: her own wants and needs have always been a disconcertingly blank page.
But then Georgie comes across a forgotten artifact—a "friendfic" diary she wrote as a teenager, filled with possibilities she once imagined. To an overwhelmed Georgie, the diary's simple, small-scale ideas are a lifeline—a guidebook for getting started on a new path.
Georgie's plans hit a snag when she comes face to face with an unexpected roommate—Levi Fanning, onetime town troublemaker and current town hermit. But this quiet, grouchy man is more than just his reputation, and he offers to help Georgie with her quest. As the two make their way through her wishlist, Georgie begins to realize that what she truly wants might not be in the pages of her diary after all, but right by her side—if only they can both find a way to let go of the pasts that hold them back.
Honest and deeply emotional, Georgie, All Along is a smart, tender must-read for everyone who's ever wondered about the life that got away . . .
"Absolute perfection—this is the book you are looking for. Georgie All Along is a tour de force, beautifully written and full of charming characters, rich emotion, and delicious spice. With it, Kate Clayborn solidifies her place in romance royalty." —Sarah MacLean, New York Times bestselling author
"A modern yet timeless love story."—Kirkus Reviews, STARRED REVIEW
"Tender and sexy…features strong friendships and will appeal to fans of Emily Henry." —Library Journal, STARRED REVIEW

Purchase Links
___________________________
A single life is a life worth living–and it's worth living well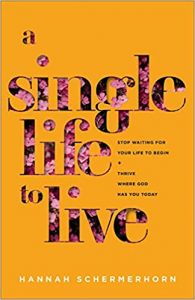 A Single Life to Live: Stop Waiting for Your Life to Begin and Thrive Where God Has You Today by Hannah Schermerhorn
God has a great life all planned out for you. What you may not realize if you're single is that you're already living it. Right now. Today. Your God-designed life doesn't start when you say "I do" or when you get engaged or even when you meet "the one." It's been happening as long as you've been alive–even if you're still single and wish you weren't.
Hannah Schermerhorn knows exactly what it's like. She was months away from getting married when her wedding was called off. She absolutely loathed being single again, but in the following years, God taught her many hard lessons that transformed her bitterness to authentic joy.
Drawing from the diverse experiences of single people in the Bible, Hannah debunks common myths and misunderstandings about singleness, including the pervasive feeling that a person can't really begin their life until they're married. If you are lonely, hopeless, or impatient, let Hannah be your guide through the internal battles and external pressures you're facing.
God has a special purpose for singleness, whether it lasts for only a season or your whole life. Let Hannah help you discover God's best for you in your single life.

Purchase Links
___________________________

Please fill out our super short registration form (click the "Enter Now" button above) by February 28th  for a chance to win a set of up to ten copies of one of these great books for your book club! We will randomly choose a winner at the end of the month. This giveaway is open to clubs in the US only (our apologies to friends in other countries). 
Best of luck!
We 
LOVE

 Book Clubs!