We have gathered up some wonderful Black-authored titles for this special BLACK HISTORY MONTH book club giveaway!
______________________________________________
Reign supreme over your inner world.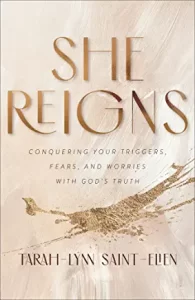 She Reigns: Conquering Your Triggers, Fears, and Worries with God's Truth by Tarah-Lynn Saint-Elien
As believers, we're taught God has given us a spirit of power, love, and a sound mind. Yet how often do you feel assaulted by fear, worry, anxiety, or negative thoughts? It's time to take a battle stance and take control of your thinking. Because while trials and dangers may abound, you are not one to cower in the face of difficulty.
Unpacking personal heartbreaks, struggles, and never-before-shared confessions, Tarah-Lynn Saint-Elien empowers you to reign over your thoughts and feelings as God intended. She shares snippets of her vulnerable journal entries to assure you that you're not alone, provides reflection questions so you're able to invite God into your head and heart, encourages you to speak God's promises in spite of what you see and feel, and equips you with the weapons you need to
· identify your triggers
· take negative thoughts and debilitating emotions captive
· posture your heart for delight
Fighting for a renewed mind may be ongoing, but you can war from a standpoint of the overcomer. With your crown and armor, victory is imminent.

Purchase Links
______________________________________________
Perhaps in no other way do we more vibrantly reflect our creator than with our creativity.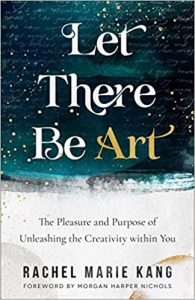 Let There Be Art: The Pleasure and Purpose of Unleashing the Creativity within You by Rachel Marie Kang
Whether through music, writing, baking, painting, posting on social media, dancing, or any other form of artistic expression within our grasp, we were created to create. Yet, there are times we may be unsure about our art, times when our creating and making doesn't feel possible or purposeful or practical.
Rachel Marie Kang wants you to know that your art is not peripheral to life–it is at the very heart of why you exist and what you have to offer to yourself and to the world. In Let There Be Art, she gives you permission to embrace the peace, pleasure, and purpose inherent in your art and in the process of making it. This passionate, creative, and cathartic journey invites you to create truthfully out of the broken and beautiful pieces of your life, as well as offer your heart and your art in hopes of helping a hurting world.

Purchase Links
______________________________________________
Can she stop herself from falling before she's too far gone?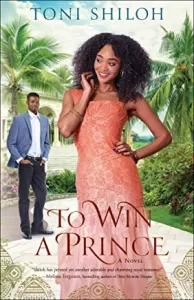 To Win a Prince by Toni Shiloh
"Shiloh has penned yet another adorable and charming royal romance!"–MELISSA FERGUSON, bestselling author of Meet Me in the Margins
As a fashion aficionado and best friend of the queen of the African island country Oloro Ilé, Iris Blakely dreams of using her talent to start a sustainable clothing line to help citizens in impoverished areas and honor the country's resources. But when she discovers that Ekon Diallo–the man who betrayed her best friend–will be her business consultant, the battle between her desires and reality begins.
Ekon Diallo has lost everything: his princely title, his material possessions, his friends, and the respect of his fellow Olorans. To pay for his actions against Oloro Ilé, he's forced to assist the charismatic Iris Blakely–but he can't allow his heart to distract him from regaining his status.
Though they come from vastly different worlds, Iris and Ekon are both determined to reach their goals, and the only way to do that is to work together–if they can just keep their hearts from getting in the way . . .
Toni Shiloh invites you into . . .
"A romance populated with characters you can truly root for."—OPRAH DAILY on In Search of a Prince

"A royal journey of love, faith, and all things Africa that will leave your heart longing for more."–VANESSA MILLER, bestselling author on In Search of a Prince

Purchase Links
______________________________________________
"If it's not facing 297 years in prison, it's not a problem."

–Richardson family motto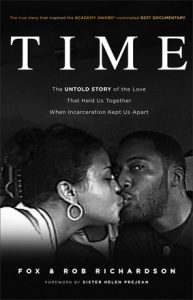 Time: The Untold Story of Love That Held Us Together When Incarceration Kept Us Apart by Fox Richardson and Rob Richardson
The twenty-one years that kept Rob separated from his wife, Fox, and their six sons was long enough. As Rob survived two decades at America's bloodiest penitentiary and Fox raised their sons solo, they never stopped fighting for Rob's freedom and for their futures against the statistical odds. All the while, it was love that carried them through.
The Academy Award-nominated documentary Time introduced audiences to Fox and Rob, who riveted audiences with their relentless fight for each other and justice, despite America's broken prison system. This book tells the rest of their story. In alternating voices and intimate detail, Fox and Rob reveal what the film does not–how a person can cultivate the radical love needed to see them through any hardship and how miracles can happen on the way.
As they peel back the layers of their unforgettable love story, you'll discover the secrets of perseverance and the power of a resilience that is founded on faith in a God who never gives up on us.

Purchase Links
______________________________________________
Travel writer Allie Sparks has one goal: to find the story that will save her career.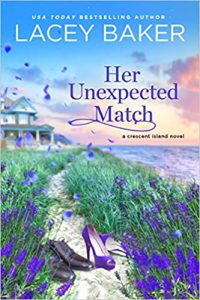 Her Unexpected Match by Lacey Baker
Travel writer Allie Sparks has one goal: to find the story that will save her career. So here she is, visiting her bestie on picturesque Crescent Island–with sun-warmed beaches, the briny smell of the ocean, and rumors of a secret astrologer-matchmaker who guarantees love. Of course, Allie doesn't believe in any of that stuff. If anything, she'll prove it's a total scam.
Ryan Parker believes in love–just not right now. He's focused on expanding his family's barbeque business, finding investors, and keeping his too-big Great Dane puppy from jumping on everyone, including his sister's pretty, whiskey-eyed best friend. Besides, falling for a tourist is definitely not in his astrological forecast.
Allie is doing everything she can to resist the charm of the town and its beauty, not to mention her attraction to Ryan. But there's a lot more happening on Crescent Island than anyone knows…and when her story goes to print, this tiny, close-knit town might never be the same.

Purchase Links
______________________________________________
Book clubs will love this beautiful book from internationally best-selling author Donna Hill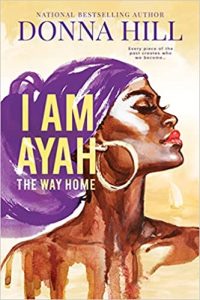 I Am Ayah – The Way Home by Donna Hill
History and the present collide in this fascinating and poignant new novel from Essence bestselling author Donna Hill.
Donna Hill, author of books including Divas, Inc. and In My Bedroom, lives in Brooklyn, New York. She has more than fifty published titles to her credit, three of which (Intimate Betrayal, Masquerade, A Private Affair) were adapted for television. She has been featured in Essence, the Daily News, USA Today, Today's Black Woman, and Black Enterprise, among many others.

Purchase Links
______________________________________________
A winning book club will win a set of each of the first two books in the Black Girls Must Die Exhausted trilogy!
The first novel in a captivating three-book series about modern womanhood, in which a young Black woman must rely on courage, laughter, and love—and the support of her two longtime friends—to overcome an unexpected setback that threatens the most precious thing she's ever wanted.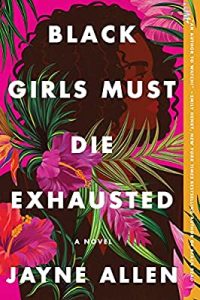 Black Girls Must Die Exhausted by Jayne Allen
Tabitha Walker is a black woman with a plan to "have it all." At 33 years old, the checklist for the life of her dreams is well underway. Education? Check. Good job? Check. Down payment for a nice house? Check. Dating marriage material? Check, check, and check. With a coveted position as a local news reporter, a "paper-perfect" boyfriend, and even a standing Saturday morning appointment with a reliable hairstylist, everything seems to be falling into place.
Then Tabby receives an unexpected diagnosis that brings her picture-perfect life crashing down, jeopardizing the keystone she took for granted: having children. With her dreams at risk of falling through the cracks of her checklist, suddenly she is faced with an impossible choice between her career, her dream home, and a family of her own.
With the help of her best friends, the irreverent and headstrong Laila and Alexis, the mom jeans-wearing former "Sexy Lexi," and the generational wisdom of her grandmother and the nonagenarian firebrand Ms. Gretchen, Tabby explores the reaches of modern medicine and tests the limits of her relationships, hoping to salvage the future she always dreamed of. But the fight is all consuming, demanding a steep price that forces an honest reckoning for nearly everyone in her life. As Tabby soon learns, her grandmother's age-old adage just might still be true: Black girls must die exhausted.

Purchase Links
—-
In this highly anticipated second installment in the Black Girls Must Die Exhausted series, Tabitha Walker copes with more of life's challenges and a happy surprise—a baby—with a little help and lots of love from friends old and new.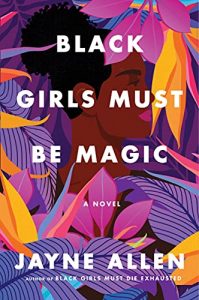 Black Girls Must Be Magic by Jayne Allen
For Tabitha Walker, her grandmother's old adage, "Black girls must die exhausted" is becoming all too true. Discovering she's pregnant—after she was told she may not be able to have biological children—Tabitha throws herself headfirst into the world of "single mothers by choice." Between her job, doctor's appointments, and preparing for the baby, she's worn out. And that's before her boss at the local news station starts getting complaints from viewers about Tabitha's natural hair.
When an unexpected turn of events draws Marc—her on and off-again ex-boyfriend—back into her world with surprising demands, and the situation at work begins to threaten her livelihood and her identity, Tabitha must make some tough decisions about her and her baby's future. It takes a village to raise a child, and Tabitha turns to the women who have always been there for her.
Bolstered by the fierce support of Ms. Gretchen, her grandmother's best friend, the counsel of her closest friends Laila and Alexis, and the calming presence of her doula Andouele, Tabitha must find a way to navigate motherhood on her own terms. Will she harness the bravery, strength, and self-love she'll need to keep "the village" together, find her voice at work, and settle things with Marc before the baby arrives?

Purchase Links
______________________________________________
Acclaimed historical novelist Vanessa Riley is back with another novel based on the life of an extraordinary Black woman from history: Haiti's Queen Marie-Louise Coidavid, who escaped a coup in Haiti to set up her own royal court in Italy during the Regency era, where she became a popular member of royal European society.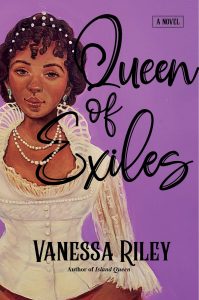 Queen of Exiles by Vanessa Riley
The Queen of Exiles is Marie-Louise Christophe, wife and then widow of Henry I, who ruled over the newly liberated Kingdom of Hayti in the wake of the brutal Haitian Revolution.
In 1810 Louise is crowned queen as her husband begins his reign over the first and only free Black nation in the Western Hemisphere. But despite their newfound freedom, Haitians still struggle under mountains of debt to France and indifference from former allies in Britain and the new United States. Louise desperately tries to steer the country's political course as King Henry descends into a mire of mental illness.
In 1820, King Henry is overthrown and dies by his own hand. Louise and her daughters manage to flee to Europe with their smuggled jewels. In exile, the resilient Louise redefines her role, recovering the fortune that Henry had lost and establishing herself as an equal to the kings of European nations. With newspapers and gossip tracking their every movement, Louise and her daughters tour Europe like other royals, complete with glittering balls and princes with marriage proposals. As they find their footing—and acceptance—they discover more about themselves, their Blackness, and the opportunities they can grasp in a European and male-dominated world.
Queen of Exiles is the tale of a remarkable Black woman of history—a canny and bold survivor who chooses the fire and ideals of political struggle, and then is forced to rebuild her life on her own terms, forever a queen.

Purchase Links
______________________________________________
Combining the honesty, warmth, and humor of Queenie and a modern-day Bridget Jones's Diary, this entertaining, transportive, and luminous debut novel from award-winning writer Breanne Mc Ivor follows a young Trinidadian woman finding her voice and a new kind of happy ending.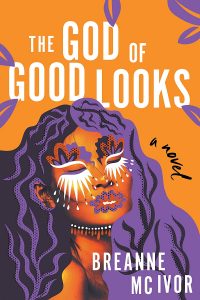 The God of Good Looks by Breanne Mc Ivor
Bianca Bridge has always dreamt of becoming a writer. But Trinidadian society can be unforgiving, and having an affair with a married government official is a sure-fire way to ruin your prospects. So when Obadiah Cortland, a notoriously tyrannical entrepreneur in the island's beauty scene, offers her a job, Bianca accepts, realizing that working on his magazine is the closest to her dreams she'll get.
As Bianca begins to embrace her power and creative voice, she starts to suspect Obadiah is not the elite tyrant he seems. She's right. Born in one of the poorest parts of Trinidad, Obadiah has clawed partway up society's ladder and built his company around his meticulously crafted persona. Now, he's not about to let anyone, especially Bianca, see past his façade.
When Bianca's ex-lover threatens everything she's rebuilt, jeopardizing all she's come to love about her new life, she's surprised to find support from the most unlikely ally and, finally, draws the strength to fight back like her mother taught her.
Sharp-witted and fiercely fun, The God of Good Looks alternates between Bianca's diary entries and Obadiah's first-person narrative to portray modern Trinidad's rigid class barriers and the fraught impact of beauty commodification in a patriarchal society. Boisterous, moving, and full of meaty, universally relatable questions, Mc Ivor's sparkling debut is an open-hearted, awakening tale about prejudice and pride, the masks we wear, and what we can become if we dare to take them off.

Purchase Links
______________________________________________

Please fill out our super short registration form (click the "Enter Now" button above) by February 28th for a chance to win a set of up to ten copies of one of these great books for your book club! We will randomly choose a winner at the end of the month. This giveaway is open to clubs in the US only (our apologies to friends in other countries). 
Best of luck!
We 
LOVE

 Book Clubs!