___________________________
December 12th, 2019, Jade returns to the rural lake town of Proofrock the same day as convicted Indigenous serial killer Dark Mill South escapes into town to complete his revenge killings, in this riveting sequel to 
My Heart Is a Chainsaw
 from 
New York Times
 bestselling author, Stephen Graham Jones.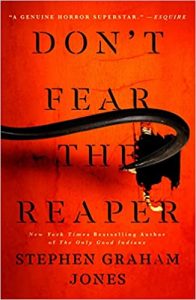 Don't Fear the Reaper: The Indian Lake Trilogy, Book 2 by Stephen Graham Jones
Four years after her tumultuous senior year, Jade Daniels is released from prison right before Christmas when her conviction is overturned. But life beyond bars takes a dangerous turn as soon as she returns to Proofrock. Convicted Serial Killer, Dark Mill South, seeking revenge for thirty-eight Dakota men hanged in 1862, escapes from his prison transfer due to a blizzard, just outside of Proofrock, Idaho.
Dark Mill South's Reunion Tour began on December 12th, 2019, a Thursday.
Thirty-six hours and twenty bodies later, on Friday the 13th, it would be over.
Don't Fear the Reaper is the page-turning sequel to My Heart Is a Chainsaw from New York Times bestselling author Stephen Graham Jones.

Purchase Links
___________________________
"…Patricia Crisafulli expertly creates a suspenseful and intriguing story of a small community and its library in upstate New York harboring a valuable Medieval cross in its complicated history…" —Michele Weldon, award-winning author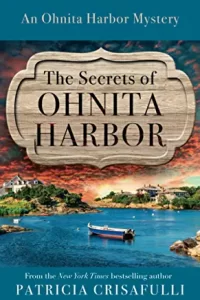 The Secrets of Ohnita Harbor by Patricia Crisafulli
Amid a mountain of rain-soaked donations to the Ohnita Harbor Public Library rummage sale, Gabriela Domenici finds a small box that contains an odd-looking cross. When the carved center turns out to be ivory and a clue links the cross to Catherine of Siena, a medieval saint, Gabriela turns to her expertise as an authenticator of historic documents to lead the quest to discover the truth about this mysterious object. But the cross isn't the only secret in town: first, a beloved Ohnita Harbor resident is found floating in the harbor and then someone else is murdered on the library lawn. As Gabriela races to solve the mystery of the cross, she discerns between infatuation and what could be the start of true love. All the while, she must stay one step ahead of the danger that slowly encircles her.

Purchase Links
___________________________
Sometimes treasure can be found where you least expect it.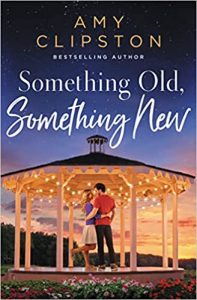 Something Old, Something New: A Sweet Contemporary Romance by Amy Clipston
In the decade since high school graduation, Christine Sawyer has realized her dream of opening Treasure Hunting Antique Mall, the place where shoppers find gems that are new to them. Between her store, her house, and her role as a doting aunt, she's happy with her life–if a bit lonely. But she's used to being less lucky in love than her fraternal twin sister. Britney was always the popular one, the head cheerleader who dated the homecoming king and quarterback, while Christine stayed in the shadows.
Brent Nicholson is still trying to come to grips with the shambles his life has become. After leading his football team to a state championship, he suffered a career-ending injury. Now he's lost his construction business thanks to his so-called best friend. So when his great-aunt Midge asks for his help readying her home to put it on the market, the opportunity to spend time with his biggest fan is a balm to his bruised soul.
But the antiques Brent finds in his aunt's house lead him to an unexpected partnership with Christine. After being blind to her for so many years, is it too late for the former high school jock to win the heart of the self-proclaimed "nerdy twin"?
As they shift through items of the past, Christine and Brent learn to let go of the pieces they don't want to bring into the future—and realize the value of what's in front of them today.
"Hometown charm and swoon-worthy second chances make this a must read." —Kristen Mckanagh, author of Snowball's Christmas
Sweet, stand-alone contemporary romance

Book length: approximately 90,000 words

Includes discussion questions for book clubs

More contemporary romance to love by Amy Clipston: The Heart of Splendid Lake and The View from Coral Cove

Purchase Links
___________________________
The high of giving your life over to love is exceptional.
Finding the Person to Complete You = Mission Accomplished.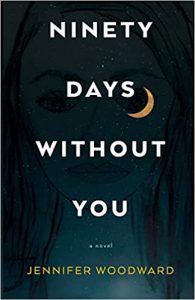 Ninety Days Without You by Jennifer Woodward
A snappy, sexy, and propulsive read.
The high of giving your life over to love is exceptional.
Finding the Person to Complete You = Mission Accomplished.
Kat, a heartbroken American playwright, meets Charlie and is instantly smitten with his delightful British accent, his insight and humor, and his frank honesty at being 15-years sober. Finally, here's a man with the outgoing, fun-loving soul of an alcoholic-but he doesn't drink. A whirlwind transatlantic romance ensues. But what looks like love turns into the shock of Kat's life. Can she face the reality of his illness? Can she come to terms with her own addiction to him?
Woodward's darkly funny and heartbreaking tale blends romance and comedy with self-discovery and compelling readability. 90 Days Without You is about relationship, addiction, family, friends, love, sex-and the essential journey towards knowing and loving yourself.
Jennifer Woodward lives in London with her husband and son. She works as an actor and voice artist. This is her first novel. You can find out more about her at www.jenniferwoodward.co.uk. She hosts the podcast 'Without You' to discuss sex, love and addiction in women's lives which (release date 26 January 2023).

Purchase Links
___________________________
"Everyone has a story, and maybe everyone needs a little help toward healing."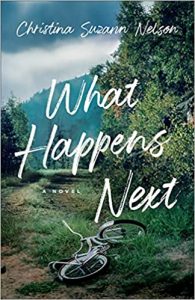 What Happens Next by Christina Suzann Nelson
Popular podcaster and ex-reporter Faith Byrne has made a name for herself telling stories of greatness after tragedy–but her real life does not mirror the stories she tells. While her daughters spend the summer in Hawaii with her ex-husband and his new wife, she must manage life on her own. But all that changes when she's asked to spotlight her childhood best friend's missing person case on her podcast.
Dora Crane has never accepted that her younger daughter could be dead, keeping her home looking the same as when her daughter disappeared. But when her husband leaves her, and her older daughter intervenes, she agrees to counseling and to pack up her missing daughter's belongings under one condition: Faith Byrne comes to Deep Valley and sheds light on the cold case.
As the investigation moves forward, the two women uncover desperate secrets, and Faith and Dora must face the long-hidden truth before they can begin to move forward.
Award-winning author Christina Suzann Nelson masterfully leads readers on a journey of discovery, healing, and friendship in this suspenseful and poignant tale.

Purchase Links
___________________________
"This would be a perfect book club book. With questions that address the concepts of faith and hope to the efforts put towards the women's movement, there is a lot that can be talked about…Detailed, wonderfully written, and thought-provoking, Visions of Johanna will have readers thinking long after they put the book down."
— Kristi Elizabeth, Manhattan Book Review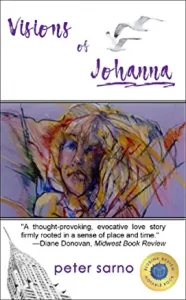 Visions of Johanna by Peter Sarno
Johanna, an artist, and Matt, a music critic, couldn't be more different, but by a simple twist of fate, she plucks him from a crowd at a Dylan concert. What follows is a heady and intense relationship buffeted by the usual suspects that gently rocked the '80s. Matt's lessons in art—as well as life—at the hands of Johanna, drive the novel into pockets of feminism and quiet revolution. All of this is tempered by deeply held traumatic secrets that torque their intimacy.
Yet it's Revere—and not Boston—that remains one of the underlying attractions in Visions of Johanna. This north shore backdrop brings Matt into full focus – a child in a city of recent immigrants, life by the ocean, the bilious flavor of the Mob are just some of the elements rendered in skillful detail. Johanna, a renegade from Wisconsin—freewheeling and hyper-energized—draws Matt out of his comfort zone and into her world.
A meditation on art and unrest, Visions of Johanna celebrates life, love, memory and the undying power of the deep connections that sustain us. The novel follows Johanna and Matt as they pursue their dreams to paint and to write. But burdening problems collide with these artistic desires and other forces conspire against them. Ultimately, the two are done in by their inability to share aspects of their past they believe they must hide from.
The novel travels through time and social unrest to the final moment hinted at in the prologue. Within this book's pages, tragedies haunt, acts of moral goodness manifest themselves, and benevolence reigns with a finality that absolves all.
"A beautifully intimate romance that doesn't shy away from challenging topics."—Publishers Weekly's BookLife
This novel includes 20 book club discussion questions and a resource guide. A pdf file of the book club questions is available for download on the novel's website, visionsofjohanna.rocks.

Purchase Links
___________________________
From one of America's most beloved contemporary novelists, a delicious and witty story about love under house arrest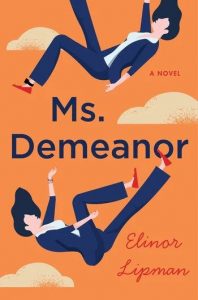 Ms. Demeanor by Elinor Lipman
Jane Morgan is a valued member of her law firm—or was, until a prudish neighbor, binoculars poised, observes her having sex on the roof of her NYC apartment building.  Police are summoned, and a punishing judge sentences her to six months of home confinement. With Jane now jobless and rootless, trapped at home, life looks bleak. Yes, her twin sister provides support and advice, but mostly of the unwelcome kind. When a doorman lets slip that Jane isn't the only resident wearing an ankle monitor, she strikes up a friendship with fellow white-collar felon Perry Salisbury. As she tries to adapt to life within her apartment walls, she discovers she hasn't heard the end of that tattletale neighbor—whose past isn't as decorous as her 9-1-1 snitching would suggest. Why are police knocking on Jane's door again? Can her house arrest have a silver lining? Can two wrongs make a right? In the hands of "an inspired alchemist who converts serious subject into humor" (New York Times Book Review)—yes, delightfully.

Purchase Links
___________________________
A journalist's life is threatened when she investigates the truth about a mysterious car crash that happened twenty years earlier in this gripping thriller from the internationally bestselling author of The Couple at Number 9 and Just Like the Other Girls.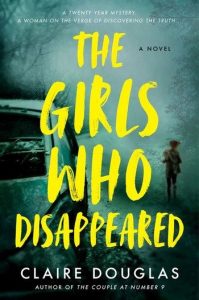 The Girls Who Disappeared by Claire Douglas
A car accident.
Three missing girls.
A twenty-year mystery.
A woman on the verge of discovering the truth . . .
In a rural Wilshire town lies the Devil's Corridor—a haunted road which has witnessed eerie happenings, from unexplained deaths to the sounds of a child crying in the night.
In this bucolic stretch of Southwest England famous for its otherworldly sites, nothing is more puzzling than the Olivia Rutherford case. Four girls were driving home. After their car crashed only one—Olivia—was found.
What happened to the girls who disappeared? On the twentieth anniversary of the tragedy, journalist Jenna Halliday has arrived in Wiltshire to cover the case. The locals aren't happy with this outsider determined to dig into the past. Least of all Olivia.
Soon, Jenna starts receiving menacing notes. The locals have made it clear she's not welcome. But someone is going to make her leave one way or another. Jenna's been warned: she must get out of this town before she suffers a dark fate . . . and becomes another mystery attached to this place.

Purchase Links
___________________________

Please fill out our super short registration form (click the "Enter Now" button above) by January 31st for a chance to win a set of up to ten copies of one of these great books for your book club! We will randomly choose a winner at the end of the month. This giveaway is open to clubs in the US only (our apologies to friends in other countries). 
Best of luck!
We LOVE Book Clubs!