To get your book club in the mood for the holidays, we have gathered up some wonderful titles for this special CHRISTMAS IS COMING book club giveaway!
______________________________________________
Will Christmastime in Ivy Hill, with its village charm, kissing boughs, joyous songs, and divine hope, work its magic in his heart . . . and hers as well?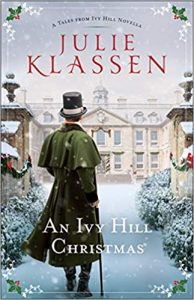 An Ivy Hill Christmas by Julie Klassen
Richard Brockwell, the younger son of Ivy Hill's most prominent family, hasn't been home for Christmas in years. He prefers to live in the London townhouse, far away from Brockwell Court, the old family secret that haunts him, and the shadows of his past mistakes. But then his mother threatens to stop funding his carefree life–unless he comes home for Christmas. Out of options, he sets out for Ivy Hill, planning to be back on a coach bound for London and his unencumbered bachelor life as soon as the festivities are over.
But Christmas in the country presents unforeseen surprises, including encounters with an orphaned apprentice, the first love he disappointed years ago, and Arabella Awdry, a young lady who is far more appealing than he recalled . . . and determined to have nothing to do with him.

Purchase Links
______________________________________________
In the Southern town of Mystic Water, magic is always in the wind—and in the ovens.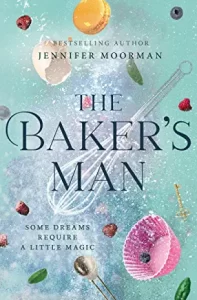 The Baker's Man by Jennifer Moorman
Anna O'Brien inherited several gifts from her late Grandma Bea: culinary superpowers, a bakery in a charming Southern town, and a mysterious box with a note:
Open the box only when you need to. You'll know exactly when you do, and you'll know what to do with it. I love you.
The night her presumed fiancé crushes her dreams, Anna opens the box and finds "magic sugar" inside, along with a recipe to bake "the perfect man." Encouraged by her best friend Lily (and maybe a wee bit too much rum), a heartbroken Anna sets out to do what she always does when she's feeling blue: bake.
She hardly believes her eyes the next morning when a man—a breathing and rather handsome man–is in her bakery and seems to know all her likes and dislikes, her quirks and preferences. Elijah is everything Anna dreamed and nothing she expected. Where did he come from? Is he real? And when he fashions his own ideas about what makes a good life, can she let him go?
Escape into this whimsical and enchanting tale of magical realism and the spellbinding power of following your dreams as Anna discovers the sweetest side of life.

Purchase Links
______________________________________________

Please fill out our super short registration form (click the "Enter Now" button above) by November 30th for a chance to win a set of up to ten copies of one of these great books for your book club! We will randomly choose a winner at the end of the month. This contest is open to clubs in the US only (our apologies to friends in other countries). 
Best of luck!
We 
LOVE

 Book Clubs!