About The Christmas Wish 
• Publisher: HarperCollins (November 15, 2022)
• Paperback: 352 pages
"I'll read anything she writes" EMILY HENRY
Can a little Christmas magic mend a broken heart?
"Absolutely screamingly hilarious, full of Christmas-y sparkle and a lovely boy-next-door romance, but with some serious depth to bring you all the feels."—LIZZY DENT, author of The Summer Job
Newly single lawyer Gwen Baker is hoping that a family Christmas—countryside, a mountain of food and festive films—will salve the sting of her career hanging by a thread and her heart being trampled on. Because everyone else has their life sorted: even Dev, her boy-next-door crush, is now a tall, dark and handsome stranger with a fiancée. She can't help wishing her future was clearer.
Then Gwen wakes up to discover it's Christmas day all over again. Like Groundhog Day but with eggnog. And family arguments. On repeat.
As she figures out how to escape her own particular Christmas hell, Dev is the one bright spot. He might be all grown-up but underneath he's just as kind and funny as she remembers.
Maybe, just maybe, her heart can be mended after all.
But how do you fall in love with someone who can't remember you from one day to the next?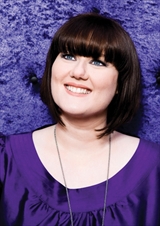 About Lindsey Kelk
Lindsey Kelk is a writer and children's book editor. When she isn't writing, reading, listening to music, or watching more TV than is healthy, Lindsey likes to wear shoes, shop for shoes, and judge the shoes of others. Born in England, Lindsey loves living in New York but misses Sherbet Fountains, London, and drinking gin and elderflower cocktails with her friends. Not necessarily in that order.
Find out more about Lindsey at her website, and connect with her on Facebook, Twitter, and Instagram.
Instagram Features
Monday, November 7th: Instagram: @books.with.courtney
Tuesday, November 8th: Instagram: @stephaniehowell
Tuesday, November 8th: Instagram: @readingfortheseasons
Wednesday, November 9th: Instagram: @reading.with.my.goldens
Thursday, November 10th: Instagram: @never.enough.novels
Friday, November 11th: Instagram: @mrsboomreads
Friday, November 11th: Instagram: @krisreadstt
Friday, November 11th: Instagram: @brandy_reads
Saturday, November 12th: Instagram: @catchybooknook
Sunday, November 13th: Instagram: @readsbyradus
Monday, November 14th: Instagram: @biblio.jojo
Monday, November 14th: Instagram: @bookscallmyheart
Tuesday, November 15th: Instagram: @jill_chilland_read
Wednesday, November 16th: Instagram: @books_with_bethany
Wednesday, November 16th: Instagram: @what.beth.reads
Thursday, November 17th: Instagram: @love_coffee_n_books
Thursday, November 17th: Instagram: @everlasting.bookworm
Friday, November 18th: Instagram: @livingmybestbooklife
Friday, November 18th: Instagram: @on_a_sandbar
Saturday, November 19th: Instagram: @myinfinitetbr
Monday, November 21st: Instagram: @exercise_read_repeat
Monday, November 21st: Instagram: @nature.books.coffee
Monday, November 21st: Instagram: @amzreads
Tuesday, November 22nd: Instagram: @megsbookclub
Wednesday, November 23rd: Instagram: @mommaleighellensbooknook
Saturday, November 26th: Instagram: @celiamcmahonreads
Sunday, November 27th: Instagram: @meghan_readsbooks
Monday, November 28th: Instagram: @Audreymckenzie_reads
Monday, November 28th: Instagram: @bookish.heidi
Tuesday, November 29th: Instagram: @jenniaahava
Tuesday, November 29th: Instagram: @honeydukesbooks
Wednesday, November 30th: Instagram: @addictedtobooks86
Wednesday, November 30th: Instagram: @coffee.tea.books.andme
Wednesday, November 30th: Instagram: @tirwinreads
Thursday, December 1st: Instagram: @readthisandsteep
Friday, December 2nd: Instagram: @bathbodyandbooks
Friday, December 2nd: Instagram: @feliciaisbooked
Saturday, December 3rd: Instagram: @bookswellread
Monday, December 5th: Instagram: @rachellelovesbooks
Monday, December 5th: Instagram: @coffeebookcorner
Tuesday, December 6th: Instagram: @courts.book.nook
Tuesday, December 6th: Instagram: @elle.g.reads
Wednesday, December 7th: Instagram: @naturegracereader
Wednesday, December 7th: Instagram: @brittreadsalattebooks
Wednesday, December 7th: TikTok: @balancingbooksbeauties
Thursday, December 8th: Instagram: @books_and_biewers
Thursday, December 8th: Instagram: @my.bookish.mind
Friday, December 9th: Instagram: @probablybookinit
Saturday, December 10th: Instagram: @delightfully.Brittany
Saturday, December 10th: Instagram: @amy_higgs_reads
Saturday, December 10th: Instagram: @stumblingintobooks
Monday, December 12th: Instagram: @nissa_the.bookworm
Monday, December 12th: Instagram: @bookbruin
Monday, December 12th: Instagram: @wordnerdbookworm
Tuesday, December 13rd: Instagram: @shook_sbooks
Wednesday, December 14th: Instagram: @laurasnextchapter
Thursday, December 15th: Instagram: @andrea.c.lowry.reads
Friday, December 16th: Instagram: @allthebooksalltheways
Friday, December 16th: Instagram: @turnxthexpage
Monday, December 19th: Instagram: @magicallybookmarked
Wednesday, December 21st: Instagram: @books_by_bethany
Friday, January 9th: Instagram: @readinggirlreviews
TikTok Tours
Tuesday, November 1st: TikTok: @secullabooktok
Monday, November 7th: TikTok: @shannasbookclub
Thursday, November 10th: TikTok: @bookswithnopictures
Monday, November 14th: TikTok: @storytimewithshelbs
Tuesday, November 15th: TikTok: @jessbeyondthepages
Tuesday, November 15th: TikTok: @heyhellohalie
Friday, November 18th: TikTok: @whatkarinareads
Saturday, November 26th: TikTok: @worldofabookenthusiast
Saturday, December 3rd: TikTok: @starseternal182