To get your book club in the mood for the holidays, we have gathered up some wonderful titles for this special CHRISTMAS IS COMING book club giveaway!
______________________________________________
Christmas should be celebrated with family. But for Vera Swanson, that's not an option this year.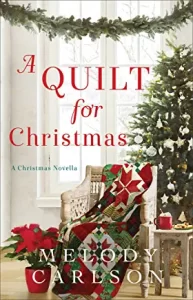 A Quilt for Christmas by Melody Carlson
Widowed and recently relocated, she is lonely in her condo-for-one–until little Fiona Albright knocks on her door needing help. With her mother seriously ill and her father out of town, Fiona enlists Vera's help, and when she finds out her new neighbor is a quilter, she has a special request–a Christmas quilt for Mama.
Vera will have to get a ragtag group of women together in order to fulfill the request. Between free-spirited artist Tasha, chatty empty nester Beverly, retired therapist Eleanor, and herself, Vera has hopes that Christmas for the Albright family will be merry, after all–and she may find herself a new family of friends along the way.
Bestselling and award-winning author Melody Carlson invites you to cuddle up this holiday season with this cozy story of giving, forgiving, and a little bit of romance.

Purchase Links
______________________________________________
Between Thanksgiving and Christmas, anything can happen.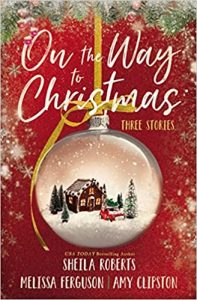 On the Way to Christmas: Three Stories by Shelia Roberts, Melissa Ferguson, and Amy Clipston
In this glittering and heartwarming collection, three of today's bestselling sweet romance novelists offer up the gift of cheer for the winter holiday season.
A Christmas Do-Over by Sheila Roberts
Darby doesn't want to go home for the holidays, but a career fail sends her slinking back to the small town she always wanted to escape. No one there is especially glad to see the former mean girl—especially not her sister, Erica, or childhood best friend, Gregory. Darby is working hard to be a better person, but has she eaten enough humble pie to make amends?
Dashing Through the Snow by Melissa Ferguson
When Willow's boyfriend of seven years dumps her on the eve of a romantic getaway, she decides to take the two-week train trip on The Christmas Express alone. Hurt as she feels, she can't anticipate how the hilarious rebound ride with conductor Oliver, elf Ian, and aging world adventurer Clarence will heal her heart—and renew her sense of worth.
A Perfectly Splendid Christmas by Amy Clipston
Kacey adores the metropolitan life, but when she gets away to help her sister during a family crisis and run her bakery, she falls in love with former classmate Drew. The problem: he's a small-town man, and she's a big-city woman. Is their love big enough to overcome such a major difference?
Curl up with your favorite holiday drink and sink into three worlds where dreams once thought long-gone are still within reach.
"Filled with Christmas spirit, and a little chaos, too, all three stories left my heart filled with joy . . . Five stars overall! " —Nancy Naigle, bestselling author
Three stand-alone romantic holiday novellas

Book length: 70,000 words

Includes discussion questions for book clubs

Purchase Links
______________________________________________
A matchmaking aunt wants her nephew to find love under the mistletoe…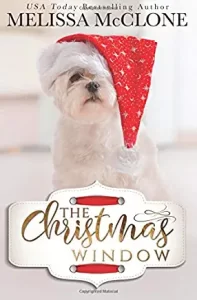 The Christmas Window by Melissa McClone
All doggy daycare owner Callie Andrews wants for Christmas is to win first prize this year. The annual window display competition is a huge event in Silver Falls, and she's determined to showcase her success when her family visits her small town. It's time for her parents and three older brothers to realize the "baby" of the family is thriving on her own. The last thing Brandt Winslow wants to do is rehash the past, but returning home to Silver Falls means confronting the reason he left. His vacation, however, takes an unexpected turn when his well-meaning aunt meddles in his love life, and he finds himself caught up in her misguided efforts at matchmaking. Despite their reluctance at being paired up, Callie and Brandt discover the holidays are full of surprises…and romance. But is the magic of Christmas strong enough to keep the couple together through the new year?

Purchase Links
______________________________________________
From #1 
New York Times
 bestselling author Susan Mallery comes a witty and heartfelt story of two friends who unexpectedly find the person-and the place in which-they belong this Christmas.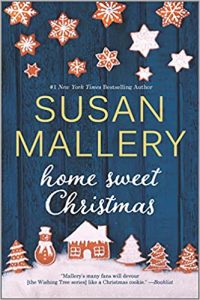 Home Sweet Christmas by Susan Mallery
"The perfect holiday confection."—Booklist
With twinkling humor and heartfelt Christmas spirit, two friends find love in a town called Wishing Tree…
Until Camryn Neff can return to her "real" life in Chicago, she's in Wishing Tree to care for her twin sisters. She's not looking for forever love, not here. But handsome hotelier Jake Crane is a temptation she can't resist, so she suggests they pair up for the season. No golden rings, no broken hearts. At his side, she sees her hometown through Christmas-colored eyes. The cheer is cheerier, the joy more joyful. She thought she had put her future on hold…but maybe her real life was here all along, waiting for her to come home.
New in town, River Best is charmed by Wishing Tree's homespun traditions and warmhearted people. When she's crowned Snow Queen, she's honored but wary. Dylan Tucker, her king, seems like the stuff of sugarplum dreams, but she can't shake the feeling that he's hiding something big. As they perform their "royal" duties—tasting cookies, lighting trees—Dylan's good humor and melty kisses draw her to the brink of love. But she can't let herself fall until she uncovers his secret, even if her lack of faith means losing him forever.

Purchase Links
______________________________________________
From 
USA TODAY
 bestselling author Sheila Roberts, three generations of travelers embark on a Christmas road trip filled with humor and heart, set against the snowy mountains of Washington State.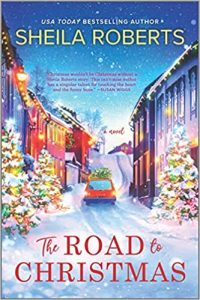 The Road to Christmas: A Sweet Holiday Romance by Sheila Roberts
"When I read anything from Sheila Roberts, I know I will laugh, cry and close the book with a happy sigh." —RaeAnne Thayne
Michelle and Max are not planning on a happy holiday. Their marriage is in shambles and the D word has entered their vocabulary. But now their youngest daughter, Julia, wants everyone to come to her new house in Idaho for Christmas, and she's got the guest room all ready for Mom and Dad. Oh, joy.
Their other daughters, Audrey and Shyla, are driving up from California and hoping to meet a sexy rancher for Audrey along the way. What they don't plan on is getting stranded on a ranch when the car breaks down.
The ones with the shortest drive are Grandma and Grandpa—also known as Hazel and Warren. It's still a bit of a trek, and Hazel doesn't like the idea of driving all that way in snow, but Warren knows they'll have no problem. They have a reliable car—and snow tires and chains if they need them. They'll be fine.
Surprises lie in store for all three sets of intrepid travelers as they set out on three very different adventures, all leading to one memorable family Christmas.

Purchase Links
______________________________________________
Christmas is a time for joy, wonder, and a little bit of mischief. Does any creature manifest these attitudes better than a cat?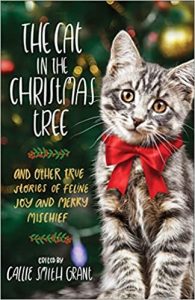 The Cat in the Christmas Tree: And Other True Stories of Feline Joy and Merry Mischief by Callie Smith Grant
Christmas is a time for joy, wonder, and a little bit of mischief. Does any creature manifest these attitudes better than a cat? Their fascination with all those breakable ornaments on the tree and their appreciation of a cozy spot to nap seem made for the season. The way they alternate between calm and crazy echoes the way we all feel at Christmas, doesn't it? And that's just what you get with The Cat in the Christmas Tree.
This collection of true, feel-good holiday stories by various writers celebrates the gift of cats and delivers all the warm fuzzies you could desire. It's the perfect companion for those magical Christmas evenings in front of the fireplace with your favorite feline. It also makes the purrfect gift for cat-loving friends.

Purchase Links
______________________________________________
Can a little Christmas magic mend a broken heart?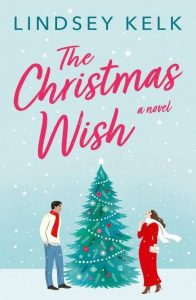 The Christmas Wish by Lindsey Kelk
"I'll read anything she writes" EMILY HENRY
"Absolutely screamingly hilarious, full of Christmas-y sparkle and a lovely boy-next-door romance, but with some serious depth to bring you all the feels."—LIZZY DENT, author of The Summer Job
Newly single lawyer Gwen Baker is hoping that a family Christmas—countryside, a mountain of food and festive films—will salve the sting of her career hanging by a thread and her heart being trampled on. Because everyone else has their life sorted: even Dev, her boy-next-door crush, is now a tall, dark and handsome stranger with a fiancée. She can't help wishing her future was clearer.
Then Gwen wakes up to discover it's Christmas day all over again. Like Groundhog Day but with eggnog. And family arguments. On repeat.
As she figures out how to escape her own particular Christmas hell, Dev is the one bright spot. He might be all grown-up but underneath he's just as kind and funny as she remembers.
Maybe, just maybe, her heart can be mended after all.
But how do you fall in love with someone who can't remember you from one day to the next?

Purchase Links
______________________________________________
With echoes of classic Hollywood love stories like 
Serendipity 
and 
An Affair to Remember
, Viola Shipman
'
s latest winter charmer following the 
USA TODAY
 bestseller
 The Secret of Snow 
is sure to tug on heartstrings and delight readers who love books about books, missed connections and the magic of Christmas.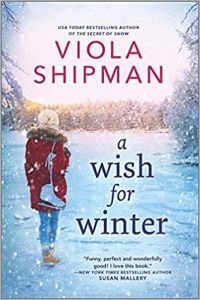 A Wish for Winter by Viola Shipman
"I love this book—funny, perfect and wonderfully good. A not-to-be-missed delight." —New York Times bestselling author Susan Mallery
Despite losing her parents in a tragic accident just before her fourteenth Christmas, Susan Norcross has had it better than most, with loving grandparents to raise her and a gang of quirky, devoted friends to support her. Now a successful bookstore owner in a tight-knit Michigan lakeside community, Susan is facing down forty—the same age as her mother when she died—and she can't help but see everything she hasn't achieved, including finding a love match of her own. To add to the pressure, everyone in her small town believes it's Susan's destiny to meet and marry a man dressed as Santa, just like her mother and grandmother before her. So it seems cosmically unfair that the man she makes an instant connection with at an annual Santa Run is lost in the crowd before she can get his name.
What follows is Susan and her friends' hilarious and heartwarming search for the mystery Santa—covering twelve months of social media snafus, authors behaving badly and dating fails—as well as a poignant look at family, friendship and what defines a well-lived and well-loved life.
"Viola Shipman has written a captivating story for anyone whose memories run deep… This book keeps faith and hope alive!" —New York Times bestselling author Sherryl Woods

Purchase Links
______________________________________________
From the #1 
New York Times
bestselling author of 
The Christmas Box
 and the Noel Collection comes 
A Christmas Memory
, a poignant, deeply felt novel about loss, grief, the healing power of forgiveness, and the true meaning of the holiday season.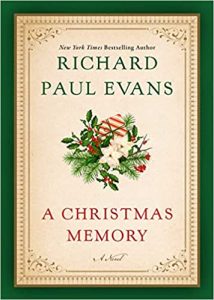 A Christmas Memory by Richard Paul Evans
It's 1967, and for young Richard it's a time of heartbreak and turmoil. Over the span of a few months, his brother, Mark, is killed in Vietnam; his father loses his job and moves the family from California to his grandmother's abandoned home in Utah; and his parents make the painful decision to separate.
With uncertainty rattling every corner of his life, Richard does his best to remain strong—but when he's run down by bullies at his new school, he meets Mr. Foster, an elderly neighbor who chases off the bullies and invites Richard in for a cup of cocoa. Richard becomes fast friends with the wise, solitary man who inspires Richard's love for books and whose dog, Gollum, becomes his closest companion.
As the holidays approach, the joy and light of Christmas seem unlikely to permeate the Evans home as things take a grim turn for the worse. And just when it seems like he has nothing left to lose, Richard is confronted by a startling revelation. But with Mr. Foster's wisdom and kindness, he learns for the first time what truly matters about the spirit of the season: that forgiveness can heal even the deepest wounds, and love endures long after the pain of loss subsides.
In A Christmas Memory, Richard Paul Evans (#1 New York Times bestselling author and the "King of Christmas fiction") delves deep into his childhood memories to take readers back to an age when his world felt like it was falling apart, reminding us that even in the darkest of times, the light of hope can still shine.

Purchase Links
______________________________________________
Will Christmastime in Ivy Hill, with its village charm, kissing boughs, joyous songs, and divine hope, work its magic in his heart . . . and hers as well?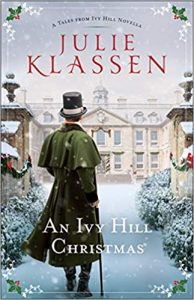 An Ivy Hill Christmas by Julie Klassen
Richard Brockwell, the younger son of Ivy Hill's most prominent family, hasn't been home for Christmas in years. He prefers to live in the London townhouse, far away from Brockwell Court, the old family secret that haunts him, and the shadows of his past mistakes. But then his mother threatens to stop funding his carefree life–unless he comes home for Christmas. Out of options, he sets out for Ivy Hill, planning to be back on a coach bound for London and his unencumbered bachelor life as soon as the festivities are over.
But Christmas in the country presents unforeseen surprises, including encounters with an orphaned apprentice, the first love he disappointed years ago, and Arabella Awdry, a young lady who is far more appealing than he recalled . . . and determined to have nothing to do with him.

Purchase Links
______________________________________________

Please fill out our super short registration form (click the "Enter Now" button above) by October 31st for a chance to win a set of up to ten copies of one of these great books for your book club! We will randomly choose a winner at the end of the month. This contest is open to clubs in the US only (our apologies to friends in other countries). 
Best of luck!
We 
LOVE

 Book Clubs!