To get your book club in the mood for the holidays, we have gathered up some wonderful titles for this special CHRISTMAS IS COMING book club giveaway!
______________________________________________
Between Thanksgiving and Christmas, anything can happen.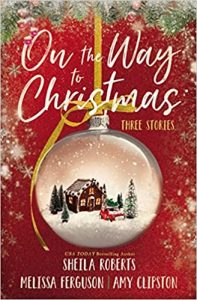 On the Way to Christmas: Three Stories by Shelia Roberts, Melissa Ferguson, and Amy Clipston
In this glittering and heartwarming collection, three of today's bestselling sweet romance novelists offer up the gift of cheer for the winter holiday season.
A Christmas Do-Over by Sheila Roberts
Darby doesn't want to go home for the holidays, but a career fail sends her slinking back to the small town she always wanted to escape. No one there is especially glad to see the former mean girl—especially not her sister, Erica, or childhood best friend, Gregory. Darby is working hard to be a better person, but has she eaten enough humble pie to make amends?
Dashing Through the Snow by Melissa Ferguson
When Willow's boyfriend of seven years dumps her on the eve of a romantic getaway, she decides to take the two-week train trip on The Christmas Express alone. Hurt as she feels, she can't anticipate how the hilarious rebound ride with conductor Oliver, elf Ian, and aging world adventurer Clarence will heal her heart—and renew her sense of worth.
A Perfectly Splendid Christmas by Amy Clipston
Kacey adores the metropolitan life, but when she gets away to help her sister during a family crisis and run her bakery, she falls in love with former classmate Drew. The problem: he's a small-town man, and she's a big-city woman. Is their love big enough to overcome such a major difference?
Curl up with your favorite holiday drink and sink into three worlds where dreams once thought long-gone are still within reach.
"Filled with Christmas spirit, and a little chaos, too, all three stories left my heart filled with joy . . . Five stars overall! " —Nancy Naigle, bestselling author
Three stand-alone romantic holiday novellas

Book length: 70,000 words

Includes discussion questions for book clubs

Purchase Links
______________________________________________
Return to Hope's Crossing this Christmas in 
New York Times 
bestselling author RaeAnne Thayne's latest heartwarming story of matchmaking at the holidays!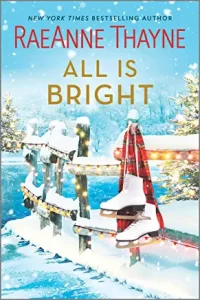 All is Bright: A Christmas Romance by RaeAnne Thayne
Sage McKnight is an ambitious young architect working at her father's firm who takes on her most challenging client in Mason Tucker. The former pro baseball player is still healing from the physical and emotional scars after a plane crash left him a wheelchair-using single dad, and he's determined not to let anyone breach his emotional defenses. Sage knows her work on Mason's new home in Hope's Crossing is her best work yet, and she won't let her grumpy client prevent her from showcasing her work personally.
With Sage's gift for taking broken things and making them better, the matchmaking talent of the quirky locals and a generous sprinkling of Christmas cheer, Mason doesn't stand a chance against the power of this magical holiday season.
"[Thayne] engages the reader's heart and emotions, inspiring hope and the belief that miracles are possible." —Debbie Macomber, #1 New York Times bestselling author

Purchase Links
______________________________________________
What happens if the only Christmas celebration you want to attend is one you haven't been invited to? USA Today bestselling author Sarah Morgan delights with this hilarious and heartwarming Christmas cracker of a novel!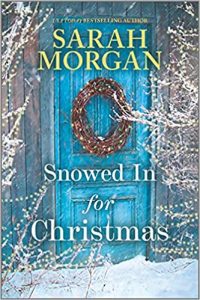 Snowed In for Christmas by Sarah Morgan
A family gathering
This Christmas the Miller siblings have one goal—to avoid their well-meaning family's endless stream of prying questions. Ross, Alice and Clemmie have secrets that they don't intend to share, and they are relying on each other to deflect attention.
An uninvited guest
Lucy Clarke is facing a Christmas alone and the prospect of losing her job. Unless she can win a major piece of business from Ross Miller, the season promises to be anything but festive. She'll just deliver her proposal to his family home and then leave. After all, she wouldn't want to intrude on the Miller family's perfect Christmas.
A Christmas to remember
When Lucy appears on the Miller family's snow-covered Highland doorstep, she's mistaken for Ross's girlfriend. By the time the confusion is cleared up, they're snowed in—she can't leave, even if she wants to! But does she want to? As secrets spill out like presents from an overstuffed stocking and the chemistry between her and Ross ignites, this is going to be either Lucy's worst Christmas ever or the best mistake of her life.

Purchase Links
______________________________________________
AN INDIE NEXT PICK!
From the #1 bestselling author in Japan comes a celebration of books, cats, and the people who love them, infused with the heartwarming spirit of 
The Guest Cat
 and 
The Travelling Cat Chronicles.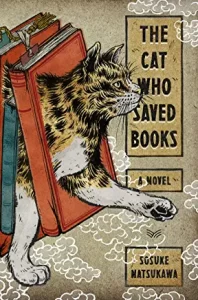 The Cat Who Saved Books by Sosuke Natsukawa
Bookish high school student Rintaro Natsuki is about to close the secondhand bookstore he inherited from his beloved bookworm grandfather. Then, a talking cat appears with an unusual request. The feline asks for—or rather, demands—the teenager's help in saving books with him. The world is full of lonely books left unread and unloved, and the cat and Rintaro must liberate them from their neglectful owners.
Their mission sends this odd couple on an amazing journey, where they enter different mazes to set books free. Through their travels, the cat and Rintaro meet a man who leaves his books to perish on a bookshelf, an unwitting book torturer who cuts the pages of books into snippets to help people speed read, and a publishing drone who only wants to create bestsellers. Their adventures culminate in one final, unforgettable challenge—the last maze that awaits leads Rintaro down a realm only the bravest dare enter . . .
An enthralling tale of books, first love, fantasy, and an unusual friendship with a talking cat, The Cat Who Saved Books is a story for those for whom books are so much more than words on paper.
Translated from the Japanese by Louise Heal Kawai.
"Cats, books, young love, and adventure: catnip for a variety of readers!" –Kirkus

Purchase Links
______________________________________________

Please fill out our super short registration form (click the "Enter Now" button above) by September 30th for a chance to win a set of up to ten copies of one of these great books for your book club! We will randomly choose a winner at the end of the month. This contest is open to clubs in the US only (our apologies to friends in other countries). 
Best of luck!
We 
LOVE

 Book Clubs!