___________________________
What if taking care of yourself was the first step to helping your family thrive?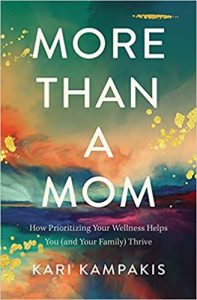 More Than a Mom: How Prioritizing Your Wellness Helps You (and Your Family) Thrive by Kari Kampakis
If you've parented long enough, then you've learned firsthand why your personal wellness matters. You've felt the pain (or consequences) of devaluing yourself. Whether your wake-up call came from a diagnosis, a breakdown, an issue with your child or spouse, anxiety, or simply feeling depleted and numb, it most likely unveiled this truth:
Mothers are humans too. We require love, compassion, rest, and renewal. Taking care of our needs strengthens us and equips us for the road ahead.
In More Than a Mom, bestselling author Kari Kampakis offers a practical, approachable, and attainable framework to stay on a healthy path. You can take your kids only as far as you've come–and since their strength builds on your strength, you must take time to focus on you. More Than a Mom is about unleashing God's power in your life and standing on timeless truths that will help you
know your worth and embrace your purpose,
build strong, uplifting friendships that you can model for your children,
quit the negative self-talk and make peace with your body, and
learn to mother yourself by resting and setting boundaries.
The world shaping your children is more callous and complex than the world that shaped you. Kids need to be stronger, smarter, and more rooted in what's real. Empower your son or daughter by tending to your heart, soul, body, and mind. Give them a vision of a healthy adult–and know that as they launch into the real world, they will build on what you started.

Purchase Links
___________________________
Entertainment Weekly 
hails the Secret, Book, and Scone Society series by 
New York Times 
bestselling author Ellery Adams as "a love letter to reading"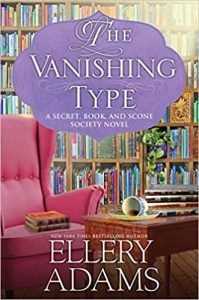 The Vanishing Type: A Secret, Book and Scone Society Novel by Ellery Adams
Entertainment Weekly hails the Secret, Book, and Scone Society series by New York Times bestselling author Ellery Adams as "a love letter to reading," and in this fifth installment, bookshop owner, bibliotherapist, and occasional sleuth Nora Pennington must enlist the help of her brilliant, brassy librarian friend Bobbie to unravel the connection between The Scarlet Letter, an obscure 19th century writer, and a dead hiker…
While January snow falls outside in Miracle Springs, North Carolina, Nora Pennington is encouraging customers to cozy up indoors with a good book. Even though the shop and her bibliotherapy sessions keep Nora busy during the day, her nights are a little too quiet—until Deputy Andrews pulls Nora into the sci-fi section and asks her to help him plan a wedding proposal.
His bride-to-be, Hester, loves Little Women, and Nora sets to work arranging a special screening at the town's new movie theater. But right before the deputy pops the question, Nora makes an unsettling discovery—someone has mutilated all her store's copies of The Scarlet Letter, slicing angrily into the pages wherever Hester Prynne's name is mentioned.
The coincidence disturbs Nora, who's one of the few in Miracle Springs who knows that Hester gave up a baby for adoption many years ago. Her family heaped shame on her, and Hester still feels so guilty that she hasn't even told her future husband. But when a dead man is found on a hiking trail just outside town, carrying a rare book, the members of the Secret, Book, and Scone Society unearth a connection to Hester's past. Someone is intent on bringing the past to light, and it's not just Hester's relationship at stake, but her life. . .
"Captivating…Bibliophilic cozy fans will be in heaven." – Publishers Weekly

Purchase Links
___________________________
For fans of 
The Warsaw Orphan
 and 
The Tattooist of Auschwitz
: the start of WWII changed everything in Poland irrevocably—except for one man's capacity to love.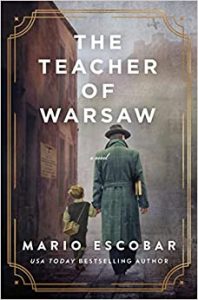 The Teacher of Warsaw by Mario Escobar
September 1, 1939. Sixty-year-old Janusz Korczak and the students and teachers at his Dom Sierot Jewish orphanage are outside enjoying a beautiful day in Warsaw. Hours later, their lives are altered forever when the Nazis invade. Suddenly treated as an outcast in his own city, Janusz—a respected leader known for his heroism and teaching—is determined to do whatever it takes to protect the children from the horrors to come.
When over four hundred thousand Jewish people are rounded up and forced to live in the 1.3-square-mile walled compound of the Warsaw ghetto, Janusz and his friends take drastic measures to shield the children from disease and starvation. With dignity and courage, the teachers and students of Dom Sierot create their own tiny army of love and bravely prepare to march toward the future—whatever it may hold.
Unforgettable, devastating, and inspired by a real-life hero of the Holocaust, The Teacher of Warsaw reminds the world that one single person can incite meaning, hope, and love.
Praise for The Teacher of Warsaw:
"Through meticulous research and with wisdom and care, Mario Escobar brings to life a heartbreaking story of love and extraordinary courage. I want everyone I know to read this book." —Kelly Rimmer, New York Times bestselling author of The Warsaw Orphan
"A beautifully written, deeply emotional story of hope, love, and courage in the face of unspeakable horrors. That such self-sacrifice, dedication and goodness existed restores faith in humankind. Escobar's heart-rending yet uplifting tale is made all the more poignant by its authenticity. Bravo!" —Tea Cooper, award-winning and bestselling author of The Cartographer's Secret
World War II historical fiction inspired by true events

Includes discussion questions for book clubs, a historical timeline, and notes from the author

Book length: 83,000 words

Also by author: 

Auschwitz Lullaby

, 

Children of the Stars

, 

Remember Me

, 

The Librarian of Saint-Malo

Purchase Links
___________________________
Sometimes it takes two good reasons
To give love a second chance…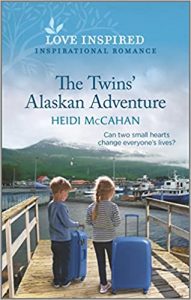 The Twins' Alaskan Adventure: An Uplifting Inspirational Romance by Heidi McCahan
The moment the sweet-faced twins arrive in Alaska, Eliana Madden is smitten. They almost make her forget that their father, Tate Adams, broke her heart. Now Eliana has agreed to help Tate take care of the twins for the summer. Could this be the start of healing the rift between their families…and the beginning of a new adventure for them all?
From Love Inspired: Uplifting stories of faith, forgiveness and hope.
Home to Hearts Bay
Book 1: An Alaskan Secret
Book 2: The Twins' Alaskan Adventure

Purchase Links
___________________________

Please fill out our super short registration form (click the "Enter Now" button above) by June 30th  for a chance to win a set of up to ten copies of one of these great books for your book club! We will randomly choose a winner at the end of the month. This giveaway is open to clubs in the US only (our apologies to friends in other countries). 
Best of luck!
We 
LOVE

 Book Clubs!