___________________________
Inspired by true events in World War II Latvia, an emotionally charged novel of sacrifice, trauma, resilience, and survival, as witnessed by three generations of women.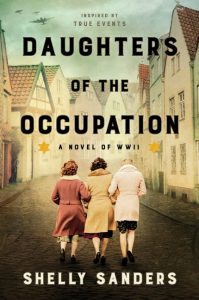 Daughters of the Occupation by Shelly Sanders
On one extraordinary day in 1940, Miriam Talan's comfortable life is shattered. While she gives birth to her second child, a son she and her husband, Max, name Monya, the Soviets invade the Baltic state of Latvia and occupy the capital city of Riga, her home. Because the Talans are Jewish, the Soviets confiscate Max's business and the family's house and bank accounts, leaving them with nothing.
Then, the Nazis arrive. They kill Max and begin to round up Jews. Fearing for her newborn son and her young daughter, Ilana, Miriam asks her loyal housekeeper to hide them and conceal their Jewish roots to keep them safe until the savagery ends.
Three decades later, in Chicago, 24-year-old Sarah Byrne is mourning the untimely death of her mother, Ilana. Sarah's estranged grandmother, Miriam, attends the funeral, opening the door to shocking family secrets. Sarah probes Miriam for information about the past, but it is only when Miriam is in the hospital, delirious with fever, that she begs Sarah to find the son she left behind in Latvia.
Traveling to the Soviet satellite state, Sarah begins her search with the help of Roger, a charismatic Russian-speaking professor. But as they come closer to the truth, she realizes her quest may have disastrous consequences.
A magnificent, emotionally powerful story of family and the lingering devastation of war, The Daughters of the Occupation explores how trauma is passed down in families and illuminates the strength and grace that can be shared by generations.

Purchase Links
___________________________
Book clubs will love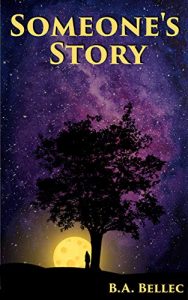 Someone's Story by B.A. Bellec
Winner:- Next Generation Indie Book Awards – YA 17+ Finalist (May 2021)- Literary Titan Seal (April 2021)- Reader Views Young Adult Book of the Year (March 2021)
– The Wishing Shelf Red Ribbon (Feb 2021)
– Shelf Unbound Notable Indie (Dec 2020)
– Readers' Favorite Seal (July 2020)
"B. A. Bellec has crafted a masterpiece of emotive and well-rounded young adult fiction."
K.C. Finn – Author
"A gripping story of teenage life and the many problems they face. A RED RIBBON WINNER and highly recommended."
The Wishing Self Book Awards
"The variety of personages, situations, and mental illnesses represented allows all readers to relate to this book and take something away from reading! This novel is on our list of all-time favourites!"
International Girls and Books
"B.A. Bellec has truly created a masterpiece that deserves worldwide recognition, awards and so much more."
Rebecca Ryan – Reedsy
In his debut endearing coming-of-age book, B.A. Bellec writes about a group of weirdos that find and save each other from the dark depths of their minds. Someone's Story is literally Someone's story, as in a first-person narrative of a teenager that calls himself Someone. As he struggles to ?nd a new footing in a new space, we encounter the many ups and downs of modern teenage life, the difficulties that adjusting to adult feelings brings, and a few tear-jerking surprises along the way.
Littered with music, mental health, friendship, loss, meditation, advice, pop culture, and even inspiring an EP, there is so much nostalgia, inspiration, and depth here it is hard to absorb it all. Cozy up somewhere warm and enjoy!

Purchase Links
______________________________________________
For the reasonable price of $1, Natalie Malone just bought herself an abandoned villa on the Amalfi Coast.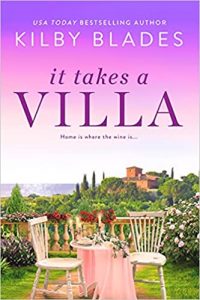 It Takes a Villa by Kilby Blades
For the reasonable price of $1, Natalie Malone just bought herself an abandoned villa on the Amalfi Coast. With a detailed spreadsheet and an ancient key, she's arrived in Italy ready to renovate–and only six months to do it. Which seemed reasonable until architect Pietro Indelicato began critically watching her every move…
From the sweeping ocean views to the scent of the lemon trees, there's nothing Pietro loves more than his hometown. And after seeing too many botched jobs and garish design choices, he's done watching from the sidelines. As far as he's concerned, Natalie should quit before the project drains her entire bank account and her ridiculously sunny optimism.
With Natalie determined to move forward, the gorgeous architect reluctantly agrees to pitch in, giving her a real chance to succeed. But when the fine print on Natalie's contract is brought to light, she might have no choice but to leave her dream, and Pietro, behind.

Purchase Links
______________________________________________
Sometimes what your life is missing is an eccentric group of older ladies to take you under their wing . . .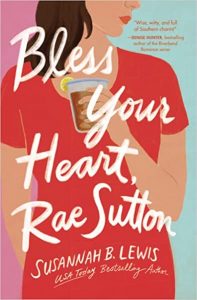 Bless Your Heart, Rae Sutton by Susannah B. Lewis
When Raeley Ann Sutton's mama passes away and leaves her the house where she grew up, Rae can't imagine how the little old place might restore her broken life. Mourning the recent loss of her marriage, she takes the house and settles back in tiny, "one-horse Whitten" with her fourteen-year-old daughter, Molly Margaret, and their overweight dog.
There she's embraced by her mother's close-knit circle of friends, the Third Thursday ladies: Mrs. Fannie, Mrs. Dora, and Aunt Maxine. Though almost half their age and far less confident of positive outcomes, Rae joins their ministry-slash-book-club-slash-gossip circle and allows the women to speak wry honesty and witty humor into her tired heart. As a new career and a new romance bring their own complications, Rae relies on the unlikely family she's found and begins to wonder if her future holds more hope than she ever could have imagined.
Known for her heartwarming stories and genuine Southern voice, Susannah B. Lewis dazzles with her latest story of women strengthening women.
"Settle in for an enchanting tale, featuring a delightful cast of characters. At turns humorous and heart-wrenching, Lewis's novel delivers on themes of forgiveness and restoration. Wise, witty, and full of Southern charm, Bless Your Heart, Rea Sutton is as refreshing as a tall glass of sweet tea on a hot summer day!" —Denise Hunter, bestselling author of the Riverbend Romances
Sweet, witty, Southern contemporary women's fiction
Stand-alone novel
Book length: 80,000 words
Includes discussion questions for book clubs

Purchase Links
______________________________________________
Copies of both books by Louie Giglio will be sent to the winning book club!
and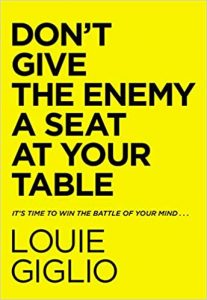 About DON'T GIVE THE ENEMY A SEAT AT YOUR TABLE: It's Time to Win the Battle of Your Mind by Louie Giglio
Discover how to break free from the chains of negative thinking and experience true freedom from unhealthy thoughts and emotions.
The Enemy is constantly seeking to fill your mind with destructive and harmful thoughts—whether of fear, worry, insecurity, anxiety, temptation, envy. . . . It's all too easy for Satan to manipulate his way into a seat at the table intended for only you and Jesus, and to try making himself at home in your mind. It's an ongoing battle, but one you can win!
In Don't Give the Enemy a Seat at Your Table, bestselling author and pastor Louie Giglio shares practical ways to overcome the Enemy's lies and instead find peace and security in any challenging circumstance or situation. By drawing from Psalm 23 as a framework, he offers biblical insight on how to . . .
Cancel the lies that will wreck your life.
Take empowering steps to live fully alive in Christ.
Stop the spiral of shame, temptation, and insecurity.
Restore peace and rest in your life.
Embrace the true purpose behind your journey through challenging circumstances.
Break free from the endless cycle of destructive thinking.
You can find freedom from the war inside your mind—if you allow Jesus, the Good Shepherd, to lead the battle. Learn how to find encouragement, hope, and strength no matter what valleys you face. It's time to reject the lies and listen to the truth.

Purchase Links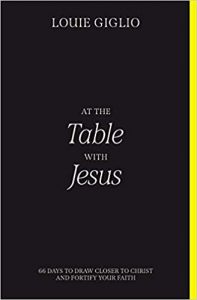 About AT THE TABLE WITH JESUS: 66 Days To Draw Closer to Christ and Fortify Your Faith by Louie Giglio
At the Table with Jesus invites readers to sixty-six days of rich engagements with the Good Shepherd, providing deeper truths, power, and connection to walk through life's troubles.  
Through practical daily devotions, At the Table with Jesus invites readers to sit at the table with the Good Shepherd, building a habit of living life with him. The journey starts in Psalm 23 but takes the reader throughout all of Scripture to build a stronger relationship with the God of the universe.

Purchase Links
______________________________________________

Please fill out our super short registration form (click the "Enter Now" button above) by May 31st  for a chance to win a set of up to ten copies of one of these great books for your book club! We will randomly choose a winner at the end of the month. This giveaway is open to clubs in the US only (our apologies to friends in other countries). 
Best of luck!
We 
LOVE

 Book Clubs!