___________________________
Book clubs will love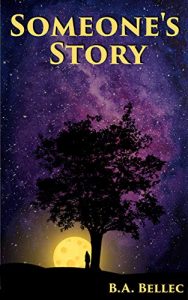 Someone's Story by B.A. Bellec
Winner:- Next Generation Indie Book Awards – YA 17+ Finalist (May 2021)- Literary Titan Seal (April 2021)- Reader Views Young Adult Book of the Year (March 2021)
– The Wishing Shelf Red Ribbon (Feb 2021)
– Shelf Unbound Notable Indie (Dec 2020)
– Readers' Favorite Seal (July 2020)
"B. A. Bellec has crafted a masterpiece of emotive and well-rounded young adult fiction."
K.C. Finn – Author
"A gripping story of teenage life and the many problems they face. A RED RIBBON WINNER and highly recommended."
The Wishing Self Book Awards
"The variety of personages, situations, and mental illnesses represented allows all readers to relate to this book and take something away from reading! This novel is on our list of all-time favourites!"
International Girls and Books
"B.A. Bellec has truly created a masterpiece that deserves worldwide recognition, awards and so much more."
Rebecca Ryan – Reedsy
In his debut endearing coming-of-age book, B.A. Bellec writes about a group of weirdos that find and save each other from the dark depths of their minds. Someone's Story is literally Someone's story, as in a first-person narrative of a teenager that calls himself Someone. As he struggles to ?nd a new footing in a new space, we encounter the many ups and downs of modern teenage life, the difficulties that adjusting to adult feelings brings, and a few tear-jerking surprises along the way.
Littered with music, mental health, friendship, loss, meditation, advice, pop culture, and even inspiring an EP, there is so much nostalgia, inspiration, and depth here it is hard to absorb it all. Cozy up somewhere warm and enjoy!

Purchase Links
______________________________________________
Shawn Johnson, lead pastor of Red Rocks Church, gives a searingly honest portrait of anxiety and depression and shows readers how to fight back and live free.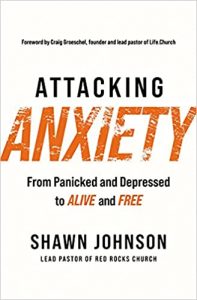 Attacking Anxiety: From Panicked and Depressed to Alive and Free by Shawn Johnson
Shawn Johnson was the lead pastor of a thriving, fast-growing church. He was supposed to have it all together. But he was also struggling in silence with anxiety and depression, suffering from debilitating panic attacks that told him the lie that this would never end, that he'd spend the rest of his life in excruciating pain. Until one day he ended up sobbing and screaming on the side of the road. He had to be brought home by his wife and two friends, who removed any potential weapons from his house while he sat with his head in his hands, begging God for a miracle.
In Attacking Anxiety, Shawn vulnerably shares about this dark time and offers those familiar with that same struggle everything he's learned in his battles with anxiety, depression, and hopelessness. As readers join Shawn on this journey, he will
expose the lies that lead toward isolation and replace them with the truths that are essential to survival;
reveal the things that most people don't realize are adding more anxiety and depression to their lives and replace them with the wisdom and support that lead to true freedom;
explain what to do when you, or someone you love, is in the middle of a panic attack, and
guide you through what you need to know, what you need to start doing, what you need to stop doing, and what you need to remember in order to start attacking anxiety and depression.
This is not a one-and-done process that will completely free you from all brokenness, but it will help you recognize that, even in the middle of so much brokenness and overwhelming pain, God has a plan and a purpose for your life, and he is ready to heal you in ways you never thought possible.

Purchase Links
______________________________________________
As the new chief of Clan Mackay, Gideon Sinclair knows the importance of maintaining order at any cost.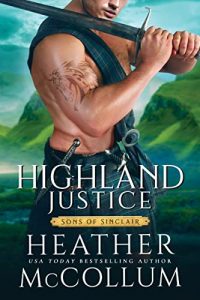 Highland Justice (Sons of Sinclair, 3) by Heather McCollum
To keep the conquered clan in line, Gideon must mete out ruthless justice or risk losing their precious new peace. But from the moment he meets Cait Mackay–aye, from the moment the sweetness of her lips captures his–all of Gideon's careful objectivity is well and thoroughly compromised.
Cait knows that kissing the brawny Highlander is a dangerous game. It was bad enough she picked his pocket to feed the children in her care, but sometimes a desperate woman must disguise her crimes any way she can. Only her act of deception has made things worse… Because one kiss with the Highland's most brutal chief leaves her breathless and out of her depth.
Now Gideon must choose between his duty and his heart when his lovely thief is accused of treason against the king himself.
Each book in the Sons of Sinclair series is STANDALONE:
* Highland Conquest
* Highland Warrior
* Highland Justice

Purchase Links
______________________________________________
Through his pithy and inspiring storytelling that has endeared him to millions, New York Times bestselling author Bob Goff reassures readers that they can harness today's distractions, follow Jesus' example, and find focus, purpose, and joy.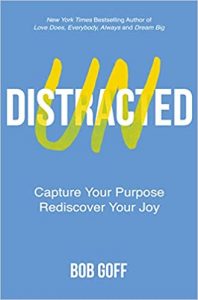 Undistracted: Capture Your Purpose and Rediscover Your Joy by Bob Goff
You probably know what it's like to be driving down the road when you suddenly feel the vibration and hear the guh-guh-guh–guh-guh of the rumble strips–those groves in the pavement–warning you that you've drifted out of your lane. You didn't mean to get distracted. You only took your eyes off the road for a moment, but you drifted off course. And that's a lot like life, isn't it?
In Undistracted, Bob Goff lovingly yanks us back in our lane and helps us get back on track so we can live our lives with real purpose and joy. In his trademark storytelling style, Bob helps us
learn the destruction of distraction and the benefits of living a life of undistracted love and authentic connection;
identify the distractions in our lives and either eliminate them or route around them; and
catch a vision of our future, undistracted selves where we can experience true happiness and joy.
Bob's inspiring and entertaining stories in Undistracted show us what it looks like to live a beautiful and purposeful life rather than drifting aimlessly from one season to the next. He encourages us to fix our eyes on Jesus and harness life's distractions so we can find joy despite our circumstances.

Purchase Links
______________________________________________
For the attorneys at Cobb and Cobb, the pursuit of justice is about more than legal expertise; it's a family matter.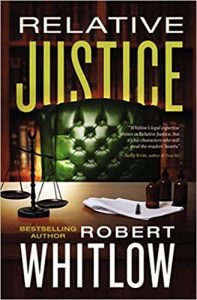 Relative Justice by Robert Whitlow
David Cobb is not a typical lawyer—he's more interested in dispensing God's wisdom than pertinent legal advice. High-stakes litigation is way outside his comfort zone.
For many years Zeke Caldwell has been concocting home remedies made from natural ingredients found in the coastal marshes near Wilmington, North Carolina. One of his remedies proved so effective that he patented it with the help of David's father. Now he suspects a big drug company has stolen his formula. What he doesn't know is that the theft has deeper, more evil roots.
When Zeke asks David to help fight the drug company, David knows the suit is beyond his expertise and experience. But his sister-in-law, Katelyn Cobb, is a rising star attorney in a prestigious Washington, DC, law firm. The courtroom is her second home. Could she help? Would she even consider it?
Life's circumstances compel the lawyers to face, not only patent piracy, but personal obstacles and struggles that threaten to rip apart the fabric of the family. The fight for Zeke requires all the relatives to unite for justice.
Praise for Relative Justice:
"Robert Whitlow's legal expertise shines in Relative Justice, a story of patent infringement and illegal gains, but it's his characters who will steal the readers' hearts. Katelyn Martin-Cobbs, her husband Robbie, and his family face trials that allow them to heal old wounds and forge new bonds. Whitlow's fans are sure to enjoy going along for a memorable, roller-coaster ride." —Kelly Irvin, author of Trust Me
*Stand-alone novel
*Includes discussion questions for book clubs

Purchase Links
______________________________________________
The fate of the world is often driven by the curiosity of a girl.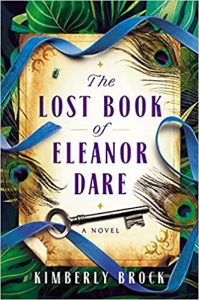 The Lost Book of Eleanore Dare by Kimberly Brock
What happened to the Lost Colony of Roanoke remains a mystery, but the women who descended from Eleanor Dare have long known the truth lies in what she left behind: a message carved onto a large stone and the contents of her treasured Commonplace Book. Brought from England on Eleanor's fateful voyage to the New World, her book was passed down through the fifteen generations of daughters who followed as they came of age. Thirteen-year-old Alice had been next in line to receive it, but her mother's tragic death fractured the unbroken legacy and the Dare Stone and the shadowy history recorded in the book faded into memory. Or so Alice hoped.
In the waning days of World War Two, Alice is a young widow and a mother herself when she is unexpectedly presented with her birthright: the deed to Evertell, her abandoned family home and the history she thought forgotten. Determined to sell the property and step into a future free of the past, Alice returns to Savannah with her own thirteen-year-old daughter, Penn, in tow. But when Penn's curiosity over the lineage she never knew begins to unveil secrets from beneath every stone and bone and shell of the old house and Eleanor's book is finally found, Alice is forced to reckon with the sacrifices made for love and the realities of their true inheritance as daughters of Eleanor Dare.
In this sweeping tale from award-winning author Kimberly Brock, the answers to a real-life mystery may be found in the pages of a story that was always waiting to be written.

Purchase Links
______________________________________________
What if taking care of yourself was the first step to helping your family thrive?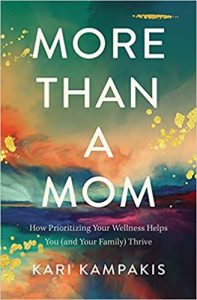 More Than a Mom: How Prioritizing Your Wellness Helps You (and Your Family) Thrive by Kari Kampakis
If you've parented long enough, then you've learned firsthand why your personal wellness matters. You've felt the pain (or consequences) of devaluing yourself. Whether your wake-up call came from a diagnosis, a breakdown, an issue with your child or spouse, anxiety, or simply feeling depleted and numb, it most likely unveiled this truth:
Mothers are humans too. We require love, compassion, rest, and renewal. Taking care of our needs strengthens us and equips us for the road ahead.
In More Than a Mom, bestselling author Kari Kampakis offers a practical, approachable, and attainable framework to stay on a healthy path. You can take your kids only as far as you've come–and since their strength builds on your strength, you must take time to focus on you. More Than a Mom is about unleashing God's power in your life and standing on timeless truths that will help you
know your worth and embrace your purpose,
build strong, uplifting friendships that you can model for your children,
quit the negative self-talk and make peace with your body, and
learn to mother yourself by resting and setting boundaries.
The world shaping your children is more callous and complex than the world that shaped you. Kids need to be stronger, smarter, and more rooted in what's real. Empower your son or daughter by tending to your heart, soul, body, and mind. Give them a vision of a healthy adult–and know that as they launch into the real world, they will build on what you started.

Purchase Links
______________________________________________
Copies of both books by Louie Giglio will be sent to the winning book club!
and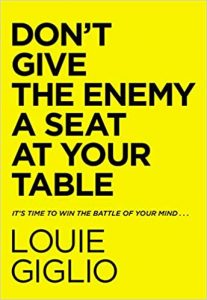 About DON'T GIVE THE ENEMY A SEAT AT YOUR TABLE: It's Time to Win the Battle of Your Mind by Louie Giglio
Discover how to break free from the chains of negative thinking and experience true freedom from unhealthy thoughts and emotions.
The Enemy is constantly seeking to fill your mind with destructive and harmful thoughts—whether of fear, worry, insecurity, anxiety, temptation, envy. . . . It's all too easy for Satan to manipulate his way into a seat at the table intended for only you and Jesus, and to try making himself at home in your mind. It's an ongoing battle, but one you can win!
In Don't Give the Enemy a Seat at Your Table, bestselling author and pastor Louie Giglio shares practical ways to overcome the Enemy's lies and instead find peace and security in any challenging circumstance or situation. By drawing from Psalm 23 as a framework, he offers biblical insight on how to . . .
Cancel the lies that will wreck your life.
Take empowering steps to live fully alive in Christ.
Stop the spiral of shame, temptation, and insecurity.
Restore peace and rest in your life.
Embrace the true purpose behind your journey through challenging circumstances.
Break free from the endless cycle of destructive thinking.
You can find freedom from the war inside your mind—if you allow Jesus, the Good Shepherd, to lead the battle. Learn how to find encouragement, hope, and strength no matter what valleys you face. It's time to reject the lies and listen to the truth.

Purchase Links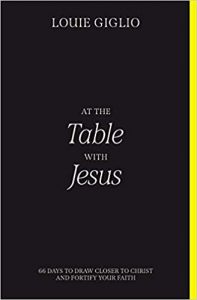 About AT THE TABLE WITH JESUS: 66 Days To Draw Closer to Christ and Fortify Your Faith by Louie Giglio
At the Table with Jesus invites readers to sixty-six days of rich engagements with the Good Shepherd, providing deeper truths, power, and connection to walk through life's troubles.  
Through practical daily devotions, At the Table with Jesus invites readers to sit at the table with the Good Shepherd, building a habit of living life with him. The journey starts in Psalm 23 but takes the reader throughout all of Scripture to build a stronger relationship with the God of the universe.

Purchase Links
______________________________________________

Please fill out our super short registration form (click the "Enter Now" button above) by April 30th  for a chance to win a set of up to ten copies of one of these great books for your book club! We will randomly choose a winner at the end of the month. This giveaway is open to clubs in the US only (our apologies to friends in other countries). 
Best of luck!
We 
LOVE

 Book Clubs!