___________________________
In an enthralling new historical novel from national bestselling author Kate Quinn, two women—a female spy recruited to the real-life Alice Network in France during World War I and an unconventional American socialite searching for her cousin in 1947—are brought together in a mesmerizing story of courage and redemption.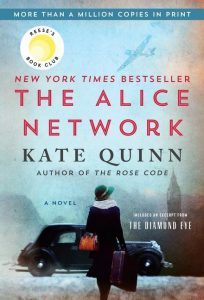 The Alice Network by Kate Quinn
NEW YORK TIMES & USA TODAY BESTSELLER
#1 GLOBE AND MAIL HISTORICAL FICTION BESTSELLER
One of NPR's Best Books of 2017!
One of Bookbub's Biggest Historical Fiction Books of 2017!
Reese Witherspoon Book Club Summer Reading Pick!
The 2017 Girly Book Club Book of the Year!
A Summer Book Pick from Good Housekeeping, Parade, Library Journal, Goodreads, Liz and Lisa, and BookBub
1947. In the chaotic aftermath of World War II, American college girl Charlie St. Clair is pregnant, unmarried, and on the verge of being thrown out of her very proper family. She's also nursing a desperate hope that her beloved cousin Rose, who disappeared in Nazi-occupied France during the war, might still be alive. So when Charlie's parents banish her to Europe to have her "little problem" taken care of, Charlie breaks free and heads to London, determined to find out what happened to the cousin she loves like a sister.
1915. A year into the Great War, Eve Gardiner burns to join the fight against the Germans and unexpectedly gets her chance when she's recruited to work as a spy. Sent into enemy-occupied France, she's trained by the mesmerizing Lili, the "Queen of Spies", who manages a vast network of secret agents right under the enemy's nose.
Thirty years later, haunted by the betrayal that ultimately tore apart the Alice Network, Eve spends her days drunk and secluded in her crumbling London house. Until a young American barges in uttering a name Eve hasn't heard in decades, and launches them both on a mission to find the truth…no matter where it leads.
"Both funny and heartbreaking, this epic journey of two courageous women is an unforgettable tale of little-known wartime glory and sacrifice. Quinn knocks it out of the park with this spectacular book!"—Stephanie Dray, New York Times bestselling author of America's First Daughter

Purchase Links
______________________________________________
Sometimes dreams come true. Other times, the best outcome begins with an epic fail.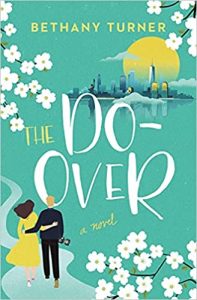 The Do-Over by Bethany Turner
Career-driven McKenna Keaton has devoted her life to attaining the senior partnership at her law firm. Not only that, she once walked out of a gusty hailstorm—in which she got a run in her pantyhose and a bit of tree branch stuck in her hair—straight into an elevator with Ruth Bader Ginsburg. So asking a man on a date is nothing. But the past four days have been the worst of her life and have called everything she thought she knew about herself into question. Besides, she can't remember her last real date—one that didn't involve using a blind date as an opportunity to get a stranger's perspective. (It's like sharing fondue with a jury!)
But a real date? And with shy, nerdy Henry Blumenthal, McKenna's high school rival for valedictorian who took three hours to beat her at chess in high school? Scratch that. He's Hank Blume now, the famed documentarian, Durham's darling son, who has attained all his dreams and more, and also happens to look like he stepped out of an Eddie Bauer catalog.
Whereas McKenna is a disgraced workaholic from New York on unpaid leave, accused of a white-collar crime she would never commit, succumbing to panic attacks, watching her dreams unravel. At age thirty-eight—and destined by the family curse to die before she turns forty, it appears—it's absolutely the wrong time to have a major crush on a man. Especially one who treasures his memories of McKenna as the girl Most Likely to Succeed.

Purchase Links
______________________________________________
A unique biblical and practical approach to uncluttering our internal thoughts and feelings.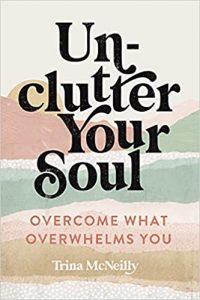 Unclutter Your Soul: Overcome What Overwhelms You by Trina McNeilly
We all want our lives to change for the better–to become the healthiest versions of ourselves in spirit, soul, and body. Yet we still struggle. Author Trina McNeilly, looking for order in her own life, embarked on an inward journey to the home of her heart and soul to find healing and health from the inside out.
Unclutter Your Soul is for all of us who are cluttered and overwhelmed with loss, fear, chronic stress, unhealthy coping mechanisms, crippling depression, or anxiety. With the Holy Spirit as our guide, Trina says we can learn to
observe: acknowledge the clutter,
own: make space for a healthy internal environment, and
overcome: take action with tools for living clutter-free from the inside out.
Each chapter in these three sections is written as an essay and concludes with practical and soulful tips as well as prompts to put them into action. With discussion questions and a prayer guide, Unclutter Your Soul is the ultimate resource for finding freedom in our everyday lives by releasing limited mindsets and creating more space for peace and joy.

Purchase Links
______________________________________________
Imagine a program that makes the benefits of "Dry January" last all year. That's Euphoric!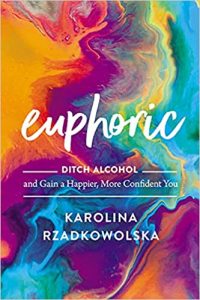 Euphoric: Ditch Alcohol and Gain a Happier, More Confident You by Karolina Rzadkowolska
Euphoric is your eight-week plan for an alcohol-free lifestyle that can lead to more happiness, well-being, and self-love. It's the modern woman's guide to relax without alcohol, find freedom from cravings and fitting in, and create the life you want – along with the audacity to go after it.
Alcohol is everywhere in our society, and it's hard to resist. The pressures to fit in and have "just one drink"–that turns into several – whether at a party or on a casual Friday night, can lead to an imbalanced life that's plagued with unhealthy habits, low self-esteem, and decreased productivity.
How can you change your relationship with alcohol without feeling deprived or like a social outcast? First, decide you want a change and then pick up Euphoric, from certified alcohol-free life coach Karolina Rzadkowolska.
Karolina has helped thousands of casual drinkers transform their relationship with alcohol, including herself. In Euphoric, she shares a proven strategy to make alcohol insignificant in your life. In just eight weeks, you can ditch alcohol and learn how to:
Create a natural buzz that alcohol can only mimic
Be fully present with your kids, partner, and friends
Feel more energized, look better, and live healthier
Enjoy the best sleep of your life
Have fun in any social situation, without drinking
Accomplish goals with your newfound drive
Become confident to chase your biggest dreams

Euphoric presents an eight-week, easy-to-customize plan for anyone who wants to transform their relationship with alcohol and experience the life-changing benefits that happen when you take a break from booze to focus the health of your mind, body, and soul.
Here's the plan!
Week 1: Examine and Dismantle Limiting Beliefs
Week 2: Let Go of Shame
Week 3: Step into Your Best Health
Week 4: Navigate Your Social Life
Week 5: Get Mindful and Embody Self-Love
Week 6: Find Pure and Utter Happiness
Week 7: Create Your Dream Life
Week 8: Step into Your Purpose
Reclaim yourself and rejuvenate your life, as you make alcohol irrelevant and get motivated to claim a new lifestyle clearly focused on your goals, priority, and values.

Purchase Links
______________________________________________
What if the traditional narrative about immigrant women–that those who come to the United States will succeed as long as they work hard, stay focused, and have supportive families–is a lie?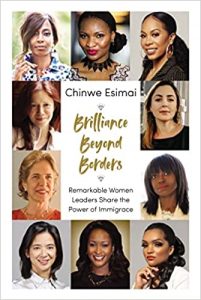 Brilliance Beyond Borders: Remarkable Women Leaders Share the Power of Immigrace by Chinwe Esimai
Of the 73 million women in the US workforce, 11.5 million are foreign-born. The truth is–even in the midst of headlines and political debates about immigration reform and in the wake of MeToo and other female-centric movements–millions of immigrants, especially women, aren't living their fullest potential.
Based on her personal experience and the stories of trailblazing women from around the world and in diverse industries, author Chinwe Esimai shares five indispensable traits that make an ocean of difference between immigrants who live as mere shadows of their truest potential and those who find purpose and fulfillment–what Chinwe refers to as their immigrace:
Saying yes to your immigrace, an immigrant woman's expression of her highest purpose and potential
Daring to play in the big leagues
Transforming failure
Embracing change and blending differences
Finding joy and healing
These five traits are the foundation of the Brilliance Blueprint, a step-by-step guide to help readers achieve to their own extraordinary results and build their own remarkable legacies.

Purchase Links
______________________________________________
In Regency England, one letter will alter a young woman's fate when it summons her to Briarton Park—an ancient place that holds the secrets of her past and the keys to her future.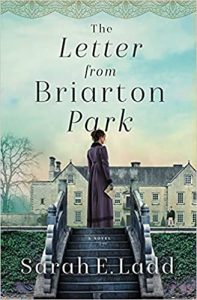 The Letter from Briarton Park (Houses of Yorkshire Series, Book 1) by Sarah E. Ladd
Cassandra Hale grew up knowing little about her parentage, and she had made peace with the fact that she never would. But Cassandra's world shifts when a shocking deathbed confession reveals a two-year-old letter from Mr. Clark, the master of Briarton Park, with hints to her family's identity. Stung by betrayal, she travels to the village of Anston only to learn Mr. Clark has since passed away.
James Warrington is a widower and the new master of Briarton Park, where he lives with his two young daughters, his sister, and his mother-in-law. When Cassandra appears at his doorstep with a letter from the previous owner and then proceeds to assist his family in an unexpected way, he is honor bound to help uncover the answers she seeks.
The more time Cassandra spends in Anston, the more she begins to suspect not everything—or everyone—is as they seem. As details emerge, the danger surrounding her intensifies. Using wit and intuition, she must navigate the treacherous landscapes between truth and rumor and between loyalty and deception if she is to uncover the realities of her past and find the place her heart can finally call home.
Sarah Ladd's latest Regency romance, first in the new Houses of Yorkshire series, combines mystery and intrigue with the best of historical storytelling.

Purchase Links
______________________________________________
No matter how you might try to hide in a war to escape your past, it is always close at hand.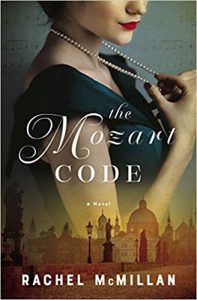 The Mozart Code by Rachel McMillan
Lady Sophia Huntington Villiers is no stranger to intrigue, as her work with Alan Turing's Bombe Machines at Bletchley Park during the war attests. Now, as part of Simon Barre's covert team in post-war Vienna, she uses her inimitable charm and code name Starling to infiltrate the world of relics: uncovering vital information that could tilt the stakes of the mounting Cold War. When several influential men charge her with finding the death mask of Mozart, Sophie wonders if there is more than the composer's legacy at stake and finds herself drawn to potential answers in Prague.
Simon Barrington, the illegitimate heir of one of Sussex's oldest estates, used the previous war to hide his insecurities about his past. Now, he uses his high breeding to gain access to all four allied quarters of the ruined city in an attempt to slow the fall of the Iron Curtain. He has been in love with Sophie Villiers since the moment he met her, and a marriage of convenience to save Simon's estate has always kept her close. Until now, when Sophie's mysterious client in Prague forces him to wonder if her allegiance to him—and their cause—is in question. Torn between his loyalty to his cause and his heart, Simon seeks answers about Sophie only to learn that everything he thought he knew about his involvement in both wars is based on a lie.

Purchase Links
______________________________________________
Shawn Johnson, lead pastor of Red Rocks Church, gives a searingly honest portrait of anxiety and depression and shows readers how to fight back and live free.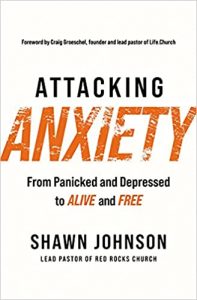 Attacking Anxiety: From Panicked and Depressed to Alive and Free by Shawn Johnson
Shawn Johnson was the lead pastor of a thriving, fast-growing church. He was supposed to have it all together. But he was also struggling in silence with anxiety and depression, suffering from debilitating panic attacks that told him the lie that this would never end, that he'd spend the rest of his life in excruciating pain. Until one day he ended up sobbing and screaming on the side of the road. He had to be brought home by his wife and two friends, who removed any potential weapons from his house while he sat with his head in his hands, begging God for a miracle.
In Attacking Anxiety, Shawn vulnerably shares about this dark time and offers those familiar with that same struggle everything he's learned in his battles with anxiety, depression, and hopelessness. As readers join Shawn on this journey, he will
expose the lies that lead toward isolation and replace them with the truths that are essential to survival;
reveal the things that most people don't realize are adding more anxiety and depression to their lives and replace them with the wisdom and support that lead to true freedom;
explain what to do when you, or someone you love, is in the middle of a panic attack, and
guide you through what you need to know, what you need to start doing, what you need to stop doing, and what you need to remember in order to start attacking anxiety and depression.
This is not a one-and-done process that will completely free you from all brokenness, but it will help you recognize that, even in the middle of so much brokenness and overwhelming pain, God has a plan and a purpose for your life, and he is ready to heal you in ways you never thought possible.

Purchase Links
______________________________________________
Through his pithy and inspiring storytelling that has endeared him to millions, New York Times bestselling author Bob Goff reassures readers that they can harness today's distractions, follow Jesus' example, and find focus, purpose, and joy.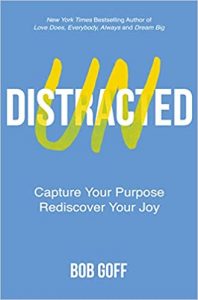 Undistracted: Capture Your Purpose and Rediscover Your Joy by Bob Goff
You probably know what it's like to be driving down the road when you suddenly feel the vibration and hear the guh-guh-guh–guh-guh of the rumble strips–those groves in the pavement–warning you that you've drifted out of your lane. You didn't mean to get distracted. You only took your eyes off the road for a moment, but you drifted off course. And that's a lot like life, isn't it?
In Undistracted, Bob Goff lovingly yanks us back in our lane and helps us get back on track so we can live our lives with real purpose and joy. In his trademark storytelling style, Bob helps us
learn the destruction of distraction and the benefits of living a life of undistracted love and authentic connection;
identify the distractions in our lives and either eliminate them or route around them; and
catch a vision of our future, undistracted selves where we can experience true happiness and joy.
Bob's inspiring and entertaining stories in Undistracted show us what it looks like to live a beautiful and purposeful life rather than drifting aimlessly from one season to the next. He encourages us to fix our eyes on Jesus and harness life's distractions so we can find joy despite our circumstances.

Purchase Links
______________________________________________

Please fill out our super short registration form (click the "Enter Now" button above) by March 31st  for a chance to win a set of up to ten copies of one of these great books for your book club! We will randomly choose a winner at the end of the month. This giveaway is open to clubs in the US only (our apologies to friends in other countries). 
Best of luck!
We 
LOVE

 Book Clubs!