About Caul Baby
• Publisher: HarperPerennial (April 5, 2022)
• Paperback: 352 pages
Now in paperback, New York Times bestselling author Morgan Jerkins's fiction debut, an electrifying novel for fans of Ta-Nehisi Coates and Jacqueline Woodson, that brings to life one powerful and enigmatic family in a tale rife with secrets, betrayal, intrigue, and magic.
Laila desperately wants to become a mother, but each of her previous pregnancies has ended in heartbreak. This time has to be different, so she turns to the Melancons, an old and powerful Harlem family known for their caul, a precious layer of skin that is the secret source of their healing power.
When a deal for Laila to acquire a piece of caul falls through, she is heartbroken, but when the child is stillborn, she is overcome with grief and rage. What she doesn't know is that a baby will soon be delivered in her family–by her niece, Amara, an ambitious college student–and delivered to the Melancons to raise as one of their own. Hallow is special: she's born with a caul, and their matriarch, Maman, predicts the girl will restore the family's prosperity.
Growing up, Hallow feels that something in her life is not right. Did Josephine, the woman she calls mother, really bring her into the world? Why does her cousin Helena get to go to school and roam the streets of New York freely while she's confined to the family's decrepit brownstone?
As the Melancons' thirst to maintain their status grows, Amara, now a successful lawyer running for district attorney, looks for a way to avenge her longstanding grudge against the family. When mother and daughter cross paths, Hallow will be forced to decide where she truly belongs.
Engrossing, unique, and page-turning, Caul Baby illuminates the search for familial connection, the enduring power of tradition, and the dark corners of the human heart.
Social Media
Please use the hashtag #CaulBaby and tag @tlcbooktours, @harperperennial, and @_morganjerkins.

Purchase Links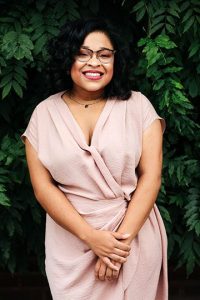 About Morgan Jerkins
Morgan Jerkins is the author of Wandering in Strange Lands and the New York Times bestseller This Will Be My Undoing and a Senior Culture Editor at ESPN's The Undefeated. Jerkins is a visiting professor at Columbia University and a Forbes 30 Under 30 leader in media, and her short-form work has been featured in the New Yorker, the New York Times, the Atlantic, Rolling Stone, Elle, Esquire, and the Guardian, among many other outlets. She is based in Harlem.
Find out more about Morgan on her website, Instagram, and Twitter.
Instagram Features
Tuesday, April 5th: Instagram: @never_withouta_book
Wednesday, April 6th: Instagram: @hillysreads
Thursday, April 7th: Instagram: @bookdragon217
Friday, April 8th: Instagram: @blackbiracialandbookish
Saturday, April 9th: Instagram: @booksnbikram
Sunday, April 10th: Instagram: @karendeeandabc
Monday, April 11th: Instagram: @readingfortheseasons
Monday, April 11th: Instagram: @reading.rambo
Tuesday, April 12th: Instagram: @myschedulesbooked
Thursday, April 14th: Instagram: @a_book_read_in_jersey
Friday, April 15th: Instagram: @just_another_mother_with_books
Saturday, April 16th: Instagram: @readwithcarly
Sunday, April 17th: Instagram; @dreaminginpages
Monday, April 18th: Instagram: @amy_alwaysreading
Monday, April 18th: Instagram: @finding_joyathome
Tuesday, April 19th: Instagram: @felines_and_felonies
Wednesday, April 20th: Instagram: @webreakforbooks
Friday, April 22nd: Instagram: @mommaleighellensbooknook
Saturday, April 23rd: Instagram: @abduliacoffeebookaddict23
Thursday, April 28th: Instagram: @vivibookshelf