About Find You First
• Publisher: William Morrow (April 12, 2022)
• Paperback: 448 pages
The New York Times bestselling author of Elevator Pitch and master of psychological suspense returns with a riveting thriller in which the possible heirs of a dying tech millionaire are mysteriously being eliminated, one by one.
"Find You First starts with a bang and ends with an even bigger one. . . . It's the best book of his career."  — Stephen King
Tech millionaire Miles Cookson has more money than he can ever spend, and everything he could dream of—except time. He has recently been diagnosed with a terminal illness, and there is a fifty percent chance that it can be passed on to the next generation. For Miles, this means taking a long hard look at his past . . .
Two decades ago, a young, struggling Miles was a sperm donor. Somewhere out there, he has kids—nine of them. And they might be about to inherit both the good and the bad from him—maybe his fortune, or maybe something much worse.
As Miles begins to search for the children he's never known, aspiring film documentarian Chloe Swanson embarks on a quest to find her biological father, armed with the knowledge that twenty-two years ago, her mother used a New York sperm bank to become pregnant.
When Miles and Chloe eventually connect, their excitement at finding each other is overshadowed by a series of mysterious and terrifying events. One by one, Miles's other potential heirs are vanishing—every trace of them wiped, like they never existed at all.
Who is the vicious killer—another heir methodically erasing rivals? Or is something even more sinister going on?
It's a deadly race against time . . .
Social Media
Please use the hashtag #FindYouFirst and tag @tlcbooktours and @williammorrowbooks.

Purchase Links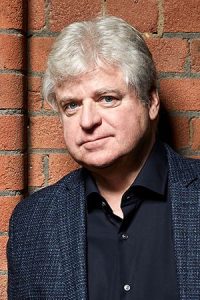 About Linwood Barclay
Linwood Barclay is an international bestselling crime and thriller author with over twenty critically acclaimed novels to his name, including the phenomenal number one bestseller No Time For Goodbye. Every Linwood Barclay book is a masterclass in characterisation, plot and the killer twist, and with sales of over 7 million copies globally, his books have been sold in more than 39 countries around the world and he can count Stephen King, Shari Lapena and Peter James among his many fans.
Many of his books have been optioned for film and TV, and Linwood wrote the screenplay for the film based on his bestselling novel Never Saw It Coming. He is currently working with eOne to turn the Promise Falls trilogy into a series. Born in the US, his parents moved to Canada just as he was turning four, and he's lived there ever since. He lives in Toronto with his wife, Neetha. They have two grown children. Visit Linwood Barclay at www.linwoodbarclay.com or find him on Twitter at @linwood_barclay.
Instagram Features
Tuesday, April 12th: Instagram: @aimeedarsreads
Wednesday, April 13th: Instagram: @nurse_bookie
Thursday, April 14th: Instagram: @mamabookwormreads
Friday, April 15th: Instagram: @veganbookbabe
Friday, April 15th: Instagram: @bookishly_overdue
Saturday, April 16th: Instagram: @hooked.by.books
Wednesday, April 20th: Instagram: @jenniaahava
Wednesday, April 20th: Instagram: @detroitmomsonthesamepage
Thursday, April 21st: Instagram: @everything.is.words
Friday, April 22nd: Instagram: @cozy.coffee.reads
Saturday, April 23rd: Instagram: @thebookishalix
Sunday, April 24th: Instagram: @pickagoodbook