___________________________
Imagine a program that makes the benefits of "Dry January" last all year. That's Euphoric!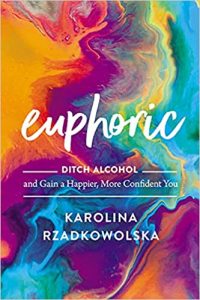 Euphoric: Ditch Alcohol and Gain a Happier, More Confident You by Karolina Rzadkowolska
Euphoric is your eight-week plan for an alcohol-free lifestyle that can lead to more happiness, well-being, and self-love. It's the modern woman's guide to relax without alcohol, find freedom from cravings and fitting in, and create the life you want – along with the audacity to go after it.
Alcohol is everywhere in our society, and it's hard to resist. The pressures to fit in and have "just one drink"–that turns into several – whether at a party or on a casual Friday night, can lead to an imbalanced life that's plagued with unhealthy habits, low self-esteem, and decreased productivity.
How can you change your relationship with alcohol without feeling deprived or like a social outcast? First, decide you want a change and then pick up Euphoric, from certified alcohol-free life coach Karolina Rzadkowolska.
Karolina has helped thousands of casual drinkers transform their relationship with alcohol, including herself. In Euphoric, she shares a proven strategy to make alcohol insignificant in your life. In just eight weeks, you can ditch alcohol and learn how to:
Create a natural buzz that alcohol can only mimic
Be fully present with your kids, partner, and friends
Feel more energized, look better, and live healthier
Enjoy the best sleep of your life
Have fun in any social situation, without drinking
Accomplish goals with your newfound drive
Become confident to chase your biggest dreams

Euphoric presents an eight-week, easy-to-customize plan for anyone who wants to transform their relationship with alcohol and experience the life-changing benefits that happen when you take a break from booze to focus the health of your mind, body, and soul.
Here's the plan!
Week 1: Examine and Dismantle Limiting Beliefs
Week 2: Let Go of Shame
Week 3: Step into Your Best Health
Week 4: Navigate Your Social Life
Week 5: Get Mindful and Embody Self-Love
Week 6: Find Pure and Utter Happiness
Week 7: Create Your Dream Life
Week 8: Step into Your Purpose
Reclaim yourself and rejuvenate your life, as you make alcohol irrelevant and get motivated to claim a new lifestyle clearly focused on your goals, priority, and values.

Purchase Links
___________________________
What if the traditional narrative about immigrant women–that those who come to the United States will succeed as long as they work hard, stay focused, and have supportive families–is a lie?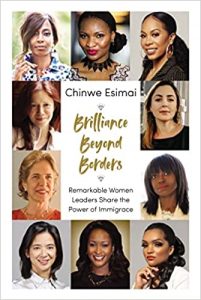 Brilliance Beyond Borders: Remarkable Women Leaders Share the Power of Immigrace by Chinwe Esimai
Of the 73 million women in the US workforce, 11.5 million are foreign-born. The truth is–even in the midst of headlines and political debates about immigration reform and in the wake of MeToo and other female-centric movements–millions of immigrants, especially women, aren't living their fullest potential.
Based on her personal experience and the stories of trailblazing women from around the world and in diverse industries, author Chinwe Esimai shares five indispensable traits that make an ocean of difference between immigrants who live as mere shadows of their truest potential and those who find purpose and fulfillment–what Chinwe refers to as their immigrace:
Saying yes to your immigrace, an immigrant woman's expression of her highest purpose and potential
Daring to play in the big leagues
Transforming failure
Embracing change and blending differences
Finding joy and healing
These five traits are the foundation of the Brilliance Blueprint, a step-by-step guide to help readers achieve to their own extraordinary results and build their own remarkable legacies.

Purchase Links
___________________________
Are you curious about biblical Christian meditation? Through stories, practical advice, and helpful prompts, Rick Hamlin guides Christians to center their minds and hearts on God as they seek to hear the still small voice above all the noise and chaos in the world.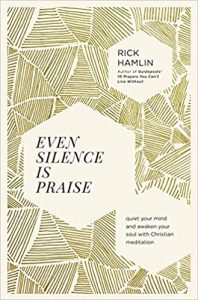 Even Silence is Praise: Quiet Your Mind and Awaken Your Soul with Christian Meditation by Rick Hamlin
Rick Hamlin has been unpacking the power of prayer in Finding God on the A Train and Ten Prayers You Can't Live Without and the special Guideposts book, Prayer Works. In this new book, you will discover
how meditation has deep Christian roots that go back for millennia,
how it can be used to live more authentically and let go of anxiety,
how to love more generously and find God's will in your life, and
how to grow in compassion, forgiveness, and acceptance.
The steps are simple, and at the end of each chapter Hamlin offers specific exercises to enhance your practice.
"If anyone wishes to come after me, he must deny himself and take his cross daily and follow me," Jesus said to his followers. Meditative prayer offers a rich resource to do just that. Silence speaks volumes and becomes a tool for all Jesus followers.

Purchase Links
_________________________________________
Sometimes life appears to fall to pieces and can seem irreparable. We've all had our fair share of disappointments, losses, and hardships. But for every challenge there is a breathtaking promise: It's going to be okay. How can we know? Because God so loved the world.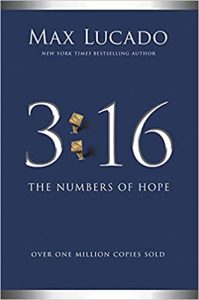 3:16: The Numbers of Hope by Max Lucado
In 3:16, pastor and New York Times bestselling author Max Lucado encourages us to study closely the "Hope Diamond of the Bible": John 3:16.
Max says of his favorite verse, "Every time I recall these words, they are fresh and as stunning as my first encounter with them. The mind-bending awareness of God's limitless love, his incalculable sacrifice, and the priceless teaching at the core. How can we not review it again and again? I want this generation, and all who come after, to look closely at the key promise of God and choose the gift beyond all gifts."
Throughout this revised and updated edition of 3:16, Max will invite you to:
Stand in awe of how deep, wide, long, and high God's love is for you
Understand more fully the living hope you have through Jesus' death and resurrection
Rest in the assurance that salvation is a gift from God, not something you can earn
If you know nothing of the Bible, start here. John 3:16 invites you to know God's love deeply and intimately. And once you accept God's love, your life will never be the same.
If you know everything in the Bible, return here. Let John 3:16 become the banner of your life, so much so that the message of God's unending and unbending love overflows from you to others.
Each copy of 3:16 also includes a 40-day devotional designed to help you draw closer to your loving Savior.

Purchase Links
___________________________
Shawn Johnson, lead pastor of Red Rocks Church, gives a searingly honest portrait of anxiety and depression and shows readers how to fight back and live free.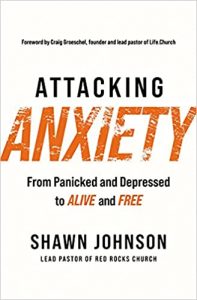 Attacking Anxiety: From Panicked and Depressed to ALIVE and FREE by Shawn Johnson
Shawn Johnson was the lead pastor of a thriving, fast-growing church. He was supposed to have it all together. But he was also struggling in silence with anxiety and depression, suffering from debilitating panic attacks that told him the lie that this would never end, that he'd spend the rest of his life in excruciating pain. Until one day he ended up sobbing and screaming on the side of the road. He had to be brought home by his wife and two friends, who removed any potential weapons from his house while he sat with his head in his hands, begging God for a miracle.
In Attacking Anxiety, Shawn vulnerably shares about this dark time and offers those familiar with that same struggle everything he's learned in his battles with anxiety, depression, and hopelessness. As readers join Shawn on this journey, he will
expose the lies that lead toward isolation and replace them with the truths that are essential to survival;
reveal the things that most people don't realize are adding more anxiety and depression to their lives and replace them with the wisdom and support that lead to true freedom;
explain what to do when you, or someone you love, is in the middle of a panic attack, and
guide you through what you need to know, what you need to start doing, what you need to stop doing, and what you need to remember in order to start attacking anxiety and depression.
This is not a one-and-done process that will completely free you from all brokenness, but it will help you recognize that, even in the middle of so much brokenness and overwhelming pain, God has a plan and a purpose for your life, and he is ready to heal you in ways you never thought possible.

Purchase Links
___________________________
Through his pithy and inspiring storytelling that has endeared him to millions, New York Times bestselling author Bob Goff reassures readers that they can harness today's distractions, follow Jesus' example, and find focus, purpose, and joy.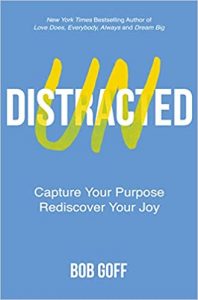 Undistracted: Capture Your Purpose. Rediscover Your Joy. by Bob Goff
You probably know what it's like to be driving down the road when you suddenly feel the vibration and hear the guh-guh-guh–guh-guh of the rumble strips–those groves in the pavement–warning you that you've drifted out of your lane. You didn't mean to get distracted. You only took your eyes off the road for a moment, but you drifted off course. And that's a lot like life, isn't it?
In Undistracted, Bob Goff lovingly yanks us back in our lane and helps us get back on track so we can live our lives with real purpose and joy. In his trademark storytelling style, Bob helps us
learn the destruction of distraction and the benefits of living a life of undistracted love and authentic connection;
identify the distractions in our lives and either eliminate them or route around them; and
catch a vision of our future, undistracted selves where we can experience true happiness and joy.
Bob's inspiring and entertaining stories in Undistracted show us what it looks like to live a beautiful and purposeful life rather than drifting aimlessly from one season to the next. He encourages us to fix our eyes on Jesus and harness life's distractions so we can find joy despite our circumstances.

Purchase Links
___________________________
Book clubs will love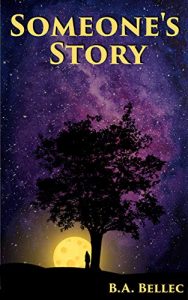 Someone's Story by B.A. Bellec
Winner:- Next Generation Indie Book Awards – YA 17+ Finalist (May 2021)- Literary Titan Seal (April 2021)- Reader Views Young Adult Book of the Year (March 2021)
– The Wishing Shelf Red Ribbon (Feb 2021)
– Shelf Unbound Notable Indie (Dec 2020)
– Readers' Favorite Seal (July 2020)
"B. A. Bellec has crafted a masterpiece of emotive and well-rounded young adult fiction."
K.C. Finn – Author
"A gripping story of teenage life and the many problems they face. A RED RIBBON WINNER and highly recommended."
The Wishing Self Book Awards
"The variety of personages, situations, and mental illnesses represented allows all readers to relate to this book and take something away from reading! This novel is on our list of all-time favourites!"
International Girls and Books
"B.A. Bellec has truly created a masterpiece that deserves worldwide recognition, awards and so much more."
Rebecca Ryan – Reedsy
In his debut endearing coming-of-age book, B.A. Bellec writes about a group of weirdos that find and save each other from the dark depths of their minds. Someone's Story is literally Someone's story, as in a first-person narrative of a teenager that calls himself Someone. As he struggles to ?nd a new footing in a new space, we encounter the many ups and downs of modern teenage life, the di?culties that adjusting to adult feelings brings, and a few tear-jerking surprises along the way.
Littered with music, mental health, friendship, loss, meditation, advice, pop culture, and even inspiring an EP, there is so much nostalgia, inspiration, and depth here it is hard to absorb it all. Cozy up somewhere warm and enjoy!

Purchase Links
___________________________

Please fill out our super short registration form (click the "Enter Now" button above) by February 28th  for a chance to win a set of up to ten copies of one of these great books for your book club! We will randomly choose a winner at the end of the month. This giveaway is open to clubs in the US only (our apologies to friends in other countries). 
Best of luck!
We 
LOVE

 Book Clubs!