We have gathered up some wonderful Black-authored titles for this special BLACK HISTORY MONTH book club giveaway!
______________________________________________
When three women find their lives inextricably linked after a terrible mistake, they must work together to make the most of their futures.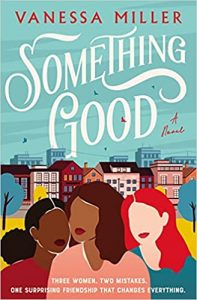 Something Good by Vanessa Miller
Alexis Marshall never meant to cause the accident that left Jon-Jon Robinson paralyzed–but though guilt plagues her, her husband hopes to put the past behind them. After all, he's in the middle of selling a tech business–and if Alexis admits to texting while driving, the deal could collapse and cost them millions. Meanwhile, Alexis's life is not as shiny and perfect as it may seem from the outside. She has secrets of her own. As she becomes consumed with thoughts of the young man she hit, can she reconcile her mistake with her husband's expectations?
Trish Robinson is just trying to hold it together after the accident that left Jon-Jon dependent and depressed. As the bills pile up, Trish and her husband, Dwayne, find themselves at odds. Trish wants to forgive and move on, but Dwayne is filled with rage toward the entitled woman who altered their lives forever. Trish can't see how anything good can come from so much hate and strife, so she determines to pray until God intervenes. Then one afternoon Marquita Lewis rings their doorbell with a baby in her arms and changes everything.
Vanessa Miller's latest inspirational novel reminds readers that differences may separate us, but if we cling to each other, God can bring something good out of our very worst moments.

Purchase Links
______________________________________________
It seems like a dream come true . . . until it forces her to question everything.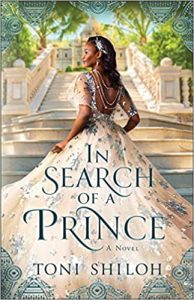 In Search of a Prince by Toni Shiloh
Brielle Adebayo is fully content teaching at a New York City public school and taking annual summer vacations with her mother to Martha's Vineyard. But everything changes when her mom drops a bombshell–Brielle is really a princess in the island kingdom of Oloro Ilé, off the coast of Africa, and she must immediately assume her royal position, since the health of her grandfather, the king, is failing.
Distraught by all the secrets her mother kept, Brielle is further left spinning when the Oloro Ilé Royal Council brings up an old edict that states she must marry before her coronation, or the crown will pass to another. Brielle is uncertain if she even wants the throne, and with her world totally shaken, where will she find the courage to take a chance on love and brave the perils a wrong decision may bring?

Purchase Links
______________________________________________
The First Book to Link the Science Behind Tiny Habits to Faith and Trauma Recovery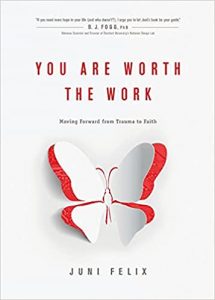 You Are Worth the Work: Moving Forward from Trauma to Faith by Juni Felix
"The heartache that you woke up with this morning, that pain in your soul that makes even the task of receiving hope for today exhausting, that heartache is not who you are. The abuses, losses, and betrayals you've experienced do not have to continue to cast a dark shadow over your life. Your journey is not over, and you are never alone. Your situation is not your destiny, and sorrow isn't your permanent address."
Juni Felix is a triumph–a survivor of profound trauma, a Behavior Design Teaching Team member of renowned Stanford University professor Dr. B. J. Fogg's Behavior Design Lab, and a Tiny Habits Coach. She begins her book with these words to encourage every recovering person to design a path toward hope, peace, and joy. By combining the science of Behavior Design with faith, she equips you with a proven method that works: Tiny Habits, a fun and surprisingly simple system that reprograms your mind toward faith that offers freedom from the wounds of your past. In this accessible book, she offers a vision of living faith by practicing Tiny Habits that build on each other and reward us with tiny victories and celebrations along the way.
As one who has long used Tiny Habits and teaches about using them to transform lives and relationships, Juni teaches that because God is a Systems Guy, human behavior is not random and unpredictable; it's systematic. Once you understand the system, you can design strategies that work to take back your life and stop the cycle of shame, blame, and self-condemnation for good.

Purchase Links
______________________________________________
"We are most courageous at our weakest; when we believe we have faced what we fear the most and have nothing more to lose."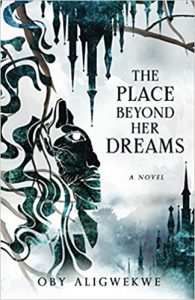 The Place Beyond Her Dreams by Oby Aligwekwe
Set against the backdrop of two warring towns, Oby Aligwekwe's Young Adult debut—told from the viewpoint of her main character—is inspired by her West African heritage, fables, and spiritual beliefs. Ona's journey reveals the power of choice, the true source of happiness, and, most importantly, the transformation one must go through to realize and eventually occupy their purpose.
At the sudden death of her grandfather, Ona's pain transports her to mystical Luenah—a place of infinite possibilities, free of turf wars and other ills that plague the earthly dimension she lives in. In Luenah, where her grandfather awaits her, Ona learns she is an Eri, one bestowed with unique intuitive and spiritual gifts passed down from generation-to-generation.
On her eighteenth birthday, she returns to Luenah and is handed a box to deposit her 'exchange' for love and happiness—her greatest desires. Burdened by her quest, Ona crosses paths with danger and heartbreak as the two men that love her dearly are viciously pitted against each other. As evil looms, she learns that dreams carry a hefty price, and no one is who they seem. Now, she must unmask the villain and save the one she loves, even at the risk of losing everything she holds dear.

Purchase Links
______________________________________________
One wealthy businessman, a trio of unsuspecting wives, and an explosive turn of events. In this scandalous, twist-filled new series from award-winning author Shelly Ellis, will too many secrets and one devastating bond unite three women–or destroy them?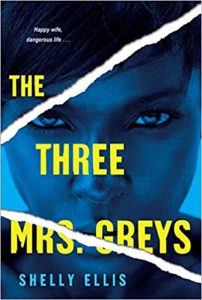 The Three Mrs. Greys by Shelly Ellis
Noelle. Diamond. Vanessa. Each woman believes she is Cyrus Grey's only wife–until he's nearly shot to death. Now, as he lies in a coma, the deceptions keep coming, unraveling everything they thought they knew…
Gorgeous model Noelle's marriage to Cyrus anchored her–though she couldn't understand why he wouldn't have a baby with her. They certainly had the money. But she's learning fast just how Cyrus became so rich–thanks to his fatally attractive business partner…
For Diamond, marrying Cyrus saved her from the streets–and being a pimp's punching bag. But her past makes her the police's prime suspect in Cyrus' shooting. She's determined to get to the truth–if she can survive long enough to tell it…
Even with her beautiful house, three kids, and elegant lifestyle, Vanessa sensed something was wrong in her marriage. But she never expected this–or that taking a lover for comfort would change the game completely.
With danger closing in, Cyrus' life hanging in the balance, and collateral damage threatening to take them all down, how far will each woman go to be the real Mrs. Grey?

Purchase Links
______________________________________________
In this highly anticipated second installment in the Black Girls Must Die Exhausted series, Tabitha Walker copes with more of life's challenges and a happy surprise—a baby—with a little help and lots of love from friends old and new.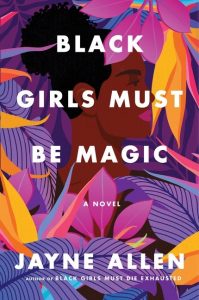 Black Girls Must Be Magic by Jayne Allen
For Tabitha Walker, her grandmother's old adage, "Black girls must die exhausted" is becoming all too true. Discovering she's pregnant—after she was told she may not be able to have biological children—Tabitha throws herself headfirst into the world of "single mothers by choice." Between her job, doctor's appointments, and preparing for the baby, she's worn out. And that's before her boss at the local news station starts getting complaints from viewers about Tabitha's natural hair.
When an unexpected turn of events draws Marc—her on and off-again ex-boyfriend—back into her world with surprising demands, and the situation at work begins to threaten her livelihood and her identity, Tabitha must make some tough decisions about her and her baby's future. It takes a village to raise a child, and Tabitha turns to the women who have always been there for her.
Bolstered by the fierce support of Ms. Gretchen, her grandmother's best friend, the counsel of her closest friends Laila and Alexis, and the calming presence of her doula Andouele, Tabitha must find a way to navigate motherhood on her own terms. Will she harness the bravery, strength, and self-love she'll need to keep "the village" together, find her voice at work, and settle things with Marc before the baby arrives?

Purchase Links
______________________________________________
For fans of Sorry to Bother You and The Wolf of Wall Street—a crackling, satirical debut novel about a young man given a shot at stardom as the lone Black salesman at a mysterious, cult-like, and wildly successful startup where nothing is as it seems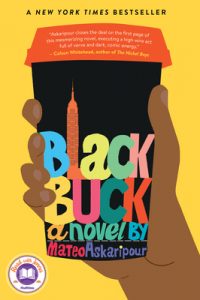 Black Buck by Mateo Askaripour
"Askaripour closes the deal on the first page of this mesmerizing novel, executing a high-wire act full of verve and dark, comic energy." —Colson Whitehead, author of The Nickel Boys
"A hilarious, gleaming satire as radiant as its author. Askaripour has announced himself as a major talent of the school of Ralph Ellison, Paul Beatty, Fran Ross, and Ishmael Reed. Full of quick pacing, frenetic energy, absurd—yet spot on—twists and turns, and some of the funniest similes I've ever read, this novel is both balm and bomb." —Nafissa Thompson-Spires, author of Heads of the Colored People
There's nothing like a Black salesman on a mission.
An unambitious twenty-two-year-old, Darren lives in a Bed-Stuy brownstone with his mother, who wants nothing more than to see him live up to his potential as the valedictorian of Bronx Science. But Darren is content working at Starbucks in the lobby of a Midtown office building, hanging out with his girlfriend, Soraya, and eating his mother's home-cooked meals. All that changes when a chance encounter with Rhett Daniels, the silver-tongued CEO of Sumwun, NYC's hottest tech startup, results in an exclusive invitation for Darren to join an elite sales team on the thirty-sixth floor.
After enduring a "hell week" of training, Darren, the only Black person in the company, reimagines himself as "Buck," a ruthless salesman unrecognizable to his friends and family. But when things turn tragic at home and Buck feels he's hit rock bottom, he begins to hatch a plan to help young people of color infiltrate America's sales force, setting off a chain of events that forever changes the game.
Black Buck is a hilarious, razor-sharp skewering of America's workforce; it is a propulsive, crackling debut that explores ambition and race, and makes way for a necessary new vision of the American dream.

Purchase Links
______________________________________________
"Ultimately the reason to read The Rib King is not its timeliness or its insight into politics or Black culture, but because it accomplishes what the best fiction sets out to do: It drops you into a world you could not otherwise visit and makes you care deeply about what happens there."–BookPage (starred review)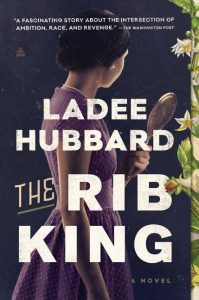 The Rib King by Ladee Hubbard
The acclaimed author of The Talented Ribkins deconstructs painful African American stereotypes and offers a fresh and searing critique on race, class, privilege, ambition, exploitation, and the seeds of rage in America in this intricately woven and masterfully executed historical novel, set in early the twentieth century that centers around the black servants of a down-on-its heels upper-class white family.
For fifteen years August Sitwell has worked for the Barclays, a well-to-do white family who plucked him from an orphan asylum and gave him a job. The groundskeeper is part of the household's all-black staff, along with "Miss Mamie," the talented cook, pretty new maid Jennie Williams, and three young kitchen apprentices—the latest orphan boys Mr. Barclay has taken in to "civilize" boys like August.
But the Barclays fortunes have fallen, and their money is almost gone. When a prospective business associate proposes selling Miss Mamie's delicious rib sauce to local markets under the brand name "The Rib King"—using a caricature of a wildly grinning August on the label—Mr. Barclay, desperate for cash, agrees. Yet neither Miss Mamie nor August will see a dime. Humiliated, August grows increasingly distraught, his anger building to a rage that explodes in shocking tragedy.
Elegantly written and exhaustively researched, The Rib King is an unsparing examination of America's fascination with black iconography and exploitation that redefines African American stereotypes in literature. In this powerful, disturbing, and timely novel, Ladee Hubbard reveals who people actually are, and most importantly, who and what they are not.

Purchase Links
______________________________________________
"In her long and extraordinary career, Cicely Tyson has not only succeeded as an actor, she has shaped the course of history." –President Barack Obama, 2016 Presidential Medal of Freedom ceremony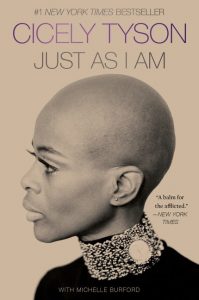 Just as I Am by Cicely Tyson
"Just as I Am is my truth. It is me, plain and unvarnished, with the glitter and garland set aside. In these pages, I am indeed Cicely, the actress who has been blessed to grace the stage and screen for six decades. Yet I am also the church girl who once rarely spoke a word. I am the teenager who sought solace in the verses of the old hymn for which this book is named. I am a daughter and a mother, a sister and a friend. I am an observer of human nature and the dreamer of audacious dreams. I am a woman who has hurt as immeasurably as I have loved, a child of God divinely guided by his hand. And here in my ninth decade, I am a woman who, at long last, has something meaningful to say." –Cicely Tyson

Purchase Links
______________________________________________
Spanning more than 35 years of work, the first comprehensive collection of essays, criticism, and articles by the legendary author of the Harlem Renaissance, Zora Neale Hurston, showcasing the evolution of her distinctive style as an archivist and author.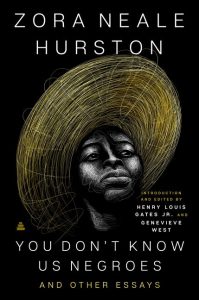 You Don't Know Us Negroes and Other Essays by Zora Neale Hurston
A MOST ANTICIPATED BOOK FROM: Oprah Daily, Business Insider, Marie Claire, The Seattle Times, Lit Hub, Bustle, and New York Magazine's Vulture
Introduction by New York Times bestselling author Henry Louis Gates Jr. 
Spanning more than 35 years of work, the first comprehensive collection of essays, criticism, and articles by the legendary author of the Harlem Renaissance, Zora Neale Hurston, showcasing the evolution of her distinctive style as an archivist and author.
"One of the greatest writers of our time."—Toni Morrison
You Don't Know Us Negroes is the quintessential gathering of provocative essays from one of the world's most celebrated writers, Zora Neale Hurston. Spanning more than three decades and penned during the backdrop of the birth of the Harlem Renaissance, Montgomery bus boycott, desegregation of the military, and school integration, Hurston's writing articulates the beauty and authenticity of Black life as only she could. Collectively, these essays showcase the roles enslavement and Jim Crow have played in intensifying Black people's inner lives and culture rather than destroying it. She argues that in the process of surviving, Black people re-interpreted every aspect of American culture—"modif[ying] the language, mode of food preparation, practice of medicine, and most certainly religion." White supremacy prevents the world from seeing or completely recognizing Black people in their full humanity and Hurston made it her job to lift the veil and reveal the heart and soul of the race. These pages reflect Hurston as the controversial figure she was—someone who stated that feminism is a mirage and that the integration of schools did not necessarily improve the education of Black students. Also covered is the sensational trial of Ruby McCollum, a wealthy Black woman convicted in 1952 for killing her lover, a white doctor.
Demonstrating the breadth of this revered and influential writer's work, You Don't Know Us Negroes and Other Essays is an invaluable chronicle of a writer's development and a window into her world and mind.

Purchase Links
______________________________________________
The author of the award-winning Sally Hemings now brings to life Hannah Elias, one of the richest black women in America in the early 1900s, in this mesmerizing novel swirling with atmosphere and steeped in history.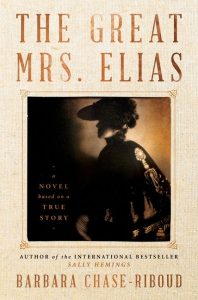 The Great Mrs. Elias by Barbara Chase-Riboud
A murder and a case of mistaken identity brings the police to Hannah Elias' glitzy, five-story, twenty-room mansion on Central Park West. This is the  beginning of an odyssey that moves back and forth in time and reveals the dangerous secrets of a mysterious woman, the fortune she built, and her precipitous fall.
Born in Philadelphia in the late 1800s, Hannah Elias has done things she's not proud of to survive. Shedding her past, Hannah slips on a new identity before relocating to New York City to become as rich as a robber baron.  Hannah quietly invests in the stock market, growing her fortune with the help of businessmen. As the money pours in, Hannah hides her millions across 29 banks. Finally attaining the life she's always dreamed, she buys a mansion on the Upper West Side and decorates it in gold and first-rate décor, inspired by her idol Cleopatra.
The unsolved murder turns Hannah's world upside-down and threatens to destroy everything she's built. When the truth of her identity is uncovered, thousands of protestors gather in front of her stately home. Hounded by the salacious press, the very private Mrs. Elias finds herself alone, ensnared in a scandalous trial, and accused of stealing her fortune from whites.
Packed with glamour, suspense, and drama, populated with real-life luminaries from the period, The Great Mrs. Elias brings a fascinating woman and the age she embodied to glorious, tragic life.

Purchase Links
______________________________________________

Please fill out our super short registration form (click the "Enter Now" button above) by February 28th for a chance to win a set of up to ten copies of one of these great books for your book club! We will randomly choose a winner at the end of the month. This giveaway is open to clubs in the US only (our apologies to friends in other countries). 
Best of luck!
We 
LOVE

 Book Clubs!