About Dating Dr. Dil
• Publisher: Avon (March 15, 2022)
• Paperback: 384 pages
"Nisha Sharma's Dating Dr. Dil is what would happen if you put all my favorite romantic comedy tropes into a blender: a frothy, snarky, hilarious treat with a gooey, heartwarming center. The perfect addition to any rom-com lover's shelf."–Emily Henry, #1 New York Times bestselling author of People We Meet on Vacation
Nisha Sharma's hilarious new romantic comedy inspired by The Taming of the Shrew features a love-phobic TV doctor who must convince a love-obsessed homebody they are destined to be together.
Kareena Mann dreams of having a love story like her parents, but she prefers restoring her classic car to swiping right on dating apps. When her father announces he's selling her mother's home, Kareena makes a deal with him: he'll gift her the house if she can get engaged in four months. Her search for her soulmate becomes impossible when her argument with Dr. Prem Verma, host of The Dr. Dil Show, goes viral. Now the only man in her life is the one she doesn't want.
Dr. Prem Verma is dedicated to building a local community health center, but he needs to get donors with deep pockets. The Dr. Dil Show was doing just that, until his argument with Kareena went viral, and he's left short changed. That's when Kareena's meddling aunties presented him with a solution: convince Kareena he's her soulmate and they'll fund his clinic.
Even though they have conflicting views on love-matches and arranged-matches, the more time Prem spends with Kareena, the more he begins to believe she's the woman he wants to spend the rest of his life with. But for Prem and Kareena to find their happily ever after, they must admit that hate has turned into fate.
Social Media
Please use the hashtag #DatingDr.Dil and tag @tlcbooktours, @avonbooks, and @nishawrites.

Purchase Links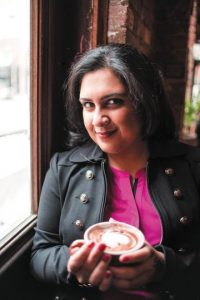 About Nisha Sharma
Nisha Sharma is the award-winning author of YA rom-com MY SO-CALLED BOLLYWOOD LIFE, and contemporary romance drama, THE SINGH FAMILY TRILOGY. She grew up immersed in Bollywood movies, eighties pop-culture and romance novels so it comes as no surprise that her work features all three. Her writing has been praised by Entertainment Weekly, NPR, Cosmopolitan, Teen Vogue, Buzzfeed, Hypable and more. She lives in New Jersey with her Alaskan-born husband, her cat Lizzie Bennett and her dog Nancey Drew. You can find her online on her website, Twitter and Instagram.
Instagram Features
Tuesday, March 1st: Instagram: @nurse_bookie
Sunday, March 13th: Instagram: @meghans_library
Wednesday, March 16th: Instagram: @bookscallmyheart
Thursday, March 17th: Instagram: @reading.with.my.goldens
Friday, March 18th: Instagram: @bookdragon217
Saturday, March 19th: Instagram: @pocketsized_pageturner
Sunday, March 20th: Instagram: @the_booksandwich
Wednesday, March 23rd: Instagram: @kerasalwaysreading
Friday, March 25th: Instagram: @lyon.brit.andthebookshelf
Saturday, March 26th: Instagram: @rozierreadsandwine
Sunday, March 27th: Instagram: @workreadsleeprepeat
Friday, April 1st: Instagram: @readinggirlreviews
Saturday, April 23rd: Instagram: @joannasbookshelf