About Nightshift
• Publisher: Custom House (February 8, 2022)
• Hardcover: 256 pages
A haunting, compelling debut novel of complex female friendship and obsession, following one young woman's decision to abandon her normal life and join the otherworldly, nocturnal existence of London's nightshift workers.
"A firecracker of a book—toxic, sexy, pacey and packed with humor. It's a long time since I read something so gloriously nihilistic, and I won't be forgetting it anytime soon." — Elizabeth Macneal, internationally bestselling author of The Doll Factory
When twenty-three-year-old Meggie meets her distant and enigmatic new coworker Sabine, she recognizes in her the person she would like to be. Meggie is immediately drawn to worldly, beautiful, and uninhibited Sabine; and when Sabine announces she's switching to the nightshift, Meggie impulsively decides to follow her. Giving up her daytime existence, her reliable boyfriend, and the trappings of a normal life, Meggie finds a liberating sense of freedom as she indulges her growing preoccupation with Sabine and plunges into another existence, immersing herself in the transient and uncertain world of the nightshift worker.
While the city sleeps, she passes the hours at work clipping crime stories from the next day's newspapers. The liminal hours between night and day are spent haunting deserted bars and nightclubs with her eclectic coworkers and going on increasingly wild adventures with Sabine. Yet the closer she gets to Sabine, the more Sabine seems to push her away, leaving Meggie desperately trying to hold on to their intense friendship while doubting if she truly knows her friend at all.
A fresh twist on the coming of age story and a dark love letter to city life, Nightshift explores the thin line between self-invention and self-destruction, as Meggie's sleep deprivation, drinking, and fixation with Sabine gain a momentum all their own. Vividly set in late-nineties London and framed by Meggie's present-day reflections, Nightshift is a captivating and moving debut that asks profound questions about who we are and if we can truly escape ourselves.
Social Media
Please use the hashtag #Nightshift and tag @tlcbooktours, @customhousebooks, and @kiareladner.

Purchase Links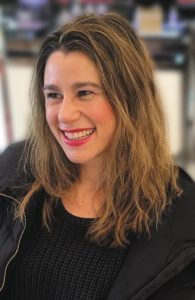 About Kiare Ladner
Instagram Features
Wednesday, February 9th: Instagram: @carriereadsthem_all
Thursday, February 10th: Instagram: @kara.bookstagram
Sunday, February 13th: Instagram: @bookscallmyheart
Monday, February 14th: Instagram: @hooked.by.books
Tuesday, February 15th: Instagram: @veganbookbabe
Wednesday, February 16th: Instagram: @nurse_bookie
Thursday, February 17th: Instagram: @brianas_best_reads
Thursday, February 17th: Instagram: @kerasalwaysreading
Friday, February 18th: Instagram: @detroitmomsonthesamepage
Saturday, February 19th: Instagram: @myinfinitetbr
Sunday, February 20th: Instagram: @bryantparkbooks
Sunday, March 27th: Instagram: @bookclubfor1